Archive for THE EXORCIST
You are browsing the archives of THE EXORCIST.
Two SF films by George Lucas, and a Horror sensation make the cut.
Want to own a high-definition copy of THE EXORCIST? Thanks to Warner Brothers Home Video, you can enjoy an evening of Halloween horror at home, shivering in fear over the plight of Regan Theresa MacNeil. All you have to do to win a Blu-ray disc/digital download of the 1973 classic is send an email to contest@cinefantastiqueonline.com. Write "The Exorcist" in the subject line; include your full name and address; and include a sentence or two about why you think THE EXORCIST is the greatest horror movie ever made. The contest runs until midnight, October 31 (Halloween night).
Also coming out on home video this week: A NIGHTMARE ON ELM STREET, CAPRICA SEASON 1.0, STARGATE UNIVERS: COMPLETE FIRST SEASON, THE SECRET OF KELLS, GRINDHOUSE SPECIAL EDITION BLU-RAY, and DOCTOR WHO: DREAMLAND
Tuesday, October 5 is overflowing with horror, fantasy, and science fiction titles of all shapes and sizes arriving on home video in various [...]
Last night I attended one of the nationwide Fathom screenings of THE EXORCIST (1973), featuring the new documentary TO HELL AND BACK, which charts the making of the classic horror film. Never having attended a Fathom event before (it's a bit like watching television in a theatre, with digital image projected on select screens around [...]
Watch out, THE LAST EXORCISM! The grand-daddy of possession flicks, the Oscar-winning 1973 classic THE EXORCIST will be back in select theatres later this month – for a special one-night-only pair of screenings on September 30. The event is presented by NCM Fathom, which broadcasts video to an network of affiliated theatres, creating "live" nationwide [...]
After casting the devil out of THE LAST EXORCISM, Dan Persons, Lawrence French, and Steve Biodrowski exercise their analytic on other possession movies in the latest episode of Cinefantastique's weekly Post-Mortem Podcast. What are the best and worst the genre has to offer: THE EXORCIST, THE EXORCIST II: THE HERETIC, THE EXORCIST III, HOUSE OF [...]

In the year 2000, twenty-seven years after its initial release, William Peter Blatty finally gave his complete seal of approval to the film version of THE EXORCIST, which he scripted and produced, based upon his novel. Ever since the film came out in 1973, the author has expressed his disappointment with William Friedkin`s final cut, [...]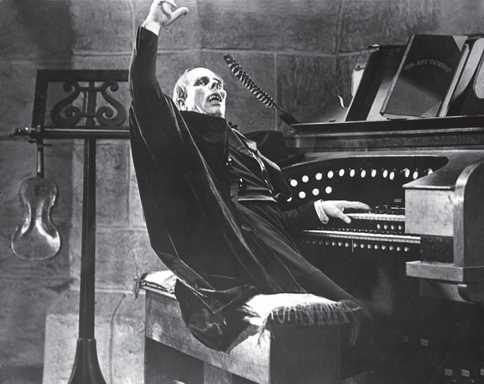 A few moments reflection on the horror movie experience reveals how important music is: PSYCHO, JAWS, HALLOWEEN. Unfortunately, while the images of horror have been the focus of much critical and academic discussion, little attention has been paid to the music. Addressing this deficit, Neil Lerner has edited the book Music in the Horror Film: Listening to Fear.
Last month, we ran a list of the American Film Institute's nominees for the best Fantasy and Science-Fiction Films of all time. Many readers were angry over the exclusion of horror from the genres under consideration; some were unhappy about certain titles that made or did not make it onto the A.F.I.'s lists; a few were [...]