Browse:
Home
/
Terry Gilliam
By Dan Persons on July 23, 2013
Norse gods are such buttinskies,.. Syfy wants to take 12 MONKEYS to series… Bill Plympton salutes those CHEATIN' hearts…
From the luxurious Cinefantastique Online studios in NYC, Dan Persons brings you up-to-date on what's happening in the world of fantastic film & TV.
Posted in Here's What's Going On, Movies, News, Television, Videos | Tagged 12 MONKEYS, Bill Plympton, CHEATIN', Chris Hardwick, display, Kevin Feige, Marvel Entertainment, SyFy, Terry Gilliam, THOR: THE DARK WORLD, Tom Hiddleston | Leave a response
By Steve Biodrowski on June 10, 2013
In an interview from Turner Classic movies, filmmaker Terry Gilliam provides his perspective on the differences between Stanely Kubrick and Steven Spielberg. Essentially, it comes down to this: Spielberg provides comforting answers for his audience; Kubrick (as in 2001: A SPACY ODYSSEY) raises challenging questions that provoke the audience to think.
To underline his point, Gilliam [...]
Posted in Movies, Q&A | Tagged 2001: A SPACE ODYSSEY, SCHINDLER'S LIST, Stanley Kubrick, Steven Spielberg, Terry Gilliam, The Holocaust | Leave a response
By Dennis Routledge Tizzard on May 17, 2010
Empire Online have been talking to director Terry Gilliam (TWELFTH MONKEYS, BRAZIL) at the Cannes film festival and it appears Ewan McGregor (STAR WARS, THE ISLAND) has been cast in his latest film, THE MAN WHO KILLED DON QUIXOTE.
DON QUIXOTE is a fantasy/sci-fi film about an advertising executive who, after finding himself unstuck in [...]
Posted in Movies, News | Tagged Ewan McGregor, fantasy, Robert Duvall, sci-fi, Terry Gilliam, THE MAN WHO KILLED DON QUIXOTE | Leave a response
By Steve Biodrowski on April 26, 2010
Tuesday, April 27's horror, fantasy, and science fiction home video releases include two films that recently received limited theatrical exposure, THE IMAGINARIUM OF DR. PARNASSUS and TRANSYLMANIA, and two older titles getting a new Blu-ray treatment, ARMAGEDDON and DUNE.
Posted in Laserblast | Tagged Terry Gilliam | Leave a response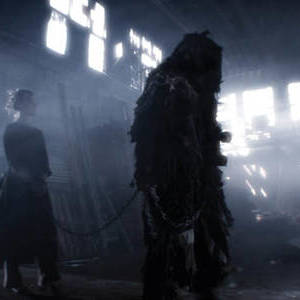 By Steve Biodrowski on March 14, 2010
It's a genre light week, with no new horror, fantasy, or science fiction titles released in cinemas, so Dan Persons, Lawrence French, and Steve Biodrowski take this opportunity to shine a little much-deserved light on some overlooked and/or under-rated genre titles.
Posted in Cinefantastique Podcasts, Movies, Podcasts | Tagged fantasy, Roman Polanski, Terry Gilliam | Leave a response
By Steve Biodrowski on December 25, 2009
It's nice to finally see a Terry Gilliam film on the big screen again. It's been a long time since the back-to-back box office debacles of BRAZIL (1985) and THE ADVENTURES OF BARON MUNCHAUSEN (1988) sent him scurrying to prove that he could turn a profit by working more as a hired gun than an auteur, directing [...]
Posted in Movies, Reviews | Tagged 2009, Heath Ledger, Johnny Depp, Terry Gilliam, THE IMAGINARIUM OF DOCTOR PARNASSUS | Leave a response
By Steve Biodrowski on May 10, 2009
I've been a big fan of director Terry Gilliam for a long time, but THE BROTHERS GRIMM is the worst thing he made since his terrible solo (i.e., non-Monty Python) debut, JABBERWOCKY. The script by Ehren Krueger is terrible: the story is muddled, confused, leaden, and uninteresting. And Gilliam's patented visual style only makes things [...]
Posted in Movies, Reviews | Tagged 2005, fairy tales, fantasy, Heath Ledger, Matt Damon, Terry Gilliam, THE BROTHERS GRIM | Leave a response
By Steve Biodrowski on February 6, 2008
An Ambitious and amazing feature-length re-imagining of the classic short subject "La Jetee."
This is feature-length remake of LA JETEE, the short-subject masterpiece by Chris Marker that portrayed time travel as a kind of moebius strips folding back on itself. The original short was a remarkable piece of film-making with a style inextricably linked to its [...]
Posted in DVD, Movies, Reviews | Tagged Bruce Willis, science fiction, Terry Gilliam, time travel | 2 Responses