Archive for stop-motion effects
You are browsing the archives of stop-motion effects.
This week's special edition of the Cinefantastique Laserblast podcast forgoes the usual rundown of recent horror, fantasy, and science fiction releases on home video, instead offering a 50th anniversary tribute to a beloved genre classic. Back in 1961, producer Charles H. Schneer and special effects supervisor Ray Harryhausen brought Jules Verne's novel MYSTERIOUS ISLAND to [...]
Having survived the rocky shoals of THE CHRONICLES OF NARNIA: THE VOYAGE OF THE DAWN TREADER, Steve Biodrowski, Lawrence French, and Dan Persons decide to kick it freestyle (as the kids all say — the kids do all say that, don't they?) in a wide-ranging, nay, recklessly random episode of THE CINEFANTASTIQUE POST-MORTEM PODCAST. Covered [...]
So how about a break from the Fab Three ragging on the latest release? How about a few, carefree minutes with Matt Senreich, the twisted mastermind who, along with the equally twisted Seth Green, oversees Adult Swim's wickedly funny, sharply satirical, and supremely nerdy stop-motion animated puppet show, ROBOT CHICKEN? Before he was felled by [...]
New Blu-ray release offers improved picture and sound quality but little in the way of additional bonus features.
Riding on the delightfully cobwebbed coat-tails of Tim Burton's THE NIGHTMARE BEFORE CHRISTMAS, poor JAMES AND THE GIANT PEACH was probably predestined to be a disappointment, for what film could possibly live up to that level of expectation? [...]
Watch the Video of the BFI and BAFTA special achievement award presented to RAY HARRYHAUSEN on the occasion of the master animator's 90th birthday. This fabulous 42 minute minute video includes comments from James Cameron, Steven Spielberg, Guillermo Del Toro, Nick Park Frank Darabont, John Landis, and more.
Produced during Ray Harryhausen's most fruitful period, THE 3 WORLDS OF GULLIVER is one of the special effect artist's most overlooked films, obscured by the fact that it arrived in between such famous titles as THE 7TH VOYAGE OF SINBAD and THE MYSTERIOUS ISLAND (my two personal favorites of Harryhausen's). Partly this is [...]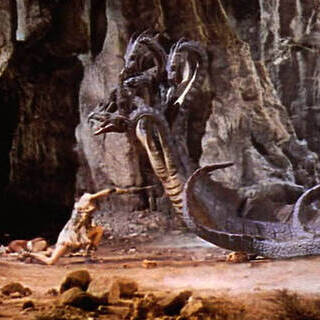 The concept of a single artesian working away in monkish solitude might seem quaint by today's standards – think of the end credit roll on Avatar with its thousands of digital effects technicians – but Ray Harryhausen was able to create a wonderful world of monsters and myths using nothing more than his hands and [...]
– Stop-Motion Great Turns 90 –
Today, June 29th 2010, is Ray Harryhausen's ninetieth birthday.
Special effects innovator, stop-motion animator, concept artist, story generator, producer, and a genre icon, responsible for many of the more imaginative science fiction films and fantasies that shaped 20th century cinefantastique.
Beginning (from the genre fan's point of view) with 1949's MIGHTY JOE [...]
For my favorite nightmare from Elm Street, I'm gonna go with NIGHTMARE ON ELM STREET 3: DREAM WARRIORS, mainly 'cause it's got a guest appearance by John Saxon and I got a soft spot for the guy. He co-starred in the first Hollywood film I ever worked on, MY MOM'S A WEREWOLF, and though he was [...]
True to its title, FANTASTIC MR. FOX is an absolute astonishment of a picture, seamlessly merging the literary sensibilities of author Roald Dahl with the droll, urbanite wit of Wes Anderson.  Ironically, it was the participation of Anderson that initially worried us; the director's recent films have been polarizing, to say the least, and we [...]