Archive for special effects
You are browsing the archives of special effects.
*
Koichi Kawakita, the special effects director who updated Godzilla for the '90s, helping to spur interest in an American remake, has passed away. Kawakita died on his 72 birthday anniversary, December 5, 2014; the cause of death was liver failure. You can read an obituary by August Ragone here.
Kawakita took over the special effects for [...]
In an article at Boingboing.net. author Ethan Gilsdorf muses on the recent passing of special effects artist Ray Harryhausen, an event which inevitably symbolizes the demise of old-fashioned analog special effects: miniatures, models, and most especially the Harryhausen style of stop-motion puppetry that brought imaginative creatures to life for decades. While acknowledging that digital [...]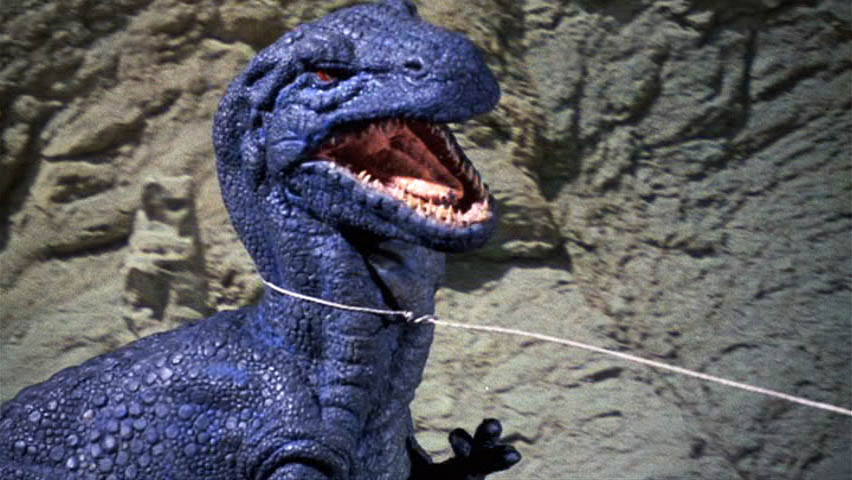 There are several fan-made montages of monsters from Ray Harryhausen films, but this is one of the best, thanks in no small part to its use of soundtrack music composed by Bernard Herrmann (who contributed to Harryhausen's THE 7TH VOYAGE OF SINBAD and MYSTERIOUS ISLAND).
Silent movie magician George Melies uses an Egyptian setting for this short subject in which a skeleton, covered with a sheet, comes to life and dances, then transforms into a living woman and back into a skeleton. Typical of Melies, the presentation is stagy (befitting a former stage magician), and the profusion of special effects [...]
This 1896 black-and-white silent horror film from George Melies (the special effects pioneer behind 1902's A TRIP TO THE MOON) probably yields little gooseflesh for today's viewers. However, it plays like an overture for the next forty years of horror movie imagery; its brief running time encapsulates such soon-to-be-familiar cinema imagery as old dark castles; [...]
This is one of many amusing silent short subjects from George Melies, the early cinema magician who pioneered the use of special effects to create imaginative and whimsical fantasy on screen. Typical of Melies, there is little story; THE MAN WITH THE RUBBER HEAD is more of an extended sight gag, in which the special [...]
This 1905 effort from George Melies may not be as famous as A TRIP TO THE MOON (1902), but LA DIABLE NOIR (or THE BLACK IMP) is a perfect distillation of the the silent movie magicians craft and art. The movie tells the simple story of a customer in a hotel room bedeviled by the [...]
George Melies's 1902 A TRIP TO THE MOON is a pioneering work in the history of horror, fantasy, and science fiction cinema. Although Melies directing technique is dated (proscenium arch compositions, with no intercutting of different angles within scenes), his whimsical sense of magic and fantasy continue to amuse decades later. Story elements are borrowed [...]
Following up on the previous CFQ Spotlight Podcast devoted to Martin Scorcese's HUGO, the Cinefantastique crew of Dan Persons, Lawrence French, and Steve Biodrowski – joined by special guest Andrea Lipinski – blast off into the fabulous fantasy world of George Melies. The special effects pioneer and cinema magician of the early silent era was the first to realize the potential of movies imbued with a Sense of Wonder, using the camera not to capture reality but to create dreams writ large on the silver screen.
Avian Alien looks pretty decent, thanks to modern FX.