Archive for Slasher Movies
You are browsing the archives of Slasher Movies.
We wrap up our sadly-too-brief coverage of New York Comic with a quick duck into the floor booth of Anchor Bay Entertain- ment. There, after gorging ourselves on copious free buttons and fliers (we're all about the gimmes), we sat down with the company's Kevin Carney and Erin Carter to find out what's in store [...]
HATCHET is back – this time on a Blu-ray disc that ports over the old DVD bonus material and adds a new audio commentary with writer-director Adam Green and actor Kane Hodder. With the behind-the-scenes details having been thoroughly covered in the DVD, there are few gaps to be filled, but the widescreen high-def transfer reminds us just how good this modestly budgeted film looks.
Jeff Bridges returns to the game grid, Harry Potter faces down some deathly hallows — whatever the hell those are — and Jacques Tati gets animated as CHRONIC RIFT producer/host John Drew and I pick up our discussion of the cinematic goodness that will be greeting us as the year raps up. And if TRON: [...]
In anticipation of my assuming the role of movie critic for THE CHRONIC RIFT — the legendary discussion show of all things science fiction, fantasy and horror that's beginning its third year as a podcast — John Drew invited me on to discuss what genre fans should be looking forward to [...]
HATCHET – writer-director Adam Green's gleefully gory homage to slasher films of the 1970s and '80s – is coming to Blu-ray on September 7. The new disc will feature the unrated director's cut, not the R-rated cut released briefly in theatres in 2007. Bonus features from the previous DVD release will be ported over, and add a new audio commentary will be added, featuring Green and actor-stuntman Kane Hodder.
Freddy's back, in all his gory glory, but revisiting him in A NIGHTMARE ON ELM STREET is less likely to inspire an attack of night terrors than to elicit a bored yawn, followed by a restful sleep, wherein one's pleasant dreams are disturbed only by the eternally unanswered question: When will all these pointless remakes end?
The [...]
New entry in the enduring horror remake trend, A NIGHTMARE ON ELM STREET, is almost upon us but Empire have managed to get their hands on a new poster for the film:
The remake of the 80s slasher classic A NIGHTMARE ON ELM STREET is being directed by Samuel Bayer (music video director) with Jackie Earle [...]
More than 10 years after the release of SCREAM 3 and following a drawn out will-they-won't-they internet debate, Dimension Films have finally greenlit SCREAM 4 with a release set for April 15, 2011.
According to Variety Wes Craven is indeed returning as director along with series veterans Neve Campbell, David Arquette and Courteney Cox Arquette. The [...]
Remaking LAST HOUSE ON THE LEFT seemed like a dubious proposition at best; the original was so much a part of its cycnical '70s era (Nixon, Vietnam, Watergate) that transplanting it to contemporary times seemed as if it could rob the story of vital cultural context. Yet somehow the new HOUSE works much better than expected, perhaps because we had come full circle to a cultural context roughly equivalent to the early '70s (Bush, Iraq, Torturegate). Consequently, the emake seemed weirdly appropriate – not an anachronisms ripped from its own time and plopped down haphazardly into a new era.
A film that fulfills both the positive and pejorative definitions of "sleaze," Lucio Fulci's THE NEW YORK RIPPER arrived – believe it or not – on Blu-Ray last week courtesy of the 21st century keepers of the exploitation flame, Blue Underground. The disc easily outstrips all previous foreign and domestic editions of the disc, and [...]
In his last few scores, composer Tyler Bates has watched the WATCHMEN and observed THE DAY THE EARTH STOOD STILL, spent a DAY OF THE DEAD and survived DOOMSDAY, but as potent – and as diverse – as those scores were, it's been his work for Rob Zombie that continue to be his edgiest, evincing [...]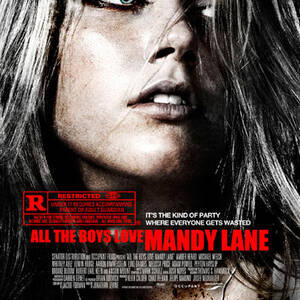 Lost in distribution limbo, this slasher film is entertaining but not the holy grail promised by early reviews. Director Jonathon Levine's ALL THE BOYS LOVE MANDY LANE, starring Amber Heard (ALPHA DOGS), earned some enthusiastic buzz when it screened at the Toronto Film Festival in 2006 (Scott Weinberg called it the first "thinking man's slasher film"), but that hasn't helped the independent film find its way to American audiences.
ALL THE BOYS LOVE MANDY LANE seems doomed never to play in U.S. theatres. The Weinstein Brothers bought this slasher film after it earned positive buzz on the festival circuit in 2006, but theydid nothing with it.Then Senator Distribution, a new company aquired the rights and announced a release back in 2008, which never materialized. [...]