Archive for PARANORMAL ACTIVITY
You are browsing the archives of PARANORMAL ACTIVITY.
Thyurl Varpenshield shouldered the mighty broadsword, NapeSplitter, and double-checked his provisions bag. "Old man!" he cried good-naturedly into the depths of the household.
From out of the kitchen, a gnarled, ancient figure emerged, wiping his hands on a dish towel. "What be on with ye now, yon whippersnapper?" he snarled cantankerously.
"Father, I am off!"
"Good with ye, [...]
DC Entertainment chief has interesting choices for film adaptation… Latino PARANORMAL ACTIVITY gets delayed… FRANKENSTEIN'S ARMY is on the march…
From the luxurious Cinefantastique Online studios in NYC, Dan Persons brings you up-to-date on what's happening in fantastic film & TV.
In defiance of conventional wisdom, the second week of 2013 sees yet another film that doesn't aspire to the bottom-of-the-barrel stature usually typified by early-in-the-year releases. Quite to the contrary, A HAUNTED HOUSE sets out to deflate found-footage horror in general, and the PARANORMAL ACTIVITY franchise in specific, and more often than not hits its [...]
From Paramount's point-of-view, there's a compelling reason to continue the PARANORMAL ACTIVITY series: It's a cash-cow — a low-budget, high-earning (number one at the box-office this past weekend) crowd-pleaser.  The studio has some experience in this field, having previously cranked out the FRIDAY THE THIRTEENTH films, a franchise that became so threadbare by the end [...]
At first glance, PARANORMAL ACTIVITY 4 seems to offer evidence that, despite the filmmakers' best intentions, the indubitably effective formula of the original PARANORMAL ACTIVTY has run out of ectoplasm. A closer look, however, suggests that this third sequel is a daring formal experiment, one that seeks to answer the question: How far can we [...]
Second trailer from PARANORMAL ACTIVITY 4, set five years after the events of the first PARANORMAL ACTIVITY.
Paramount Pictures releases the third sequel to PARANORMAL ACTIVITY. Remember PARANORMAL ACTIVITY? More important: remember how the ending left the story wide open for a sequel? Well, PARANORMAL ACTIVITY 2 and 3 filled in the back story without really telling us too much about what happened next. At last, PARANORMAL ACTIVITY takes us to a [...]
And so the story of two sisters vexed by supernatural forces — as captured by conveniently located video cameras — continues, or begins, or ends depending on how you want to look at it, in PARANORMAL ACTIVITY 3. Another prequel set in 1988 and purportedly recorded on VHS equipment — which doesn't really account for [...]
Deadline New York have the scoop on the director for PARANORMAL ACTIVITY 2, and it's Tod Williams. Originally scheduled director Kevin Greutert (SAW VI) would have done the job if it were not for Lionsgate and Twisted Pictures forcing him to direct SAW VII 3D.
Williams doesn't have much on his filmography thus far (and even [...]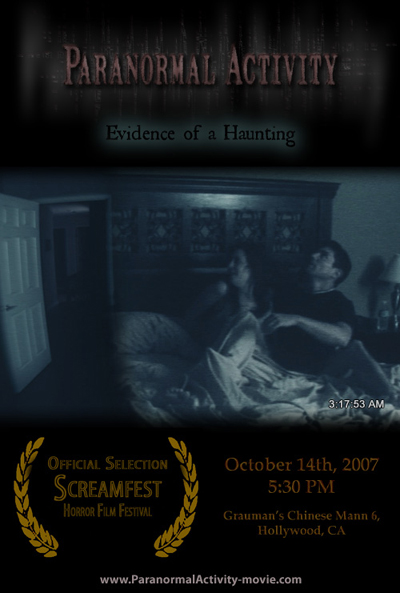 PARANORMAL ACITIVITY presents itself as "found footage" shot by a couple who became the victims of a demonic entity. Nearly a decade after THE BLAIR WITCH PROJECT, the faux-documentary approach is a little tired, as is the attempt to pass this story off as "true" (including a closing title card dedicated to the "victims").
Fortunately, once [...]