Archive for JASON AND THE ARGONAUTS
You are browsing the archives of JASON AND THE ARGONAUTS.
In this 1974 television interview (including film clips from ONE MILLION, B.C. and JASON AND THE ARGONAUTS), Ray Harryhausen demonstrates of the basics of the stop-motion special effects technique and explains how the special effects sequences were dreamed up for his movies.
See one of the greatest sequences ever crafted by stop-motion magician Ray Harryhausen: the skeleton battle from the climax of JASON AND THE ARGONAUTS.
SCARY MOVIE V opened this week! Yeah, us neither. So instead of delving in depth into this weekend's big release (takeaway: A HAUNTED HOUSE was much funnier), Cinefantastique Online's Steve Biodrowski and Dan Persons deliver a quick capsule review, and then Lawrence French joins them for a fiftieth anniversary discussion of stop-motion animator Ray [...]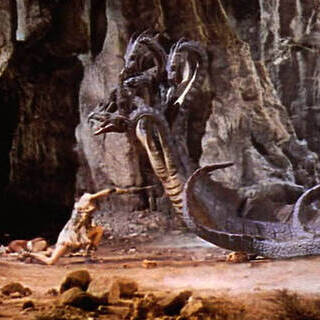 The concept of a single artesian working away in monkish solitude might seem quaint by today's standards – think of the end credit roll on Avatar with its thousands of digital effects technicians – but Ray Harryhausen was able to create a wonderful world of monsters and myths using nothing more than his hands and [...]
Tuesday, July 6 sees no new horror, fantasy, or science fiction titles making their home video debut, but that is no reason for fans of cinefantastique to despair: the 1963 classic JASON AND THE ARGONAUTS, with stop-motion effects by Ray Harryhausen, is arriving on a brand new Blu-ray disc that improves on the picture and sound quality of the previous DVD release. Not only that, the Blu-ray is loaded with no bonus features, including an audio commentary with Ray Harryhausen.