Archive for HOW TO TRAIN YOUR DRAGON
You are browsing the archives of HOW TO TRAIN YOUR DRAGON.
I'm at the point where I can pretty much take or leave 3D. As a techie, I want to embrace any technology that'll expand the cinemagoing experience, but even I have to concede that most of the time 3D is employed as little more than an add-on, just a way to charge extra for stuff [...]
Once again the horror genre proves itself to be critic-proof as Samuel Bayer's remake of A NIGHTMARE ON ELM STREET is sitting atop the weekend box office with a respectable $32.2 million. The film currently holds a 'rotten' 15% rating at Rotten Tomatoes but that didn't stop it from storming the box office and [...]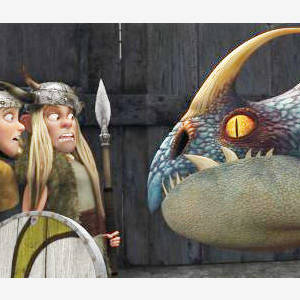 In this week's episode, Dan Persons, Lawrence French, and Steve Biodrowski debate the merits of domesticated dragons as they bring their combined acumen to bear upon analyzing DreamWorks 3D aerial extravaganza, HOW TO TRAIN YOUR DRAGON. Also on the chopping block: news from the world of horror, fantasy, and science fiction film-making; a look at [...]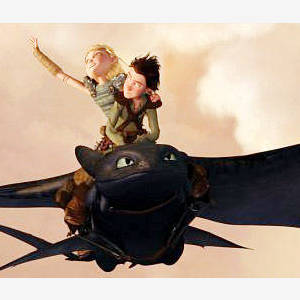 "Thank you for nothing, you useless reptile." 
That's a quote by Hiccup (Jay Baruchel) from DreamWorks' new CGI animated film HOW TO TRAIN YOUR DRAGON.  And I, uh, have to fess up and admit that those words were similar to my sentiments when I first saw the trailer for this one.  I didn't care for the [...]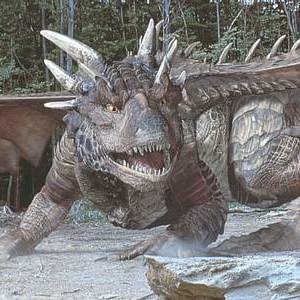 Considering the mythical nature of dragons, you would think they would be th superstars of cinefantastique; instead, they have too often been relegated to supporting status in sub-par films. Fortunately, there are a few good dragon movies out there, and even the dramatic disappointments can feature impressively realized reptiles of mass destruction.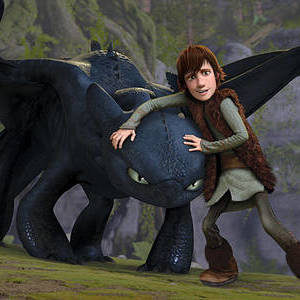 Business Week has posted an article examining DreamWorks CEO Jeffrey Katzenberg's strategy to push for 3D as the future of Hollywood film-making. Before the current back-to-back blockbuster success of AVATAR and ALICE IN WONDERLAND, Katzenberg had long been advocating for wider acceptance of 3D and pushing for more theatres to install the latest technology necessary [...]
Paramount Pictures releases this family-friendly fantasy film from DreamWorks Animation, about a young, dragon-hunting Viking who ends up adopting one of the beasts and realizes they are not the fearsome creatures he imagines. Jay Baruchel, Gerard Butler, America Ferrera, Craig Ferguson, Jonah Hill, Christopher Mintz-Plasse, and Kristen Wiig provide the character voices. Dean DeBlois and [...]