Archive for Greek mythology
You are browsing the archives of Greek mythology.
Courtesy of Warner Brothers Online, check out this video interview with Ray Harryhausen, who discusses the changes he made to Medusa in order to make her work as a stop-motion character in CLASH OF THE TITANS (1981).
The word peplum derives from the Roman word for pleated skirt, and a "peplum movie" is one in which the characters wear such skirts. SON OF SAMSON (originally Maciste nella Valle dei Re ["Maciste in the Valley of the Kings"]) was the second of Mark Forest's muscleman movies (his first was GOLIATH AND THE DRAGON) [...]
The Hollywood Reporter reveals that Warner Brothers and Legendary Pictures are hiring two new writers for a sequel to CLASH OF THE TITANS: Dan Mazeau and David Leslie Johnson. Greg Berlanti is already working on a treatment; Mazeau and Johnson will collaborate with him, then write the screenplay.
The hiring of multiple writers is not uncommon [...]
We're a day late but not a dollar short with this, the eighth episode of Cinefantastique's weekly Horror, Fantasy & Science Fiction Podcast. Due to technical difficulties, podcast host Dan Persons sits out this episode, but he joins regular contributors Lawrence French and Steve Biodrowski in spirit as they analyze the new big-budget remake of [...]
With the re-make of Clash of the Titans hitting theaters this week, Warner Bros. has released the original 1981 film on Blue-Ray disc. To celebrate, here is part V of my interview with Ray Harryhausen, discussing his hand-crafted approach to creating the film's special visual effects.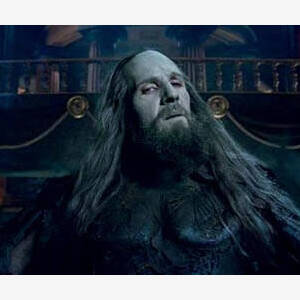 One of the highlights of the new CLASH OF THE TITANS is Ralph Fiennes' performance as the sinister Hades, brother of Zeus (Liam Neeson). Given more screentime than Voldemort in the HARRY POTTER films, Hades emerges as a memorable portrait of malevolence and resentment, urging Zeus to reign vengeance upon mankind while simultaneously working to [...]
Variety reports that Relativity Media and Warners Brothers are battling over who will be the first to reach the screen with a big-budget fantasy film based on Greek Myth. Relativity is backing a film called WAR OF THE GODS, which had Warner Brothers had considered backing until they signed Louis Leterrier (THE INCREDIBLE HULK) to direct [...]