Archive for DreamWorks
You are browsing the archives of DreamWorks.
I'm at the point where I can pretty much take or leave 3D. As a techie, I want to embrace any technology that'll expand the cinemagoing experience, but even I have to concede that most of the time 3D is employed as little more than an add-on, just a way to charge extra for stuff [...]
So, there, that's one New Years resolution out of the way for me. A few months after the theatrical release of KUNG FU PANDA 2, I was able to score an interview with its director, Jennifer Yuh Nelson. With the home video release of the film (in just about every format available, [...]
A world where everyone remains young and pretty forever? No, it's not the CW prime-time schedule, it's IN TIME, Andrew Niccol's latest weaving of science-fiction speculation and wry social commentary. Imagining a civilization in which time literally is money — minutes, hours, days are earned and spent, the poor living a genuine day-to-day existence while [...]
Ready for another visit from the most awesome martial arts master ever? Well, ready or not, Po, the legendary Dragon Warrior (and roly-poly panda) is back in this follow up to the well-received KUNG FU PANDA. And this time Po (voice of Jack Black) and his compatriots, the Furious Five — Tigress (Angelina Jolie), Monkey [...]
Who are you? Why, I am Number Four – or at least that's what the title tells me. But I am not a number; I am a free man! No, wait – that's THE PRISONER. This week's topic of conversation on the newly re-christened Cinefantastique Spotlight Review Podcast is I AM NUMBER FOUR, the new [...]
I AM NUMBER FOUR (February 18, 20100). Directed by: D.J. Caruso. Written by: Alfred Gough & Miles Millar and Marti Noxon, based on the novel by James Frey & Jobie Hughes. Cast & Characters:
Number Four/John Smith – Alex Pettyfer
Henri – Timothy Olyphant
Number Six – Teresa Palmer
Sarah – Dianna Agron
Sam – Callan McAuliffe
Mogadorian Commander – Kevin Durand
Orson Scott Card film adaption making the rounds again, with heightened interest.
NOTE: The Yahoo Movies trailer appears to have been pulled — here's one via YouTube.
Here's the trailer  and synopsis for DreamWorks's upcoming animated film MEGAMIND:
"Megamind is the most brilliant supervillain the world has ever known. And the least successful. Over the years, he has tried to conquer Metro City in every imaginable way. Each attempt, [...]
MTV.com reports that Sam Worthington – who hit big in two science fiction films last year, AVATAR and TERMINATOR SALVATION – will produce and star in QUATERMAIN, a sci-fi updating of H. Rider Haggard's Victorian adventurer Allan Quatermain, who served as the inspiration for numerous cinematic action heroes (I'm looking at you, Indiana Jones!). According [...]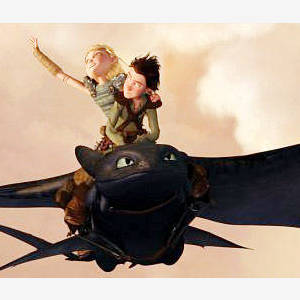 "Thank you for nothing, you useless reptile." 
That's a quote by Hiccup (Jay Baruchel) from DreamWorks' new CGI animated film HOW TO TRAIN YOUR DRAGON.  And I, uh, have to fess up and admit that those words were similar to my sentiments when I first saw the trailer for this one.  I didn't care for the [...]