Archive for black-and-white
You are browsing the archives of black-and-white.
This movie has everything – well, almost everything. It has a dwarf; a mute bald-headed assistant; an old lady who shows up at the beginning of the story, looking young; another old lady who shows up at the end of the story looking old; a bunch of other ladies immobilized like mannequins on display; and an artistic Japanese vampire [...]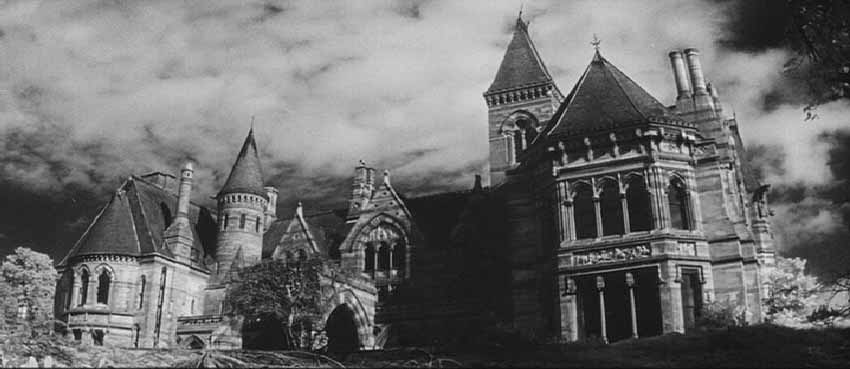 Hill House has stood for 90 years and might stand for 90 more. Within, walls continue upright, bricks meet, floors are firm, and doors are sensibly shut. Silence lies steadily against the wood and stone of Hill House. And we who walk here… walk alone.
With Dan Persons on hiatus, the remaining Cinefantastique Podcasters, Lawrence French [...]
The final track on Deep Purple's latest album, Now What?!, features a title that immediately endeared it to Cinefantastique: "Vincent Price." That's right: the late, great "Merchant of Menace" – the actor who portrayed Dr. Phibes, Prince Prospero, Roderick Usher, the Invisible Man, and many other memorable villains – is the subject of a hard [...]
In horror cinema, nothing so much becomes a character's life as the leaving of it. It is de rigueur to see screen victims beaten, bitten and bled out, clawed and jawed, decapitated, eviscerated, and even evaporated. These fates are not reserved merely for the anonymous extras (the equivalent of STAR TREK's red-shirted bit players) who [...]
You never get a second chance to make a first impression. Movie monsters know that more than anybody. Much of the genre is built upon the suspenseful build-up to the first full revelation of exactly what it is that we the viewers have paid to see and shiver over. Often, that revelation takes the form [...]
EDITORIAL NOTE: It's October, the month of Halloween horror – the season of vampires, bats, witches, and zombies. We here at Cinefantastique Online are celebrating the season with the upcoming release of the new all-zombie issue of Cinefantastique magazine – the first issue printed since 2006! As part of the celebration, we are posting this [...]
Fathom Events and Turner Classic Movies present a double bill of black-and-white films from the Golden Age of Classic Horror: FRANKENSTEIN (1931) and THE BRIDE OF FRANKENSTEIN (1935), both directed by James Whale and starring Boris Karloff as the monster. Though many old horror films do not hold up so well today, Whale's work – [...]
The second trailer from Tim Burton's stop-motion family-friendly horror-fantasy, based on Burton's 1984 live-action short subjectabout a young boy who brings his beloved pet Sparky back to life after a car accident.
Walt Disney Pictures releases the film in glorious black-and-white – and 3-D – on October 5, 2012.
Walt Disney Pictures releases this stop-motion family-friendly horror-fantasy from the Tim Burton Animation Company. Based on Burton's 1984 live-action short subject, FRANKENWEENIE tells the story of a young boy who brings his beloved pet Sparky back to life after a car accident. When the neighbors find out, they fear that the resurrected pooch is a [...]
Silent movie magician George Melies uses an Egyptian setting for this short subject in which a skeleton, covered with a sheet, comes to life and dances, then transforms into a living woman and back into a skeleton. Typical of Melies, the presentation is stagy (befitting a former stage magician), and the profusion of special effects [...]