Archive for Barbara Steele
You are browsing the archives of Barbara Steele.
Our sister site Hollywood Gothique has just posted a music video of a cover version of "Gothic Girl." Originally recorded by The 69 Eyes, the song has been revamped into a tribute to actress Barbara Steele, who starred in such wonderfully atmospheric Gothic horror movies in the 1960s as BLACK SUNDAY, CASTLE OF BLOOD, THE [...]
In Cinefantastique's final Black Hole Ultra-Lounge Podcast of 2013, Dan Persons and Steve Biodrowski wrestle with the trailer for LEGEND OF HERCULES, travel to the end of Matt Smith's time as the Doctor, examine the current slate of home video releases for Tuesday, December 31, and explore the public domain horrors of NIGHTMARE CASTLE (a.k.a. [...]
Along with DEATH RACE 2000, this fun-filled exploitation horror film from 1978 is one of the great achievements to emerge from New World Pictures, a low-budget company that Roger Corman created after giving up hands-on directing to become an executive. New World churned out enjoyable exploitation fare for drive-in theatres and multiplexes in the 1970s, [...]
No new genre films hit theatres this weekend, but fear not: Dan Persons, Lawrence French, and Steve Biodrowski once again rev of the time machine and take you five decades into the past, for a look at one of the greatest horror films of all time, director Mario Bava's masterpiece of black-and-white Gothic horror, BLACK [...]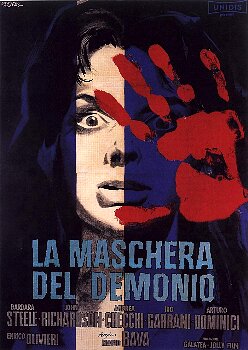 Widely regarded by fans as a genre masterpiece, BLACK SUNDAY is a magnificent work of black-and-white horror, filled with wonderfully atmospheric effects and punctuated by moments of brutality quite grizzly for their time. The film is a unique piece of Gothic visual poetry that retains its power to thrill and entertain with all the tenacious vivacity of its centuries-dead vampire-witch, who refuses to lie quietly in her grave.