Archive for Asian horror
You are browsing the archives of Asian horror.
Hollywood Reporter informs us that James Wong (X-FILES, FINAL DESTINATION) will write and direct a remake of the 2005 Japanese film THE NEIGHBOR NUMBER 13 (Rinjin 13-Go) for Distant Horizon productions. Shooting is scheduled to begin this year, with distribution targeted for the fall of 2011.
This anthology of Asian horror stories (known as Saam Gaang in the East) was retitled THREE EXTREMES II for U.S. home video, which is doubly misleading: THREE precedes 2004's THREE EXTREMES by two years, and it is far less extreme in terms of violence and perversity, instead offering moderately interesting variations on the traditional tropes of Asian horror films [...]
This period costume drama, from the director of RING, is a deliberate attempt to move away from the tropes of modern J-Horror cinema in favor of a more traditional approach to the supernatural.
Surfing the Internet the other day, I stumbled upon an advertisement posing as an article, which posed the question, "What is the Asian secret to strong lush hair?" I did a screen grab, so that you can see what I am talking about without having to click through the link:
As you can probably guess, my [...]
There is now a German trailer available for THE SHOCK LABYRINTH, a new 3D J-Horror film from Takashi Shimizu, the director who gave us the JU-ON films and their first two American remakes, THE GRUDGE and THE GRUDGE 2. The storyline follows some friends trapped in a maze-like haunted house attraction, and it is based [...]
Talk about being disarmed: one of the fantastically far-out and freaky frightening films at this year's San Diego Asian Film Festival.
Turns out in Park Chan-wook's universe, revenge may be sweet, but blood is just plain tasty. In THIRST, a priest's benevolent attempt to aid medical researchers turns around to bite him in the… well, let's say neck, when a blood transfusion transforms him into a profoundly conflicted vampire. Adding to Sang-hyun's (Song Kang-ho) confusion: his [...]
Remember how scared you were when you first saw THE GRUDGE? Want to feel that way again? Well, it's a good thing home video allows you to pop the 2004 film in the DVD player, because watching THE GRUDGE 3 is not going to invoke any of the atmospheric, irrational thrills you recollect from the [...]
American audiences are sick and tired of American J-Horror remakes and sequels, and who can blame them after ONE MISSED CALL, SHUTTER, and especially the dismal directo-to-video disturbance known as THE GRUDGE 3? Yet Japan continues to produce modern kaidan eiga ("ghost story movies"), and the most recent examples look pretty good, judging by the [...]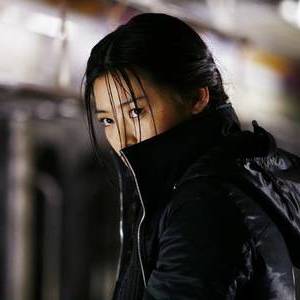 Slashing swords, splashing blood, and flashy CGI – not to mention a hot chick in school uniform – sound like a cool combination, but the life bleeds out of BLOOD: THE LAST VAMPIRE long before the final reel.
Hey, you! Mr. CGI development guy - I'm talking to you! The one who created the software that renders [...]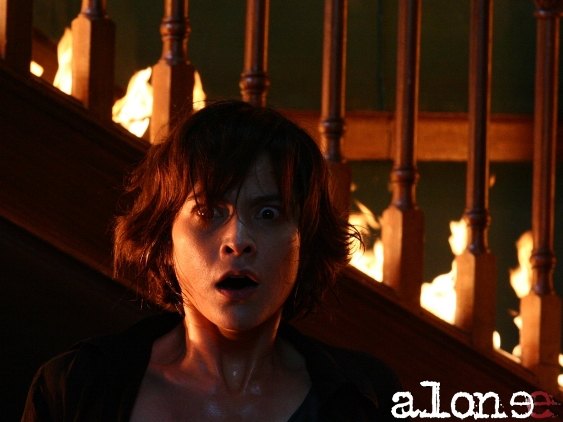 ALONE is an Asian import – not from the usual suspects Japan or Korea, but Thailand (technically, the film is partly set in Korea, but it is a Thai production). Although not a masterpiece, it is an intriguing tale told in a suitably spooky manner, offering evidence that, nearly a decade after the J-Horror wave [...]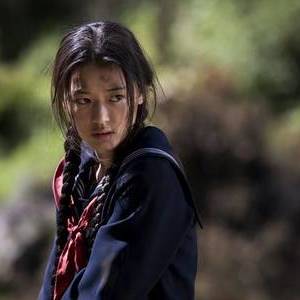 BLOOD: THE LAST VAMPIRE is a live-action horror film based on the 2001 anime short subject of the same title. Shot in the style of a Hong Kong fant-asia film, with lots of martial arts swordplay choreographed by Corey Yuen (THE ONE, X-MEN), BLOOD: THE LAST VAMPIRE is a Chinese-French co-production, with a French director [...]
Here is a newly released clip from BLOOD: THE LAST VAMPIRE: Vampire-hunter Saya (Korean actress Gianna) battles winged demon atop a jeep wedged percariously over a ravine. If you enjoy over-the-top Fant-Asia-style martial arts, you will get a kick of out this sequence, which is one of the better scenes in the film.