Archive for Alex Kurtzman
You are browsing the archives of Alex Kurtzman.
Scribes with Bad Robot creds in talks… Syfy wants Oz characters to go to war… We wanted to show you the trailer for RIDDICK. We can't. We just can't…
From the luxurious Cinefantastique Online studios in NYC, Dan Persons brings you up-to-date on what's happening in the world of fantastic film & TV.
FULL-SIZE VIDEO IS BELOW
STAR TREK is back, Captain Kirk (Chris Pine) is still flouting the rules, director J.J. Abrams is still dividing the fan base, but amazingly, inconceivably, there's no dissent within the Cinefantastique Online ranks this time: Steve Biodrowski, Lawrence French, and Dan Persons all agree that STAR TREK INTO DARKNESS is supreme, quintessential TREK adventure. Telling [...]
Orson Scott Card film adaption making the rounds again, with heightened interest.
In it's own new TREK universe, free of binding 'canon', the next adventure for Kirk & the Enterprise crew takes shape.
It looks like Alex Kurtzman and Roberto Orci's planned LOCKE & KEY film may actually see the light of day as a TV series instead!

Michael Bay's TRANSFORMERS sequel is less science fiction spectacle than an excursion into abstract cinema
No other critic is going to admit it, so it falls to me to declare  that director Michael Bay is an abstract artist whose work is continuously misinterpreted. The conventional wisdom is that Bay is a no-talent uber-Hollywood hack, who churns out formulaic [...]
Variety reports that Paramount is already preparing a sequel to STAR TREK, their franchise reboot that does not open until May 8. Roberto Orci, Alex Kurtzman, and Damon Lindelof have been hired to script the follow-up, which will be produced by J. J. Abrams, who may or may not return to the directing chair. A [...]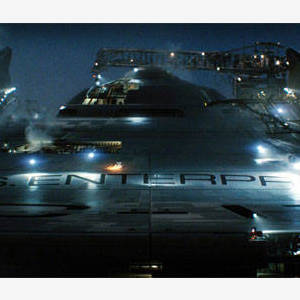 The Los Angeles Times has posted a profile of the screenwriting team of Alex Kurtzman and Roberto Orci. Much of the article focuses on how the pair met and forged a partnership that has lasted through such projects as TRANSFORMERS, THE ISLAND, FRINGE, etc, but they do get around to saying a little bit about [...]