By Craig D. Reid on August 5, 2010
"Blood, squirt, artery, homicide, gore." These are the words pouring out of the mouth of Michael Palin during his rendition of a sadistic barber in a Monty Python skit. It also happens to be a fair description of TOKYO GORE POLICE (2008), Nishimura's over-the-top blood lusting freak-out film that gives this Gore-Asia genre a comedic lilt with a horror tilt.
Posted in Movies, Reviews | Tagged 2008, gore movies, TOKYO GORE POLICE | Leave a response
By Steve Biodrowski on April 7, 2010
Filmonic.com points us to a ProductionWeekly.com report that director Bryan Singer (X-MEN) will start filming JACK THE GIANT KILLER in July, with shooting planned to take place in London and Iceland, for a planned 2011 release.
Singer's involvement with JACK THE GIANT KILLER could prevent him from rejoining the X-MEN franchise, despite recent overtures from producer [...]
Posted in Movies, News | Tagged 2008, Bryan Singer, fairy tales, JACK THE GIANT KILLER | Leave a response
By Drew Fitzpatrick on March 11, 2010
A gentle fable that beautifully demonstrates the artistry of classic hand-drawn animation.
Posted in DVD, Reviews | Tagged 2008, fairy tales, Hayao Miyazaki, PONYO | Leave a response
By Deborah Louise Robinson on September 19, 2009
It's not often that I see a film, particularly a horror film, which is lit so well as Steve Barker's OUTPOST. Stunning greys and shadows are used to great effect, bleaching out the brighter colours and leaving behind a bleak and atmospheric work of art. This stylish cinematography isn't wasted on a bad film, either, [...]
Posted in Movies, Reviews | Tagged 2008, OUTPOST | Leave a response
By Deborah Louise Robinson on September 14, 2009
With a name like TRAILER PARK OF TERROR, I was certain Steven Goldmann's 2008 horror was going to be a diabolical shambles. I figured I'd sit through it anyway, so I could warn you good people to use your precious time on other things, because, well, that's the kind of selfless gal I am! The [...]
Posted in Movies, Reviews | Tagged 2008, TRAILER PARK OF TERROR | Leave a response
By Deborah Louise Robinson on September 14, 2009
Released on Monday 7th September on DVD in the U.K., FIRE & ICE: THE DRAGON CHRONICLES was made by MediaPro Pictures and The Sci-fi Channel, and directed by CATWOMAN director Pitof. Anyone expecting a fantastical spectacle of fantasy and adventure, with amazing mythical dragons and state of the art special effects is going to be sorely [...]
Posted in Movies, Reviews | Tagged 2008, dragons, FIRE & ICE: THE DRAGON CHRONICLES | Leave a response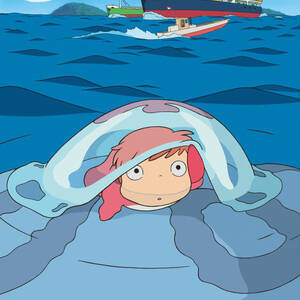 By John T. Stanhope on August 20, 2009
Hayao Miyazaki's latest film, PONYO ("Gake no ue no Ponyo" or "Ponyo on the Cliff by the Sea"), could be nicely summed up as charmingly innocent. I wasn't even sure they still made films like it. It's just a simple slice of pleasant storytelling. And you know what – audiences very much enjoy it. You [...]
Posted in Movies, Reviews | Tagged 2008, Hayao Miyazaki, PONYO | 1 Response
By Deborah Louise Robinson on August 15, 2009
Pascal Laugier's disturbing, brutal, French horror movie is not always comfortable to watch, but in contrast to the other recent torture-porn films, the torture in MARTYRS has a point.
At the beginning we see young girl Lucie escape from a facility where she has been chained to a chair and brutally tortured. Unable to speak of [...]
Posted in Movies, Reviews | Tagged 2008, torture porn | Leave a response
By Deborah Louise Robinson on August 8, 2009
Steven Sheil's 2008 British horror MUM & DAD – shot in seventeen days, on a micro-budget of only £100,000 – stands up as one of the best British horrors in recent years. Not since THE TEXAS CHAINSAW MASSACRE have we seen a family this insane.
When young Polish airport worker Lena is stranded at work after [...]
Posted in Movies, Reviews | Tagged 2008, British horror, MUM & DAD | Leave a response
By Deborah Louise Robinson on August 3, 2009
Recently released on region one DVD, Michael Feifer's B.T.K. describes itself as 'a fictional film based on a real character'. That character is the serial killer Dennis L. Rader, who was arrested in March 2005 for the murder of ten people, in a killing spree that spanned two decades. Rader was known as "B.T.K." because [...]
Posted in Movies, Reviews | Tagged 2008, B.T.K., Kane Hodder, torture porn | 1 Response