Events
Video reports from science fiction, fantasy, and horror conventions, festivals, and other events
SEE HD VIDEO BELOW
As I mentioned in Random Hunks o' Con, I'm of two minds when it comes to collectible toys. On the one hand, I cannot quite reconcile myself to the idea of toys created expressly to be looked at, and not played with. (What would Woody say?) On the other, surveying the detail [...]
DC, Marvel, Dark Horse all claimed significant shares of turf at this year's New York Comic Con, but only STAR WARS staked out its own universe, incorporating numerous vendors within the confines of its expansive area (including Hallmark, for all your limited-edition Xmas ornament needs).
And there in the midst of it was Ashley Eckstein — [...]
Cinefantastique hit the floor of New York Comic Con 2011 and discovered… people. Lots 'n' lots of people. NYCC sold out for the entire weekend, and the upshot was that even the isolated reaches of the show floor became navigational nightmares at certain points during the day. Woe betide the mortal wandering Artists Alley who [...]
Unlike other Halloween attractions, Universal Studios' Halloween Horror Nights is closely tied in with the horror film genre – perfectly appropriate for company created such classics as DRACULA, FRANKENSTEIN, and THE WOLF MAN. Each Halloween season – which, for the major theme park events, launches in September – Universal offers mazes and monsters inspired by [...]
Terry Pratchett's comic Fantasy Mega-Book series to spin off TV show.
For the past few years, Universal Studios in Hollywood has employed a strategy of building their annual Halloween Horror Nights attraction around established film franchises. Last year, they featured walk-through mazes based on SAW and HALLOWEEN, among others. The HALLOWEEN maze is gone for 2010, but SAW is back for another year of terrorizing eager [...]
Ever since Knott's Berry Farm began basing their annual Halloween Haunt mazes on titles like THE GRUDGE 2 and QUARANTINE, there has been a tendency for Halloween attractions to seek inspiration from horror and fantasy movies. No one has taken the concept further than Universal Studios in Hollywood, whose annual Halloween Horror Nights features, among [...]
Universal Studios has a long and honorable tradition of classic horror films and monster movies, so it is no surprise that when October rolls around, they look to film franchises to inspire attractions for their annual Halloween Horror Nights (which takes place at both the Hollywood and the Florida locations). Since the Hollywood version was [...]
Via Warner Brothers' youTube page, here's some highlights from the GREEN LANTERN panel at the San Diego Comic Con.
Watch to the end to hear star Ryan Reyonlds recite the Green Lantern oath for a young fan.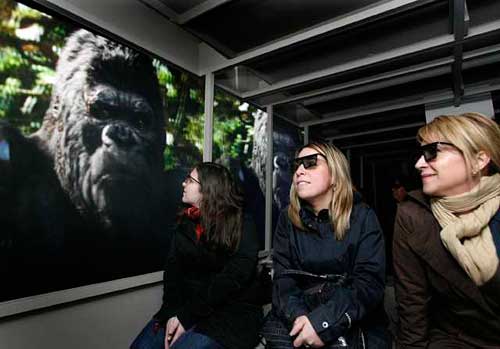 This Tuesday, wearing my other hat – as proprietor of Hollywood Gothique, the website of Fantasy Films, Mystery Movies, Halloween Horror and Sci-Fi Cinema Events in Los Angeles – I attended the press preview of the new "King Kong 360 3-D" attraction, which opens today at Universal Studios Hollywood. For those who don't recall, Universal's [...]
ConQuesT 41, Kansas City's Oldest Science Fiction Convention, is coming up this weekend at the Hyatt Regency Hotel .
Their theme this year is Steampunk and Evil Geniuses.
Guests include:
Michael Swanwick – Author Guest of Honor -Winner of
Hugo, Nebula, Sturgeon, & World Fantasy Awards
Toni Weisskopf – Toastmaster – Publisher, Baen Books
Peri Charlifu – Artist [...]
Universal Studios Hollywood officially premiered the newest attraction on its famous theme park tour, a live stage musical titled THE CREATURE FROM THE BLACK LAGOON: A RAGING, ROCKIN SHOW. This twenty-five minute show condenses the plot from the 1954 classic, starring Richard Carlson and Julie Adams, adding a bunch of songs and dialogue heavy with [...]
This year's installment of the Fangoria Weekend of Horrors is coming to the Los Angeles Convention Center in April. Hollywood Gothique and Cinefantastique Online are teaming up to get you into the convention for free. We are giving away two pairs of tickets, which can be redeemed for any single day of the convention, which [...]