Clips
Scenes from science fiction, horror, and fantasy film and television
If it was up to me, more previz– those dry-runs filmmakers create of sequences using story board drawings — would actually be done using finger puppets. It's quick, it's cheap, and you get to wiggle your digits in front of the camera, which has to be fun. For now, the makers of the upcoming VARSITY [...]
DOCTOR WHO: THE DAY OF THE DOCTOR – the 50th anniversary telefilm, which aired on BBC this weekend – will screen in theatres across the U.S. tonight, courtesy of Fathom productions (click here for a list of venues). What better way to celebrate this event than with Craig Ferguson of THE LATE SHOW singing a [...]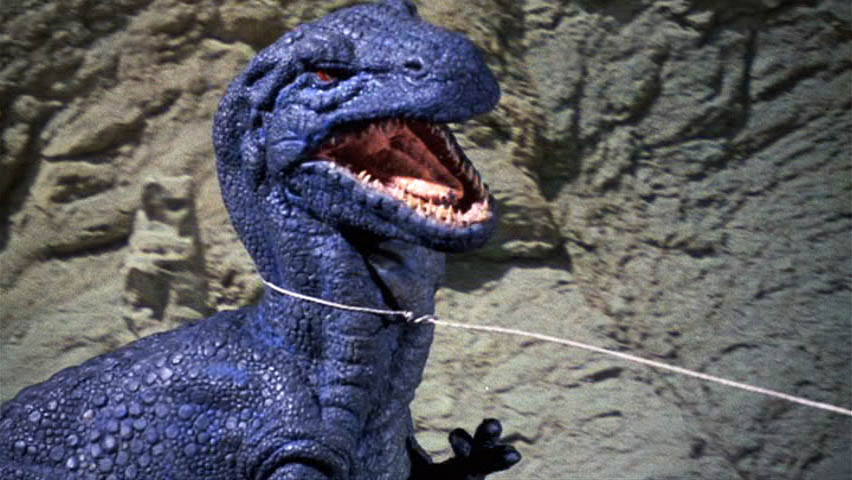 There are several fan-made montages of monsters from Ray Harryhausen films, but this is one of the best, thanks in no small part to its use of soundtrack music composed by Bernard Herrmann (who contributed to Harryhausen's THE 7TH VOYAGE OF SINBAD and MYSTERIOUS ISLAND).
See one of the greatest sequences ever crafted by stop-motion magician Ray Harryhausen: the skeleton battle from the climax of JASON AND THE ARGONAUTS.
It was only yesterday that I was waxing enthusiastic about the restored conclusion of HORROR OF DRACULA, available on a Region 2 Blu-ray disc that incorporates previously missing footage rediscovered on an old Japanese print in an archival vault in Tokyo. Now, I am starting to have reservations, thanks to a YouTube post showing the [...]
At last, fright fans – here it: the restored ending of HORROR OF DRACULA! The sequence was eviscerated by the British film censor back in 1958, when the film came out, but the recent Region 2 Blu-ray disc has finally restored the missing footage. No word yet on when a Region 1 Blu-ray will come [...]
You never get a second chance to make a first impression. Movie monsters know that more than anybody. Much of the genre is built upon the suspenseful build-up to the first full revelation of exactly what it is that we the viewers have paid to see and shiver over. Often, that revelation takes the form [...]
WARM BODIES – the zombie-romance-comedy – opens on February 1, but you do not have to wait until then to see the first four minutes of the film; just click on the embedded video, and watch it now! After that, check out the video playlist of other clips from the film: "Lab Attack," "What Are [...]
Check out video clips, interviews, and trailers from HANSEL AND GRETEL: WITCH HUNTERS, the R-rated action-oriented updating of the Grimm Fairy tale, which Paramount Pictures opens on January 25, 2013. Writer-director Tommy Wirkola (DEAD SNOW) explains the genesis and production of the film, which he conceived years ago.  Gemma Arterton and Jeremy Renner discuss playing [...]
This clip from THE TWILIGHT SAGA: BREAKING DAWN PART 2 showcases the mystical powers of brother-and-sister vampires Jane and Alec.  The final installment of the TWILIGHT film franchise opens on Friday, November 16.