Browse:
Home
/
Sense of Wonder
Sense of Wonder
The voice of Cinefantastique Online. Updates about what is happening on the website, along with opinion and analysis of the state of the horor, fantasy, and science fiction genres.
By Steve Biodrowski on January 1, 2015
*
Cinefantastique wishes all its readers a Happy New Year! May 2015 be filled with a Sense of Wonder!
Posted in Sense of Wonder | Tagged 2015, slideshow, The Overlook Hotel, THE SHINING | Leave a response
By Steve Biodrowski on December 11, 2014
*
Koichi Kawakita, the special effects director who updated Godzilla for the '90s, helping to spur interest in an American remake, has passed away. Kawakita died on his 72 birthday anniversary, December 5, 2014; the cause of death was liver failure. You can read an obituary by August Ragone here.
Kawakita took over the special effects for [...]
Posted in News, Obituaries, Sense of Wonder | Tagged Godillza, kaiju, Koichi Kawakita, slideshow, special effects | Leave a response
By Steve Biodrowski on June 6, 2014
One of the interesting aspects of last month's theatrical release of GODZILLA (2014) was the critical reaction, which turned out to be both gratifying and frustrating. How did it manage to be both? Well, let me explain…
On the one hand, it was gratifying to see GODZILLA taken seriously by the mainstream press. Yes, many of [...]
Posted in Movies, Sense of Wonder, Viewpoints | Tagged fantasy, fantasy films, giant monster movies, giant monsters, Godzilla, Godzilla (2014), kaiju, science fiction, science fiction films, slideshow | Leave a response
By Steve Biodrowski on June 18, 2013
In which the approaching release of WORLD WAR Z prompts me to ruminate on the history of cinematic "zombies" and point interested readers to some worthwhile articles in the Cinefantastique archives.
With WORLD WAR Z about to open nationwide, we all seem to have zombies on the brain this week. A handful of outlets (Johnny-come-lately's, every [...]
Posted in Movies, Sense of Wonder | Tagged World War Z, zombies | Leave a response
By Steve Biodrowski on May 23, 2013
While visiting a Los Angles courthouse last month to testify at the murder trial of Christian Karl Gerhartsreiter, I had a strangely irrelevant epiphany: Those of us with a Sense of Wonder are living in the Golden Age of Gods and Monsters. This revelation had nothing to do with our legal system and everything to [...]
Posted in Home Video, Sense of Wonder, VOD | Tagged Amazon Instant Video, free online movies, Golden Age of Gods and Monsters, Netflix, online movies, Pub-D-Hub, public domain, YouTube | Leave a response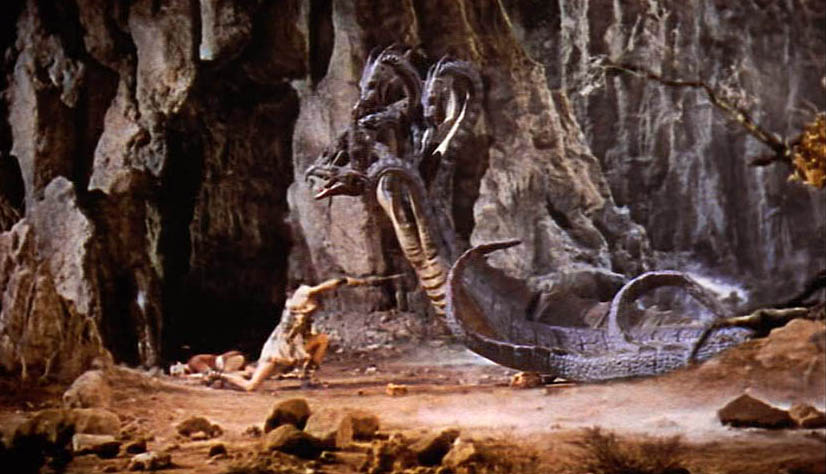 By Steve Biodrowski on May 7, 2013
Having spent the better part of the morning posting new articles about Ray Harryhausen, and digging up old ones from the CFQ archive, you would think I had nothing more to say about the revered cine-magician, who passed away today at the age of 92. Yet even after writing an obituary that attempted to asses [...]
Posted in Movies, Sense of Wonder | Tagged Ray Harryhausen | Leave a response
By Steve Biodrowski on April 4, 2013
Note: This is a repost of an article I wrote back in 2001, in response to the scandal that erupted when it was revealed that advertising campaigns from Sony Pictures had included favorable quotes from a critic who did not, in fact, exist. The studio wound up on the receiving end of a class-action lawsuit [...]
Posted in Sense of Wonder | Tagged A KNIGHT'S TALE, David Manning, Heath Ledger, Sony Pictures | Leave a response
By Steve Biodrowski on February 25, 2013
Hopefully, the above headline needs no explanation, but in case you have any doubts, we're talking about cinefantastique the genre, not Cinefantastique, the online magazine of horror, fantasy, and science fiction cinema. Although there have been a few exceptions in recent decades (e.g., a Best Picture win for THE LORD OF THE RINGS: RETURN OF [...]
Posted in News, Sense of Wonder | Tagged Academy Awards, Adele Adkins, ARGO, BEASTS OF THE SOUTHERN WILD, BRAVE, FRANKENWEENIE, LIFE OF PI, PAPERMAN, PARANORMAN, PROMETHEUS, SKYFALL, SNOW WHITE AND THE HUNTSMAN, THE AVENGERS, THE HOBBIT: AN UNEXPECTED JOURNEY, THE PIRATES! BAND OF MISFITS, WRECK IT RALPH | Leave a response
By Steve Biodrowski on February 1, 2013
Wow, they really rolled out the red carpet on THE HAUNTING IN CONNECTICUT 2: GHOSTS OF GEORGIA, which supposedly opens in theatres today: the closest location to me is in Ontario. Well – Ontario, California rather than Ontario, Canada, but still. It turns out that the film is simultaneously available for streaming on Amazon. Didn't [...]
Posted in Movies, Sense of Wonder, VOD | Tagged THE HAUNTING IN CONNECTICUT 2: GHOSTS OF GEORGIA | Leave a response