Viewpoints
This category includes general opinion and editorial, essays, and regular columns/blogs dedicated to specific topics.
In the latest episode of the THE CINEFANTASTIQUE PODCAST, Steve Biodrowski, Lawrence French, and Dan Persons attempt to build their own consensual reality after a viewing of Disney's return to the gaming grid, TRON: LEGACY. Has visual artistry overrode engaging narrative in this sequel? In a cyber world portrayed as a thriving urban civilization, how [...]
Having survived the rocky shoals of THE CHRONICLES OF NARNIA: THE VOYAGE OF THE DAWN TREADER, Steve Biodrowski, Lawrence French, and Dan Persons decide to kick it freestyle (as the kids all say — the kids do all say that, don't they?) in a wide-ranging, nay, recklessly random episode of THE CINEFANTASTIQUE POST-MORTEM PODCAST. Covered [...]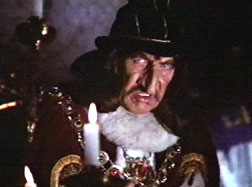 Seventeen years ago on October 25 1993 at the age of 82, Vincent Price met the end of his adventure on Earth. To commemorate his passing, several Facebook groups are having a "Vincent Price Day" including Rick Squire's The Vincent Price Exhibit. As is well-known, Mr. Price was a life-long devotee of all the arts and often defended the motion-picture as a great art form before it was fashionable to do so in the fifties and early sixties. In an homage Price wrote in 1986 for Forrest J. Ackerman, he offers a splendid tribute not only to "4 E" but also to the many fright films that will forever be associated with the name of Vincent Leonard Price. Read it below the fold.

As cinema buffs and Hollywood's elite await the Academy Awards this weekend, Cinefantastique Online has addressed the unfortunate lack of critical appreciation for films of the fantastic through its 2009 Wonder Awards. As in any other subjective human endeavor those of us who voted on the nominations disagreed at times with the selections of others. [...]