Browse:
Home
/
Peter McGarvey
Peter McGarvey
Peter has had a lifelong love of horror and science fiction film since picking up his first issue of Famous Monsters when he was eight. He has particular affection for Universal classics, Hammer Films and anything Godzilla. Based in Toronto Peter has been a professional writer for over twenty years. His company GAP Training produces custom training programs for clients such as General Motors.
By Peter McGarvey on October 25, 2010
HOUSE (or Hausu in its native Japan) is one film that truly defies description. Combining elements of the horror genre, an experimental film, and advertising commercials, it channels a unique dreamlike quality. Perhaps the strangest thing about HAUSU is that it was a big commercial hit in Japan when it was first released. Hated [...]
Posted in Blu-ray, Home Video, Reviews | Tagged HAUSU, HOUSE, Japanese horror movies | Leave a response
By Peter McGarvey on August 17, 2010
In the hot summer of 1960, one of the few places that had air conditioning in the small town where I lived was the local movie theater. That summer we went to the movies a lot. I can't remember if it was during THE BELLBOY or THE ALAMO, but there was a preview for William [...]
Posted in Movies, Nostalgia, Retrospectives, Reviews | Tagged 13 GHOSTS, ghosts, haunted houses, Illusion O, Margaret Hamilton, William Castle | Leave a response
By Peter McGarvey on August 17, 2010
The transfer of the film onto Blu-ray is excellent, and the interactive exploration of the behind-the-scenes experience is more interesting than the film itself.
Posted in Reviews | Tagged CLASH OF THE TITANS, computer-generated imagery, Louis Leterrier, Sam Worthington, special effects | Leave a response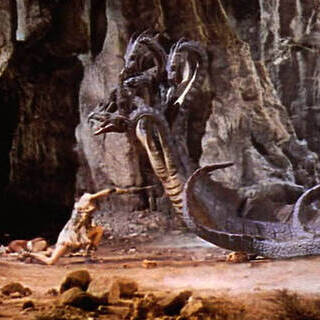 By Peter McGarvey on July 9, 2010
The concept of a single artesian working away in monkish solitude might seem quaint by today's standards – think of the end credit roll on Avatar with its thousands of digital effects technicians – but Ray Harryhausen was able to create a wonderful world of monsters and myths using nothing more than his hands and [...]
Posted in Blu-ray, Reviews | Tagged 1963, Beverly Cross, JASON AND THE ARGONAUTS, Ray Harryhausen, stop-motion effects | Leave a response
By Peter McGarvey on June 27, 2010
There are the classics of bad cinema – PLAN 9 FROM OUTER SPACE, THE ROBOT MONSTER, THE GIANT CLAW – and the contemporary examples – BATTLEFIELD EARTH, HOWARD THE DUCK, TROLL 2, and everything by Uwe Boll.
And then there is BIRDEMIC SHOCK AND TERROR…
The art of making a bad film is akin to paving [...]
Posted in Movies, Reviews | Tagged 2010, BIRDEMIC: SHOCK AND TERROR | Leave a response
By Peter McGarvey on July 19, 2008
By Peter McGarvey
You know it's going to get grim when the film opens with a murky bat symbol against boiling black clouds.
And THE DARK KNIGHT is grim, unrelentingly so. Christopher Nolan's second round in the Batman saga is the most fully realized superhero film ever made and certainly the most literate. The story this time [...]
Posted in Movies, Reviews | Tagged 2008, science fiction, superheroes, THE DARK KNIGHT | 2 Responses
By Peter McGarvey on June 24, 2008
It's been a great month for Hammer fans.  Columbia just released the Icons of Adventure box set of four Hammer adventure films – Stranglers of Bombay, Pirates of Blood River, Terror of the Tongs and Devil Ship Pirates.  Despite the terrible cover art, this is an amazing package of never-before-on-DVD films. Now, our friends over [...]
Posted in Laserblast, Movies, Reviews | Tagged Hammer Films, horror, science fiction, Terence Fisher | 3 Responses
By Peter McGarvey on May 9, 2008
What were they thinking at Warner Brothers?  Take a 1960's Japanese cult cartoon, lavish it with a huge budget and pray that it will find an audience. The result: a film that one Toronto reviewer proclaimed, "is like having someone vomit a bellyful of skittles at you for two and a half hours, and only slightly [...]
Posted in Movies, Reviews | Tagged 2008, SPEED RACER, Wachowski Brothers | 5 Responses
By Peter McGarvey on May 5, 2008
Originally commissioned by the Sci Fi Channel, the new two-part A&E television adaptation of Michael Crichton's novel has much broader canvas on which to tell its story than the 1971 feature film directed by Robert Wise. stronger science fiction and horror elements. There are actually some interesting and intriguing ideas here but they tend to get lost in the morass of confusing subplots. Director Mikael Saloman. tries to up the ante with good looking effects and lots of action, but unfortunately, there is no real suspense and very little claustrophobia.
Posted in Reviews, Television | Tagged 2008, Michael Crichton, THE ANDROMEDA STRAIN | Leave a response