Browse:
Home
/
John Morehead
John Morehead
I work academically and popularly in the area of intercultural studies, and apply these insights to the sociological and cultural study of the fantastic in pop culture through TheoFantastique, my website that explores sci fi, fantasy, and horror.
By John Morehead on August 10, 2011
RISE OF THE PLANET OF THE APES – the new chapter in the PLANET OF THE APES series of films – is is an attempt by 20th Century Fox to breathe new life into the venerable franchise. This was a daunting task in that the film had to be done in such a way as to appeal to contemporary movie audiences, and yet also resonate with fans of the forty-three year-old Apes mythology. Thankfully, RISE OF THE PLANET OF THE APES does not disappoint; it is a solid science fiction film that contributes fresh material to the PLANET OF THE APES canon.
Posted in Movies, Reviews | Tagged Amanda Silver, Freida Pinto, James Franco, John Lithgow, Pierre Boulle, Rick Jaffa, RISE OF THE PLANET OF THE APES, Rupert Wyatt | Leave a response
By John Morehead on February 8, 2011
The Devil and the related phenomenon of demonic possession, have been the source of several horror films for the years. Previous decades offered THE EXORCIST (1973), with its Roman Catholic perspective, and the various films that made up Protestant responses to it in THE OMEN (1976) and its sequels. Moving forward into more recent cinematic [...]
Posted in Movies, Reviews, Viewpoints | Tagged exorcism, possession, Satan, THE RITE | Leave a response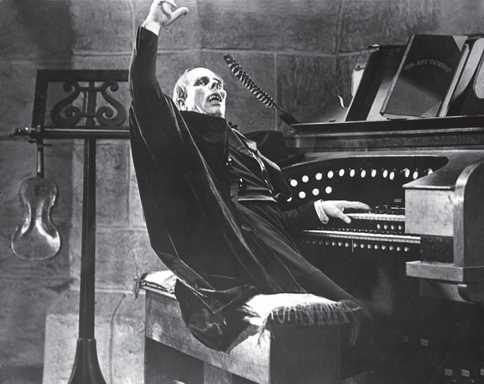 By John Morehead on August 24, 2010
A few moments reflection on the horror movie experience reveals how important music is: PSYCHO, JAWS, HALLOWEEN. Unfortunately, while the images of horror have been the focus of much critical and academic discussion, little attention has been paid to the music. Addressing this deficit, Neil Lerner has edited the book Music in the Horror Film: Listening to Fear.
Posted in Interviews, Soundtracks & Music | Tagged Alfred Hitchcock, Bernard Herrmann, CARNIVAL OF SOULS, DR JEKYLL AND MR HYDE, HALLOWEEN, JAWS, John Carpenter, Krzysztof Penderecki, Music in the Horror Film: Listening to Fear, Neil Lerner, organ music, PSYCHO, Rouben Mamoulian, THE EXORCIST, THE SHINING, William Friedkin | 1 Response
By John Morehead on July 8, 2010
Although many younger television and movie fans may think that the 1970s represent an archaic time in entertainment, there were certain advantages to growing up during this period. One was that television was all about local markets, and this made it necessary for local stations to find programming that would keep the viewer's attention. One [...]
Posted in Movies, Nostalgia, Retrospectives, Reviews | Tagged 1960, Edgar Allan Poe, Gothic horror, horror, HOUSE OF USHER, Roger Corman, Vincent Price | Leave a response
By John Morehead on June 22, 2010
The recent release of THE BOOK OF ELI (2010) on DVD provides an opportunity for a reassessment of important elements within its story. Viewers with religious convictions have interpreted the film in strongly positive and negative terms; however, another reading is plausible that avoids these extremes. Taking into account its late-modern-Western and post-9/11 context, THE BOOK OF ELI may be interpreted as a film that urges caution in the use of religion by both its practitioners and the irreligious – who variously objectify religion and justify violence in fundamentalist fashion while failing to heed the message of religion or recognize its power as a form of social control and a tool for oppression.
Posted in DVD, Reviews | Tagged 2010, Biblical, Denzel Washington, post-apocalyptic, science fiction, THE BOOK OF ELI | Leave a response
By John Morehead on June 5, 2010
Action-Horror Meets Postmodern Angelic Apocalyptic
In 1975 evangelist Billy Graham first published his book Angels: God's Secret Agents. The book would go through numerous printings and inform popular angelology for Protestant Christians for years. In the 21st century angels are still the subject of interest in popular culture, but they are no longer secret, and with [...]
Posted in Movies, Reviews | Tagged angels, apocalypse, horror, LEGION | Leave a response
By John Morehead on May 3, 2010
Although I have never been a fan of the NIGHTMARE ON ELM STREET films, Freddy Krueger, or slasher films in general, there are several aspects of the series that I find intriguing. They are all related, arising out of Freddy's ability to enter into the consciousness of his victims as they sleep in order to [...]
Posted in Movies | Tagged A NIGHTMARE ON ELM STREET, Freddy Krueger | Leave a response
By John Morehead on April 6, 2010
Recent Hollywood horror movies exploit Biblical themes – but in a post-modern context far removed from traditional religious values.
Recently, Cinefantastique Online's administrator-editor, Steve Biodrowski, brought an article to my attention from earlier this month and asked for my feedback. The article was "Hollywood heroes on a mission from God," by Anne Billson, originally published in [...]
Posted in Movies | Tagged apocalypse, fantasy, horror, religion, science fiction | 1 Response

By John Morehead on December 26, 2009
For many months now I have been looking forward to the release of James Cameron's AVATAR. But with all the hype, much of it coming from Cameron himself, I was prepared to be mesmerized by the visual display, but to feel let down by the storyline. Thankfully, the visual elements lived up to the hype, [...]
Posted in Movies, Reviews | Tagged 2009, AVATAR, James Cameron | 2 Responses
By John Morehead on September 26, 2009
Last month I heard about a forthcoming science fiction film by thumbing through one of my wife's entertainment magazines. A little further research on the Internet led to a trailer, and after viewing it I was hooked. The movie became an instant part of my "must see" list for the last few months of 2009. [...]
Posted in Reviews | Tagged 2009, Bruce Willis, robots, SURROGATES | Leave a response