Browse:
Home
/
John T. Stanhope
John T. Stanhope
Born in the small northern California town of Oroville and raised on a farm, John grew up loving film and film music -- fantasy & science fiction have always been favorites, with the original Star Trek series and original Star Wars films being huge influences. He wound up going to film school at San Francisco State University, then transferred to and graduated from California State University, Northridge with a degree in film production. After graduation he worked in various aspects of the film industry for several years (his last stint was as Assistant Visual Effects Editor on the 1999 film version of MY FAVORITE MARTIAN) before moving to Colorado Springs, CO. He and his wife currently own a Coffee & Tea house called Pikes Perk (named after Colorado's famous Pikes Peak mountain) and John contributes film-related articles to the Colorado chapter of YourHub.com, the Colorado Springs newspaper insert for YourHub, Cinefantastiqueonline.com and Geek Monthly magazine. He also now posts tiny reviews of films (and other things that may strike his fancy) at Twitter.com/PocketReviews.
By John T. Stanhope on February 2, 2011
On January 30, 2011, iconic – and very prolific – composer John Barry passed away, after being in ill health for some time.  He was seventy-seven years old.  There is little doubt a great many will be saddened at the loss of one of film's truly cherished friends.
Barry was an emotionally introspective and poetic composer [...]
Posted in Articles, Obituaries, The Score | Tagged James Bond, John Barry, SOMEWHERE IN TIME. | 5 Responses
By John T. Stanhope on August 9, 2010
GALAXY OF TERROR is exploitation, pure and simple – I mean, if you've got a giant-maggot-on-naked-woman rape scene in your film it nothin' but, baby. Thus, it is a curious state I find myself in when having to admit to you all that I found a certain degree of fun in watching it – both in 1981 and now via its new Blu-ray DVD release. I can't say I really stand behind it, but it does have its pluses.
Posted in Blu-ray, Movies, Reviews | Tagged 1981, Erin Moran, GALAXY OF TERROR, Ray Walston, Robert Englund, Roger Corman, Roger Corman Cult Classics | Leave a response
By John T. Stanhope on July 4, 2010
Let's face it, boys and girls: sequels do not exactly increase the pedigree of a solid, successful original film.  With the exception of, say, AFTER THE THIN MAN, THE GODFATHER II, THE EMPIRE STRIKE BACK, and a few others, they tend to do more harm than good, tainting the brightness of the first. Still, every now [...]
Posted in Movies | Tagged Pixar Animation Studios, TOY STORY 3 | Leave a response
By John T. Stanhope on June 5, 2010
Dear God in heaven, what have I done to myself?!  I just threw away two precious hours of life watching a "horror comedy" (at least they tell me it is so) called TRANSYLMANIA.  I feel like…well, doing what three dopey characters do ad nauseum during one particular obnoxious, uh, vomit scene.  I also wanna take [...]
Posted in DVD, Movies, Reviews | Tagged comedy, horror, horror-comedy, TRANSYLMANIA, vampires | Leave a response
By John T. Stanhope on May 17, 2010
MALICE IN WONDERLAND ain't your mama's (or Lewis Carroll's) version of the tale.  No, this one, which has recently been released on DVD here in the States, has a decidedly mod sensibility to it, complete with plenty of words of the 'F' persuasion, city-boy attitude, near music video mentality, and a trip down the rabbit [...]
Posted in DVD, Movies, Reviews | Tagged fantasy, Maggie Grace, MALICE IN WONDERLAND | Leave a response
By John T. Stanhope on May 3, 2010
For my favorite nightmare from Elm Street, I'm gonna go with NIGHTMARE ON ELM STREET 3: DREAM WARRIORS, mainly 'cause it's got a guest appearance by John Saxon and I got a soft spot for the guy. He co-starred in the first Hollywood film I ever worked on, MY MOM'S A WEREWOLF, and though he was [...]
Posted in Movies | Tagged A NIGHTMARE ON ELM STREET, Freddy Krueger, John Saxon, skeleton, stop-motion effects | Leave a response
By John T. Stanhope on April 19, 2010
Walt Disney Pictures has released a new DVD of THE GREAT MOUSE DETECTIVE. This one's called the Mystery in the Mist edition, but it's not quite clear why. Aside from the new digital transfer and a couple of new short features, there is little "new" under the sun.
Posted in DVD, Movies, Reviews | Tagged mystery, Sherlock Holmes, THE GREAT MOUSE DETECTIVE, Vincent Price, Walt Disney Pictures | Leave a response
By John T. Stanhope on April 2, 2010
Let's not try to pretend that UNIVERSAL SOLDIER: REGENERATION is anything more than something for the boys-with-toys set to get off on. Rright off, we kinda know where this project's mindset lies.
Posted in DVD, Reviews | Tagged Dolph Lundgren, Jean-Dlaude Van Damme, martial arts, science fiction, UNIVERSAL SOLDIER | Leave a response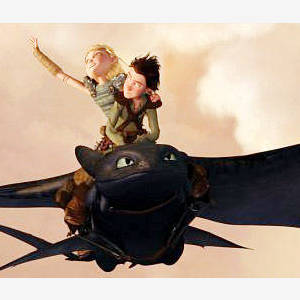 By John T. Stanhope on March 28, 2010
"Thank you for nothing, you useless reptile." 
That's a quote by Hiccup (Jay Baruchel) from DreamWorks' new CGI animated film HOW TO TRAIN YOUR DRAGON.  And I, uh, have to fess up and admit that those words were similar to my sentiments when I first saw the trailer for this one.  I didn't care for the [...]
Posted in Movies, Reviews | Tagged 2010, dragons, DreamWorks, HOW TO TRAIN YOUR DRAGON | Leave a response
By John T. Stanhope on March 15, 2010
"In the time before…"
Back in January of 2010, a movie hit theaters and began with those rather clichéd words.  And it feels to us as if we're talking about an ancient allegory, too.  We missed THE BOOK OF ELI when it initially hit theaters, but we're catching up with it now.  Well, at least we're getting [...]
Posted in Movies, Reviews | Tagged 2010, Denzel Washington, Gary Oldman, post-apocalypse, THE BOOK OF ELI | Leave a response