For this installment of his recurrent Sinister Image column, David Del Valle recounts a long-ago encounter with English actor Michael Gough, a versatile character actor known to most audiences as Alfred the Butler in the BATMAN films of the '80s and '90s, but remembered by horror fans for his many appearances to British thrillers from the '50s and '60s.
During my time as the Hollywood correspondent for Films and Filming, I enjoyed at least two trips a year to London to meet with my editor John Russell Taylor, who at that time was always busy, being also the Art Editor for the London Times.
In the summer of 1984 I arrived in London only to discover that John had a conflict in his schedule and was out of the city for a few days, leaving me at loose ends while I waited for his return. His office suggested that I could interview some British actors that I might not see in America. Duly armed with a copy of SPOTLIGHT [the English equivalent of the Academy directory that casting directors use to find talent], I began to look for a subject in London. I soon discovered the very man I had always wanted to meet, the star of many a horror film seen in my misspent youth: Michael Gough. Now you may only be familiar with Michael as the butler Alfred in the mega successful franchise BATMAN of the 1980s and '90s; however, our Mr. Gough has been a staple in British Cinema since 1947.
Michael Gough was doing a play in London at that very moment, an old chestnut entitled AREN'T WE ALL, at the Theater Royal Haymarket. The play had been revived as a vehicle for Rex Harrison and Claudette Colbert, yet from my research it appear that Gough had all but stolen the play right out from under the famous movie stars that headlined the performances.
I rang up Mr. Gough's agents and within an hour I was given an appointment to interview him backstage the next day. The Theater Royale Haymarket is one of if not the oldest and most beloved theaters in London. I was thrilled to be able to enter it, as if was about to go on myself.
The next morning I prepared for my encounter by arming himself with a tape recorder and a photo for Mr. Gough to sign as I was and still am a great admirer of his work. I arrived at the appointed time backstage, which was just as you would imagine it would be, complete with the stage manager, a sage old man standing guard inside the entrance in his private alcove, not impressed by stars or fame, just a bloke waiting for the actors to come and in and do their business.
I had just walked in and began to explain why I was there and the old man stopped me in mid-sentence "You're the American here to interview Mick Gough, aren't you? Well he already said for me to send you to his dressing room."
With that I was led by a stage hand to Michael Gough's dressing room which had his name plate attached to the door. Michael was almost right behind me as he had just arrived almost the same time as I did.
Now to try and explain just how surprised I was at how nice this man is in person, I must first explain that we had never met and Gough, while well known in his profession, is not a huge film star whom one sees on chat shows. I had only his film performances to judge what kind of a man he might be. As a result, I was fully expecting a bitchy prima donna or perhaps an aloof, cold man. Nothing could have prepared me for the Santa Claus that sat in his dressing table, offering me tea and begging forgiveness for not having any scones to go with it.
Michael Gough has a wonderful long face that radiates intelligence and wisdom; he resembles if anything an Oxford Don. He is gifted with a beautiful voice, which in private is mellow and soft much like the man himself. He looked at me a moment, as I sat there quite speechless, and asked if anything was wrong; I explained that I half expected him to behave a little like he did in his horror films.
Michael laughed and replied "Darling boy, it's called acting, don't you know?" Well of course, I felt embarrassed for being such a dope, especially because I had seen several of Michael non-horror films like THE HORSE's MOUTH with Alec Guinness and THE GO-BETWEEN for director Joseph Losey.
Michael explained that he did not have to go on until late in the play so we could chat in his dressing room, and if I liked he would find a little time when the play was over to continue the interview if I needed him to. As I set up the tape recorder and did a test, Michael began to look at his cards and messages that were piled upon his table. On his dressing mirror were postcards from Italy and photos of his children, including a charming snapshot of a beautiful little girl.
When I asked if she was his daughter, Michael turned around and put his hand on mine and in whisper like tones said "Yes… she was my daughter Polly, and we lost her in an automobile accident a few months ago: she was stuck down by a car and killed. She was soon to be married."
The grace in his tone of voice with which he offered up his personal tragedy struck me to the quick. My first thought was: "How he could perform under such grief?" Yet somehow I knew he was working because that is what he did, and it was also his way of coping with his loss. This touching moment – which allowed me to care about this charming man more than I ever thought I would in such a short amount of time – was interrupted by well-wishers knocking at his door, paying their respects before the curtain went up. As a middle-aged couple pushed their heads inside, Michael greeted them by saying "Hello, my darlings. I am being interviewed at the moment, but do come back afterwards, promise?" As they made their exit he glanced over at me and confided, "He is a titled Lord and one of the biggest landowners in Britain; nevertheless, they are mad about Theater and quite adorable when you get to know them."
Finally, we were on our own, and I began asking him about his career with the essential question about how he decided upon acting in the first place. "It is very strange how things work out, isn't it? You see it was watching our dear old Rex Harrison many years ago, in a play called SAILORS DON'T CARE, that gave me the courage to try and become an actor, I realized almost at once that a sensible job was just not for me anyway. I was fortunate to learn my craft at the Old Vic; I was mainly atmosphere in crowd scenes in those days, but it also made it possible to observe the likes of Michael Redgrave and Alec Guinness years before I would actually share scenes with them."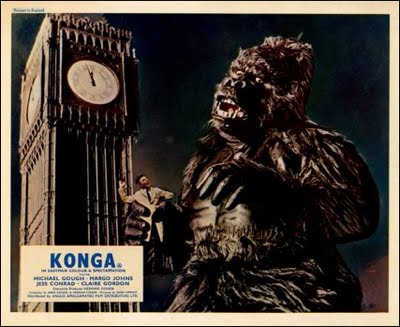 Michael then asked me a question as to what I had seen of his films that made me a fan. Before I could answer, he said "Let me take a mad guess and say KONGA." His grin at saying this was positively wicked.
"How on earth did you know that?" I replied.
Michael continued, "Don't take issue with this, but your being an American, it seems to be the only film I am known by in the States. When my children were in school right after I made it, they were teased to death by their classmates over KONGA. The other boys would yell at them, 'Konga put me down.' It took several years for my brood to forgive me for that one. KONGA was such a howler: no one that saw it could ever let me live down my dialogue, once Konga had me in its paw – simply unforgettable."
Since we arrived on the subject of films like KONGA, I asked Michael about his working relationship with its producer, the infamous Herman Cohen.
"I made five films for Herman Cohen as he seemed to like the way I played his characters or perhaps I should say character because the first three were cut from the same cloth. Cohen was a showman first, last, and always; his manner was always overbearing and his opinions sacrosanct. During the filming of HORRORS OF THE BLACK MUSEUM, he would show up unannounced onset and tell our director Arthur Crabtree how to direct a scene and the actors as well. I mean this just was not on, and as a result Arthur began to loath Cohen on sight. He demanded all the walls of the set be painted a violent shade of blue or green; Herman Cohen was the boss on all that he produced – and not in a positive way either.
"The best experience I had on a film produced by Herman Cohen," Gough continued, "was BLACK ZOO, which was made wonderful because of those animals that I worked with that made filming absolutely unforgettable. The trainer who owned them was a fearless soul with total understanding of just how to get these animals to work in front of a camera. Since I played the owner of a zoo, I had to connect with these cheetahs and lions as if I had a lifetime of knowledge, which of course I did not. This man also played the victim in our film: he would dress up like the character about to be killed and actually roll around with the lions as if they were attacking him. I had to step into cages with mountain lions and pat them on the head. At one point I put my hand in the cat's mouth to show my audience that I was master, and the cat would not open his mouth on cue, so the trainer gave him a sock on the side of his head, which caused me to protest. He took me aside and explained that the lions play rough with each other, and he was not abusing the lion in the least. The most amazing scene was the one where I summon all my creatures into the parlor where I play the organ, and they all came in one at a time and sat around me. Let me tell you, I was completely at the mercy of their owner, who as I said was truly a genius with God's creatures, great and small. He loved them and had no use for circuses and zoo's that exploited animals; he was well ahead of his time. I will always have a fondness for that film out of all of those thrillers I did for Herman."
I asked Michael at this point how different were the last two films for Cohen with Joan Crawford as the star. Michael rolled his eyes toward heaven as he explained, "I appeared in the last two films Miss Crawford would ever make on this earth. Herman was still Heman, yet he always deferred to Madame in all things that related to her performance or wardrobe, which incidentally came directly from her own closet. Joan Crawford was a small woman with enormous eyes topped by an elaborate series of hairpieces some of which gave her more height. By the time we worked together, she had to rely on huge cue cards that were placed just off camera enough for her to see them without having to move off her marks, as she could no longer remember dialogue. I remember doing countless retakes for what would sometimes only amount to one line. I believe she was under enormous stress at the time, and of course she drank quite a bit. It was interesting to watch how Herman handled Joan Crawford: it appeared that she was genuinely fond of him and for the most part would do whatever was required to make the film come together. Joan Crawford was professional regardless of whatever else one might say about her.
"My most vivid recollection of working with Miss Crawford has to be the last day on the set of our final film together TROG," Michael continued. "After we had wrapped the last setup for day Miss Crawford came up to me and said 'Michael this is our last day working together and after two pictures I'd like to give you something as a token to remember me by, so please come to my dressing room before you leave today.' The rest of the day all I could think of was: what treasure was going to be mine when I finally arrived at Joan Crawford trailer? I realized that Joan, having been a Major Hollywood Star for the better part of this century, it must be some fabulous gold watch, or I just couldn't imagine what to expect. My moment finally came, and I walked over to Miss Crawford's deluxe Winnebago and tapped on the door 'Enter,' she said. As I came through the door, Joan Crawford was seated at her dressing table, adjusting her make up after a long day of filming. 'Michael, this is my gift to you for two wonderful pictures together.' With that, she reached into one of her small cases and removed two plastic fountain pins that were inscribed 'from the desk of Joan Crawford' and with great aplomb she presented me with them. As I stood there holding these two fountain pens in my hand, I was quite speechless. I gathered my wits as quickly as possible, thanking her for them and then making a hasty departure before I burst out laughing."
Michael recalled dining out in London years afterwards with his wife and running into Herman Cohen. "He always thought we were such close friends. I mean, we never were at odds during those films, but his behavior towards the director and people on the floor was something else altogether, so I never knew quite what to make of him as a man. I think he recognized a soul mate in Joan Crawford; they could both behave like bullies towards people they worked with in films. I just would never call the old sod a mate."
I asked Gough to elaborate on the difference, and he used our mutual friend Ferdinand Mayne (the Count in Polanski's DANCE OF THE VAMPIRES, a.k.a. THE FEARLESS VAMPIRE KILLERS) as an example of just what he meant by the term "mate." Michael explained that he and Ferdy went back a long way in the theater and in films. "Ferdy is a mate. I could always confide in him in complete trust, whereas Herman Cohen was my producer and could be a real prat on a set. There was no sense of a social bond between us after five films together. Andre Morell is a mate, but not say Christopher Lee, whom I've worked with on a few films, yet we were never mates."
After that explanation, I simply could not resist asking about Andre Morell, another British character actor who appeared in his share of Hammer films. Michael smiled at the thought of his colleague. "Andre was a wonderful man and a very good actor. I will tell you something about him you might not know: Andre has been a frustrated conductor of classical music all his life. When he is on his own, Andre will put on a record of one of his favorite symphonies and conduct it complete with baton. The sight of him standing on a stool before his record player conducting is indeed a sight to behold, and I am convinced that Andre could have been one of the great conductors if he had not chosen to be an actor."
I had made a mental note to ask about THE CRIMSON CULT, with Barbara Steele and Boris Karloff (known in the UK as CURSE OF THE CRIMSON ALTAR). But after Gough's comment about Christopher Lee, I almost avoid the question, since Lee was also in the film. Michael laughed at the mention of the film and then explained:
"That was an absolute disaster from day one, yet Boris Karloff was such a sweet man and was adored by the crew. It was almost worth the effort just to work alongside him. The director Vernon Sewell had been quite good in his day, but this project was just too muddled with orgy scenes brought in just for the sake of exploitation. Christopher was devoted to Boris, and that was quite moving to observe, since I had never seen Christopher defer to anyone as he did to Karloff."
At this point I explained that Barbara was a close personal friend and asked if he had any words to pass along when I saw her back in Beverly Hills. 'Well, give her my warmest regards when you see her, although I seriously doubt if she would remember our meeting after so much water under the bridge. Barbara worked only a couple of days on it, and I don't think I worked more than a week myself. I had a terrible part of a butler that was mute, and having read the script I was grateful…Barbara was very grand in those days and quite the star, and so she was treated like one as I recall – a very striking lady with amazing eyes."
I decided to ask what projects meant something to Gough personally, and he replied, "I am what they call a 'jobbing actor.' That is to say, I basically will do whatever is asked of me within my ability. I am not a starry kind of actor, nor am I expensive to hire. That is not to say that I can always afford to do this, as I have had too many wives and too many children, so I rarely can turn things down; hence all the horror films. However, on occasion I will do a project if I am attracted to the material or admire the director. Derek Jarman is one director I would work for anytime he needed me. I believe in his talent as an artist. It is a joy to be in his company; mind you, he never has enough money for any of his projects, but thank God there are enough people like me that will work for peanuts just to see him get on with it."
Since we were now on the subject of specific directors, I asked about two of the most talented and controversial filmmakers in world cinema, Ken Russell and Joseph Losey. Michael laughed at the thought of Russell: "Ken is quite simply a divine daredevil; he is always pushing to extremes, regarding the censor. I am never sure with Ken directing when I might have to drop my knickers for the sake of art," he laughed. 
"Losey is a craftsman in a very different way from Ken Russell," Gough continued. "On THE GO-BETWEEN, Joe and his cameraman knew exactly what they were going for, and every detail was planned to perfection. I watched as Joe pulled a brilliant performance from Maggie Leighton, who played my wife. He knows actors and understands the process and as a result allows them to do wonderful work. Every time there is a thunder storm I think of Maggie and how Joe choreographed her acting to show what an astonishing range she has as an artist."
With time running out, I moved on to the Hammer film version of DRACULA, known in America as HORROR OF DRACULA. Michael first remarked, "You know next to KONGA, I get asked about DRACULA more often than not. It is somewhat of a classic now, isn't it? I know it is, and getting more so with each passing year."
I went on to ask about something only a cast member would know: the rumor that Hammer Films had had director Terence Fisher shoot additional footage – that was much more gruesome - for the Japanese market. Michael replied, "That was absolutely the case; during one sequence in particular with Peter Cushing, I was a victim of its practice. In the film I was supposed to react as Peter Cushing stakes the girl – what was her name?"
"Carol Marsh..?" I offered.
"Yes… dear boy you are clever. Well, Terry Fisher had decided to shoot my reaction to all this by having me actually vomit on camera. This disgusting thing required that I fill my mouth with oatmeal and at the proper moment throw it up against the wall of the mausoleum. Terry put a cameraman on a ladder above me to catch the whole bloody thing in one go: each time Peter would bring down his hammer into the coffin, I would turn and hurl my oatmeal against the wall; by the third take I was feeling ill myself, but we managed to finally get a take Terry was satisfied with and that was that. I haven't seen the film in years, so I have no way of knowing if it ever made it into final film or not."
This was the first time I had ever heard this particular story, and I promised Michael that the shot was not in American or British prints of the film, though I had no way of knowing whether it had made it to Japan. Michael responded, "Well, if it was cut out, it was a ghastly experience to endure for nothing - although at the time we all took the film quite seriously, as Terry Fisher was a serious if somewhat tongue-in-cheek director well suited to Hammer as they were at that time."
I followed up by asking about Gough's other Hammer Horror, THE PHANTOM OF THE OPERA. I just happened to have a still from that film, in which Michael, having just ripped away the mask from the Phantom (Herbert Lom) reacts in true horror film tradition by screaming. Michael looked at the photo and smiled that wicked smile of his.
"You want me to sign this one?' As he signed it, he reflected a moment, "I suppose this was the film that brought it all down. Hammer spent a lot of money [for them] on it, and it was not a success - although Herbert was splendid as the Phantom, I thought. I know he fretted about doing a part like this, that Lon Chaney had such a reputation with. Terry Fisher took a lot of blame at the time for its lack of thunder commercially. I thoroughly enjoyed playing the evil Lord Ambrose, who was the real monster of the piece. Heather Sears was a darling to work with as well. I am very fortunate not to have been typed in those things like Peter Cushing was, since he is one of our best actors and should be doing even greater work."
Michael was the perfect host for this interview, and when I finally turned the recorder off, he said, "David, you cannot make me believe you came all the way from the States just to interview me, so would you like to meet the real stars of this production?"
"If you mean Rex Harrison and/or Claudette Colbert, then the answer is yes, but I really did come to see you."
Michael smiled as he explained what we were going to attempt to do. "Rex should be delighted to meet you, if but for a moment, as we are getting to his break; however, Miss Colbert is quite another story, as she is wary of talking to anyone before or after the show unless she has known them awhile. This entire production has been staged to accommodate Miss Colbert's left side, so you can understand the problem.
I kept trying to reassure him that I was there to interview Michael Gough and anything else was a treat. We left Michael's dressing room and went down a flight of iron stairs to the level where Rex Harrison was in his dressing room relaxing, or so we hoped. I was getting very anxious as the moment arrived; we entered a huge space that was Rex Harrison's dressing room, and in the center of the room was a table complete with a white table cloth with a silver tray containing the largest prawn cocktail known to man. We stood by the door as Michael explained that I was from Films and Filming and wondered if an appointment could be made for me to do an interview. Rex Harrison remained at table with those cobra hooded eyes that made him appear to be asleep, yet he was not. He could not have been nicer and he gave Michael a number for me to call the next day. I could tell that they had a history together and this was a true favor that Michael was awarding me as Rex Harrison does not grant interviews to just anyone, not even for a well established magazine like Films and Filming. Having accomplished our goal Michael explained he needed to prepare for his entrance and we could meet later.
My favorite moment of this amazing encounter was what Gough suggested as he left me: he showed me which way to go on down to get inside the theater itself if I wanted to watch his part; then just as he was walking away, he looked back at me and said, "Claudette's dressing room is the first door down hall, if you want to see if she opens the door – only you didn't hear it from me."
Of all the actors I have ever met, Michael Gough has to be the most gracious and thoughtful, and by the way Claudette would not come to the door.
In Sinister Image, David Del Valle explores the depths of all things dark and demented in the crypt of Hollywood cult horror. You can also read his "Camp David" column at Films in Review by clicking here.