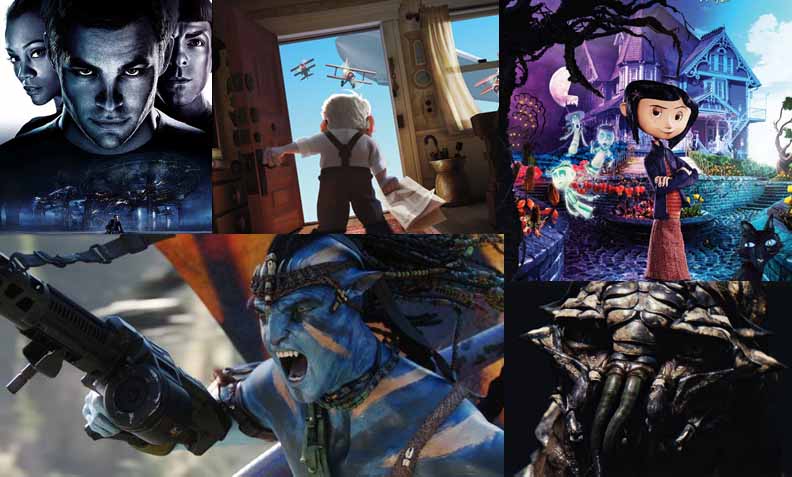 What were the best horror, fantasy, and science fiction films of 2009? Well, we're here to tell you, with this year's nominations Cinefantastique's second annual Wonder Awards. In a year when the Academy of Motion Picture Arts and Science broke with tradition by nomination two science fiction films (AVATAR and DISTRICT 9) in multiple categories (including Best Picture), it might seem that the essential brief of the Wonder Awards – shining a light on worthy genre films – is less necessary. However, as pleasing as it is to see the Oscars inching toward recognition of cinefantastique, there are still many titles that go overlooked. Hence, we present this year's list of nominations.
The big favorites for Best Horror, Fantasy, or Science Fiction Film of 2009 are STAR TREK (11 nominations), AVATAR (9 nominations), DISTRICT 9 (7 nominations), CORALINE (4 nominations), UP (4 nominations).
Other multiple nominees include MOON (4 nominations), SHERLOCK HOLMES (4 nominations), ZOMBIELAND (3 nominations), THE LOVELY BONES (3 nominations), PARANORMAL ACTIVITY (2 nominations), ORPHAN (2 nominations), THE ROAD (2 nominations), and TERMINATOR SALVATION (2 nominations).
2012, DRAG ME TO HELL, JENNIFER'S BODY, MY BLOODY VALENTINE, WATCHMEN, and WHERE THE WILD THINGS ARE received one nomination each.
This year's nominees for the Edgar G. Ulmer Award are DEAD GIRL, GRACE, THE IMAGINARIUM OF DR. PARNASSUS, MOON, and PONYO. This award is dedicated to high-quality horror, fantasy, and science fiction films that would otherwise be overlooked because their limited theatrical release prevents them from being seen by enough voters to qualify in the Best Film category.
Not only were several films nominated in multiple categories; a few people also pulled off the trick: Henry Selick (Screenplay and Production Design for CORALINE); Pete Docter (Direction and Screenplay for UP); AND Neil Blomkamp (Direction and Screenplay for DISTRICT 9). The most notable multiple nominee is composer Michael Giacchino, who was nominated in the same category for two different films: STAR TREK and UP.
In general, Cinefantastique's contributors spread their votes around. Although there is a great degree of consistency between picks for Best Film, Best Director, and Best Screenplay, there is some variation, and the strength of support ranges widely from category to category. Also, dark horse candidates several nabbed nominations, especially in the acting categories.  In general, there seems to be a broad consensus about which films deserve major consideration, but there is a also an attempt to recognize  less obvious contestants who did good work in films that did not reach the critical mass of popularity necessary to galvanize voters into awarding major nominations across the board. Overall, in a year that saw a fairly wide range of enjoyable cinefantastique, this list represents a solid consensus on the best in horror, fantasy, and science fiction cinema. 
BEST HORROR, FANTASY, OR SCIENCE FILM
AVATAR
CORALINE
DISTRICT 9
STAR TREK
UP
BEST DIRECTION
James Cameron for AVATAR
Neill Blomkamp for DISTRICT 9
Duncan Jones for MOON
J. J. Abrams for STAR TREK
Pete Docter, Bob Peterson (co-director) for UP
BEST SCREENPLAY
Henry Selick for CORALINE
Neil Blomkamp & Terri Tatchll for DISTRICT 9
Roberto Orci & Alex Kurtzman for STAR TREK
Pete Docter, Bob Peterson (story by Docter, Peterson & Thomas McCarthy) for UP
Ruben Fleischer for ZOMBIELAND
BEST PERFORMANCE BY AN ACTRESS IN A LEADING ROLE
Katie Featherston in PARANORMAL ACTIVITY
Isabelle Fuhrman in ORPHAN
Charlotte Gainsbourg in ANTICHRIST
Saoirse Ronan in THE LOVELY BONES
Zoe Saldana in AVATAR
BEST PERFORMANCE BY AN ACTOR IN A LEADING ROLE
Sharlto Copley in DISTRICT 9
Robert Downey Jr in SHERLOCK HOLMES
Viggo Mortensen in THE ROAD
Chris Pine in STAR TREK
Sam Rockwell in MOON
BEST PERFORMANCE BY AN ACTRESS IN A SUPPORTING ROLE
Vera Farmiga in ORPHAN 
Zoe Saldana in STAR TREK 
Susan Sarandon in THE LOVELY BONES
Amanda Seyfried in JENNIFER'S BODY
Sigourney Weaver in AVATAR 
BEST PERFORMANCE BY AN ACTOR IN A SUPPORTING ROLE
Jackie Earle Haley in WATCHMEN 
Woody Harrelson in ZOMBIELAND
Jude Law in SHERLOCK HOLMES 
Stanley Tucci in THE LOVELY BONES 
Karl Urban in STAR TREK
SPECIAL EFFECTS
2012
AVATAR
DISTRICT 9
STAR TREK
TERMINATOR SALVATION
MAKEUP
MY BLOODY VALENTINE
STAR TREK
TERMINATOR SALVATION
WHERE THE WILD THINGS ARE
ZOMBIELAND
PRODUCTION DESIGN
Rick Carter, Robert Stromberg for AVATAR
Henry Selick for CORALINE
Tony Noble for MOON
Sarah Greenwood for SHERLOCK HOLMES
Scott Chambliss for STAR TREK
CINEMATOGRAPHY
Anthony Dod Mantle for ANTICHRIST
Mauro Fiore for AVATAR
Trent Opaloch for DISTRICT 9
Javier Aguirresarobe for THE ROAD
Daniel Mindel for STAR TREK
BEST EDITING
James Cameron, John Refoua, Stephen E. Rivki for AVATAR
Julian Clarke for DISTRICT 9
Oren Peli for PARANORMAL ACTIVITY
James Herbert for SHERLOCK HOLMES
Maryann Brandon and Mary Jo Markey for STAR TREK
MUSIC
James Horner for AVATAR
Bruno Coulais for CORALINE
Christopher Young for DRAG ME TO HELL
Michael Giacchino for STAR TREK
Michael Giacchino for UP
EDGAR G. ULMER AWARD
DEAD GIRL
GRACE
THE IMAGINARIUM OF DR PARNASSUS
MOON
PONYO
A NOTE ABOUT VOTING PROCEDURES:
Voters consist of regular contributors to Cinefantastique Online (found listed under the "Authors" tab in the right-hand navigation bar), plus outside contributors from some of our favorite websites and blogs (listed under "Recommended Websites," also in our right-hand navigation bar).
Each contributor was allowed to vote for five titles in each category. Votes are weighted so that a vote for #1 in a category outweighs a vote for #2; a vote for #2 outweighs a vote for #3, etc. Consequently, if two films received the same number of votes, one could earn a nomination while the other was left off, depending on how high voters place each title on their lists.
In cases where there is disagreement about which category a nominee should be slotted into (Lead Role versus Supporting role, for example), all votes are moved to the category in which the majority cast their votes.
[serialposts]