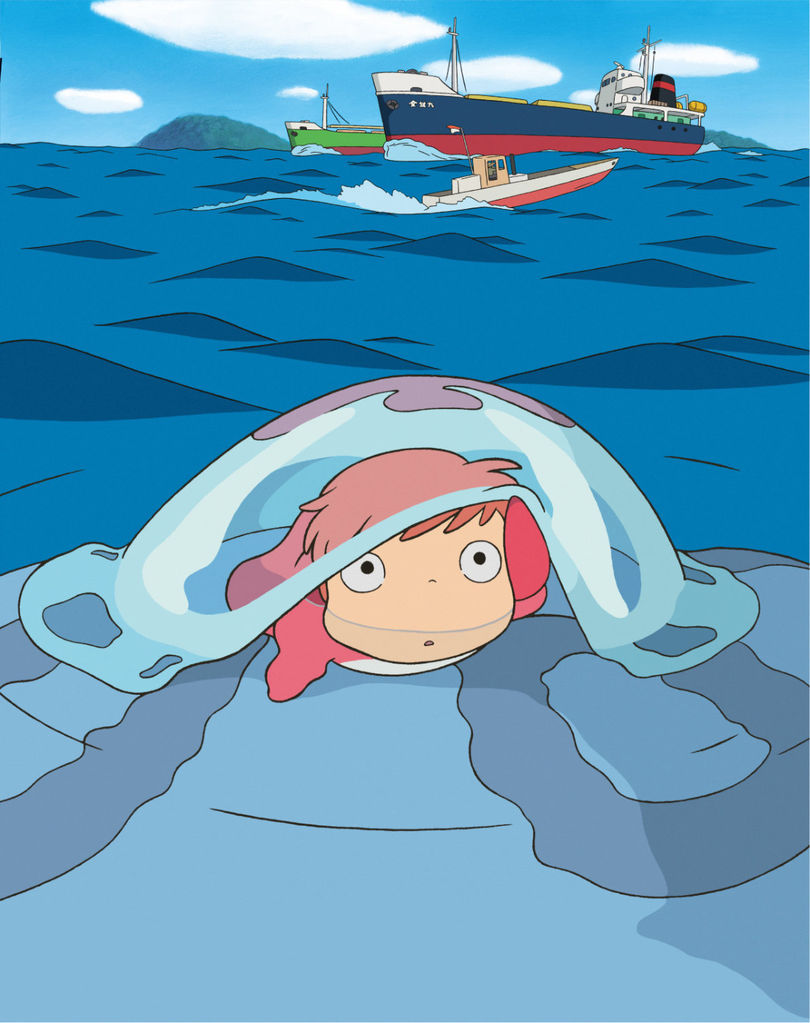 Hayao Miyazaki's latest film, PONYO ("Gake no ue no Ponyo" or "Ponyo on the Cliff by the Sea"), could be nicely summed up as charmingly innocent. I wasn't even sure they still made films like it. It's just a simple slice of pleasant storytelling. And you know what – audiences very much enjoy it. You might think the younger set so jaded and – and, yes, cynical – that they couldn't or wouldn't sit still for an animated story of PONYO's nature. However, one of the greatest pleasures in watching PONYO was to experience the joyful sounds of laughter and "aaaahhhs" coming from both old and young alike. It restores one's faith in the universal sensitivity within the hearts of that which we call humankind.
I've enjoyed—and written about—the laughter of children before while watching "children's" films, but this felt different. There were no wisecracking donkeys or hip jungle animals constantly reminding us through timely (and one day dated) jokes about our modern society. The characters in PONYO were likeable and refreshing partially because there were really no pretensions involved. In a loud, posturing summer (anyone see the mess that was TRANSFORMERS 2?) this little film is a welcome reprieve. It might make for nice comedown to take in after watching INGLOURIOUS BASTERDS over the August 21st weekend.
I wouldn't say PONYO is one of Miyazaki's masterpieces—it's not quite up there with PRNCESS MONONOKE, SPIRITED AWAY or HOWL'S MOVING CASTLE—but it is so very nice to relax with as to make one wish one could share it with others. As I say, it's not a complicated story: a five-year-old boy (Frankie Jonas – English version) finds a "goldfish" trapped in a bottle along the shoreline, near where he lives. He's captivated by the unique little "fish" and decides to keep her, naming her PONYO (Noah Lindsey Cyrus – English version). Ah, but PONYO is not what you'd call a normal "fish." She is, in fact, the offspring of a powerful water wizard (Liam Neeson – English version) and sea goddess (Cate Blanchett – English version).
As Miyazaki would have it, PONYO is every bit as captivated by the young boy. She winds up falling in (puppy) love with him and so desires to become human that she uses some of her father's sorcery to make the leap…literally, as we come to see. But the use of this powerful magic upsets the balance of nature and all must be set right one way or another if the world is to be saved from the effects of an ever-approaching moon.
The delicate balance of nature is a recurring theme within PONYO. The imbalance created by Ponyo's use of a powerful magic needs to be acted upon, but proper care of nature is also brought up several times by the wizard, Fujimoto, in relation to the manner in which man treats the world that surrounds him. So one could say that little Ponyo's predicament may be a metaphor for mankind's current state and what we should all be mindful of in our own environment. These points are made in a subtle, friendly fashion. There is no bludgeoning like, oh, say, Oliver Stone might do (I'm sure no one out there thinks Stone's probable sequel to WALL STREET is going to lightly dance among the tulips).
No, this is a buoyant, happy tale. And the animation holds true to that sense in a lovely way. Some of it is bold, magical & colorful, and some of it is soft, wispy and painterly, even to the point of showing us what look like the master's brush strokes. It is all truly a restful treat for the eyes. And in Miyazaki's animated world everything has life to it.
It's all well supported by Joe Hisaishi's music score too. Though it stands out just a tad too much at a couple of junctures, it's a lush work, as inspired by more traditional classical music. It very much fits the lyrical pace and artistry of the film.
Hayao Miyazaki is one the greatest and best loved animators & storytellers that Japan has ever produced, and his country knows it well. He'll most likely go down in film history as the Akira Kurosawa of animation. In 2002 the Japanese (film) Academy honored him with its Lifetime Achievement Award. He has essentially become a national treasure, and his films do tremendous box-office business in the Land of the Rising Sun, not to mention elsewhere. Over here he won the coveted Oscar for Best Animated Film in 2003 (hint: it was for one of the three I mentioned earlier), and he has won and been nominated for numerous other film related awards.
What this all boils down to is that Mr. Miyazaki's work is worth taking note of. One will always find something creative, sincere and of merit within it. And though PONYO isn't his grandest work, it is a sweet breath of fresh air, as soft and caressing as a gentle ocean breeze.
PONYO(Studio Ghibli/Walt Disney Pictures/Buena Vista, 2008/2009; 103 min.) Directed by Hayao Miyazaki. Screenplay by Hayao Miyazaki. Produced by Steve Alpert (English version), Kathleen Kennedy (English version), Frank Marshall (English version), and Toshio Suzuki. Executive produced by Koji Hoshino, John Lasseter (English version), and Hayao Miyazaki. Co-Executive Produced by Naoya Fujimaki, Ryoichi Fukuyama, and Seiji Okuda. Cinematography by Atsushi Hisaishi. Art Direction by Noboru Yoshida. Chief Animation by Katsuya Kondo. Music by Joe Hisaishi. Edited By Hayao Miyazaki and Takeshi Seyama. Cast (English version): Cate Blanchett, Noah Lindsey Cyrus, Matt Damon, Tina Fey, Frankie Jonas, Kurt Knutsson, Cloris Leachman, Liam Neeson, Jennessa Rose, Lily Tomlin, and Betty White. Cast (Japanese version): Yuria Nara, Hiroki Doi, Joji Tokoro, Tomoko Yamaguchi, Yuki Amami, Kazushige Nagashima, Akiko Yano, Shinichi Hatori, Tokie Hidari, Eimi Hiragi, Tomoko Naraoka, Nozomi Ohashi, and Kazuko Yoshiyuki. MPAA Rating: G – for the whole planet.
[serialposts]