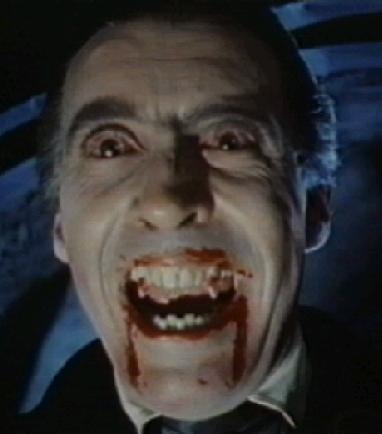 Cinefantastique Online would like to take this opportunity to offer best wishes to Christopher Lee on this, the occasion of his 87th birthday. The actor was born on May 27, 1922. He has played a wide variety of roles, earning steady work as a character actor, but his claim to stardom rest mostly with fantasy, science fiction, and especially horror films. He first earned fame for playing the Creature in CURSE OF FRANKENSTEIN, then followed up with the title role in HORROR OF DRACULA – a character he revived many times thereafter. He played several other monsters (including The Mummy and a variation on Dr. Jekyll and Mr. Hyde) before broadening out to a wider range of villains (including Scaramanga in the Bond film THE MAN WITH THE GOLDEN GUN).
More recently, a new generation of fans discovered him by way of his performances in two blockbuster hit franchises: He was Sauruman in THE LORD OF THE RINGS and Count Dooku in two films of the STAR WARS prequel trilogy. I remember being particularly pleased while looking through an IMDB message board thread on ATTACK OF THE CLONES and reading some young viewer's comment that the only good performance was by the old guy playing Dooku – I'm sure the actor himself would be gratified to know that there is a whole new audience out there enjoying his current films, who have little or no idea that he used to be typecast as a horror star.
On a personal level, I just want to add that HORROR OF DRACULA remains my favorite vampire film of all time.  One of the first horror films I ever saw in a theatre was the sequel DRACULA HAS RISEN FROM THE GRAVE, which "warped my tiny little mind." I haven't been the same since, and Lee will in my mind always remain in an eternal struggle with Bela Lugosi for the claim to being the screen's greatest incarnation of the Vampire Count.
I have only met Christopher Lee a couple times, when he was promoting the theatrical release of THE WICKER MAN back in 1979. He was gracious and loquacious, and readily autographed the various photographs I pushed at him. For some reason, I can never forget the pretty 20-something student who asked the actor – then in his 50s – not for an autograph but if she could go home with him. Lee diplomatically declined, noting that his wife might object, but he did give her a kiss as a consolation. She walked away with the tragic air of someone who knew her dream could not come true – another one of Dracula's many victims.
Lee grew tired of being identified as a "horror star," but he has never looked down on the genre (although he dislikes the term "horror film). Unlike Vincent Price, Lee always took his horror roles seriously, never putting them down or sending them up (unless the films were intentional comedies). So many actors in the genre tend to discuss  their work as just a job, but Lee has always been articulate and insightful on the topic in interviews – and continues to be on audio commentaries for DVDs of his old films.
Christopher Lee's stature as a genre star was well established by the time Cinefantastique magazine being publication in 1970 – a fact that the magazine honored by putting Lee's image on three covers, including an issue devoted to his career (although it did not quite do him justice). The last of these cover stories was for the original version of THE WICKER MAN, which our late founder Frederick S. Clarked called (with some admitted hyberbole) the "Citizen Kane of Horror Films."
We wish Christopher Lee continued long life and a happy career.
Check out articles on Lee here.
[serialposts]