This week brings us a trio of titles from Disney, a belfry full of Batman flicks, some more SOUTH PARK, and a pair of horror films that run the gamut from the worst imaginable to the best of 2008. Which is which? Read on to find out…
Batman: The Motion Picture Anthology 1989-1997 (Warner Bros Blu-Ray)
No, not those new films – the other, older ones.
Bryan Singer's first X-Men film was a revelation for comic fans when it was first released in 2000. It showed that we didn't have to settle for less; that we had every right to expect serious filmmakers to return to the genre and elevate it with smart casting and non-jokey approach. We took the comics universe (be it Marvel or DC) seriously, and expected Hollywood to do likewise. Singer's two X-Men pictures armed us, and allowed us to shun non-starters like Daredevil, Elektra, Ghost Rider, and even –urgh – Catwoman. We had similar feelings revisiting Tim Burton's original Batman films: we weren't exempt from the hype back in 1989; we were thrilled that a talented filmmaker was finally going to take a serious, dark approach to the subject matter, and we left the theater elated from the experience of seeing a decidedly mediocre affair.
Michael Keaton was certainly an interesting choice, but not necessarily a good one for Bruce Wayne/Batman. The actor's almost total lack of physical presence is accentuated by Burton's stiff staging (Burton's heart is usually in the right place – just look at the supporting cast of former Hammer players in Sleepy Hollow – but the superior art direction and costume design in his films mask his failings as a director), and there isn't a shread of chemistry between Keaton and Kim Basinger's Vicki Vale (a minor character in the comics elevated to ridiculous stature here). The amount of screen time wasted on Basinger and fellow "reporter" Robert Wuhl is scandalous, and only fails to capsize the whole top-heavy adventure if it weren't for one other cast member.
Most of the pre-release hype centered on the casting coup of Jack Nicholson to play the Joker. Everyone wanted to see what one of the most iconic actors in the world would to do with such a scenery chewing part; unfortunately, the lazy, unfunny performance that resulted wasn't all that different from Cesar Romero deliberately campy turn in the '60s. In 1986, an earthquake called The Dark Knight Returns written by Frank Miller ripped through the comic universe; it created a violent, dystopian vision of our world, mirrored in the book's depiction of Gotham City. This age of the Mad Hatter running around carrying sacks of money with "$" painted on them was over – in the universe of The Dark Knight Returns, the Joker is a homicidal maniac who murders schoolchildren by the dozen and leaves a beaten and likely molested Selina Kyle hog-tied and dressed in a Wonder Woman outfit. The year before Tim Burton's Batman hit theater screens, Alan Moore perfectly crystallized the horror of the Joker character in "The Killing Joke" as a giggling psychopath that is as likely to slice your throat as look at you. In light of these (then recent) works, Nicholson's mincing and mugging harkened back to a time that fans had been trying to forget.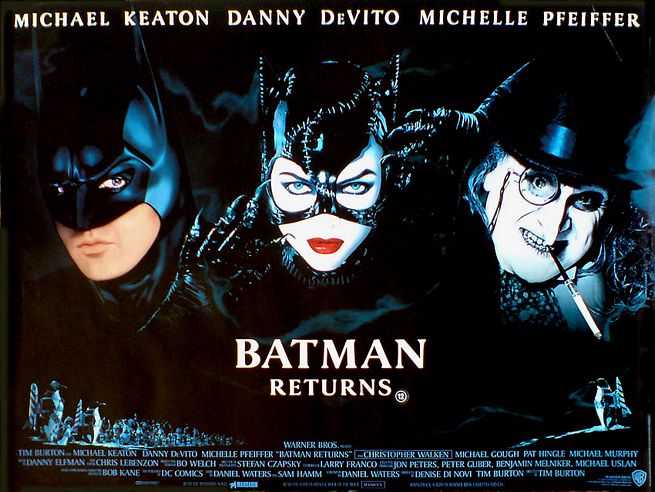 Batman Returns (1992) was an improvement; the gothic nature of the story better suited Burton, and was more a case of him wearing the franchise, rather than the other way around. But the choice of villains was disappointing –the Penguin was as silly a foe as Batman ever had, and Danny DeVito plays him strictly for comic relief, and Michelle Pfeiffer does little but leather up and purr sexually-infused invectives as Catwoman.
What seemed like a good opportunity for a reboot turned tragic when the series passed in to the hands of Joel Schumacher for the remaining two films. Batman Forever (1995) saw the more interesting Val Kilmer take over the title role, but seemed to be acting in a film all his own, failing utterly to connect with anything or anyone onscreen. This isn't a dig against Kilmer, whom we always enjoy, but against the neon madhouse that he was consigned to. The supporting cast ballooned to the point where no actor – not even Jim Carrey at his rubberiest – was given enough screen time to create a measurable presence (we had to check IMBD to verify that Drew Barrymore was actually in the film, and what do you know – she was!) .
The 4th film, 1997's Batman & Robin, is little more than a sharpening stone – a delivery platform for the barbs of snarky critics, and rightfully so. The film is so wrongheaded in aspiration, so misguided in execution as to astonish. The foundations that Schumacher had laid in the previous film could finally support the weight of his true vision: a gay fantasia of bright colors, insufferably loud sound effects, and S&M-inspired costumes that bring the show to a level of camp that makes Adam West look like Christian Bale. The released film nearly strangled the career of then-ER star George Clooney while it was still in the cradle, and effectively announced the end of Arnold Schwarzenegger's reign as unassailable box office king. Neither did it do any favors for the young cast; Chris O'Donnell and Alicia Silverstone weren't as lucky as Clooney and soon found themselves appearing most often in unsold television pilots. The film was the very definition of a "franchise killer".
Not even a year after the release of Christopher Nolan's The Dark Knight, who has the time or inclination to revisit this series? Apparently, Warner Bros thinks you do, as you're getting a Blu-Ray box set of all 4 films this week. Most (the interviews and commentaries in particular) go back to earlier releases, so anyone looking for new content will be disappointed. The picture quality is superb, as to be expected, and will probably encourage many looking for audio/video demo discs to purchase the set.
Pinocchio: 70th Anniversary Edition (Disney DVD & Blu-Ray)
For its 70th Anniversary (69th, actually, but for a film that features both an unmarried old man whishing for a little boy of his own and an island where young boys are enticed to live out all their most prurient adolescent fantasies, it was probably best to stick with 70 for the box art) Disney has issued what few could argue is the definitive presentation of the film, along with a pleasing collection of supporting materials. Disc one features audio commentary with Disney's master of ceremonies, Leonard Maltin, along with animation authorities Eric Goldberg and J.B. Kaufman, a pop-up trivia track that plays along with the film, and Disney Song Selection which plays the songs from the film in a karaoke format. The second disc features a feature length documentary No Strings Attached: The Making of Pinocchio, two deleted scenes and an alternate ending rendered in storyboards, and The Sweat Box, which tells the story of the eponymous room at the studio where Walt would critique rough animation, story reels and dailies. Also included are reference footage used to give the animators a handle to begin rough character concepts, some deleted background music, and Pinocchio's Puzzles, game which should be self-explanatory. There are also several Blu-Ray exclusive features which utilizing BD Live, which allow you to chat with other users while watching the film, send personalized clips, etc. The Blu-Ray package also comes with one unexpected surprise – a standard definition copy (sans extras) of the film on a separate DVD. It's a pretty shrewd way to get people without players to buy now, and not double dip later, especially when the disc inevitably moves to 'out of print' status. We'd also like to mention that the menus, called the Cine-Explore Experience, are far easier to navigate than previous Disney sets (the curtain-pulling effect on Dr. Syn got real old, real fast). Read a complete review of the discs here.
Escape to Witch Mountain/Return from Witch Mountain (Disney DVD)
However good or bad Race to Witch Mountain turns out to be, we have it to thank for the amazingly bright and sharp transfers on the new DVDs. We're certainly no expert on the restoration of films prior to a disc release, but either Disney spent a bundle sprucing these up or they have the cleanest vault elements in the business. Only the shots with dodgy matte work or optical effects have that "less than perfect look".
Both discs feature scene-specific commentary tracks featuring director Hough and leads Richards and Eisenmann (the latter were thankfully recorded together and make for a very pleasant listen), a just-under 30min making-of documentary, a trivia track, a "Studio Album" featuring clips from all Disney features released in that given year, and one Disney cartoon (Pluto's Dream House on Escape and The Eyes Have It on Return). Escape features an extra interview segment with Hough, a clip compilation entitled Disney Sci-Fi, and a featurette on the special effects. Return features an extended interview segment with the now adult members of the "street gang" that helps Tia search for Tony, another clip compilation, Disney Kids with Powers, and our favorite extra, a rare interview with Lee for a Spanish television station (in Spanish – one of the many languages the actor speaks with near fluency – with subtitles) where the actor is sporting the enormous mustache grown for his upcoming role as a Gypsy in The Passage. Read a complete review of both discs here.
Crowley (Anchor Bay DVD)
Perhaps Anchor Bay is attempting to add to the air of mystery that surrounds the subject matter of this DTV horror show by flying it well under the radar. There is no entry on the IMDB, and the only place we've been able to find any information is on Anchor Bay's own website, which features the following description:
He was known as 'The Wickedest Man In The World' or simply 'The Beast'. More than 60 years after his death, the demonic life and works of British occultist Aleister Crowley has continued to capture our darkest imaginations. In this provocative supernatural thriller co-written by legendary Iron Maiden vocalist Bruce Dickinson, a virtual reality experiment gone wrong sends the soul of the infamous madman into the body of a shy university professor (a fearless performance by Simon Callow of FOUR WEDDINGS AND A FUNERAL). But even as Crowley creates all-new orgies of depraved pleasures and black magick, is he now preparing to unleash the ultimate occult event upon the world? John Shrapnel (MIRRORS) and Richard Franklin (DOCTOR WHO) co-star in this over-the-top satanic shocker featuring classic songs by Bruce Dickinson and Iron Maiden.
Now, we have no evidence that a script from Iron Maiden frontman Bruce Dickinson isn't a reason to rejoice – and the presence of the always interesting Simon Callow in the lead role certainly entices – but we find it hard to take seriously the notion that Aleister Crowley was anything more sinister than an over-educated upper class sensualist who rebelled against a strict upbringing by embracing the occult. Simon Callow would be perfectly suited to a realistic portrayal of the actual historical figure, though the metal-driven "satanic shocker" described above appears to go in a slightly different direction.
Also out this week: