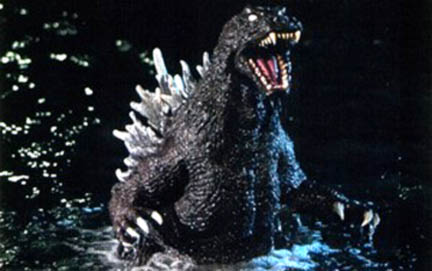 Sci Fi Japan points us to Crackle, a new online "multi-platform next-generation video entertainment network" that is loaded with movies, television episodes, and original videos. Because Crackle is a division of Sony Pictures Entertainment Company, the have a load of titles from Columbia-TriStar, which owns the distribution rights to Toho's giant monster movies. The current feature movie on the website's home page is GODZILLA, MOTHRA, AND KING GHIDORAH: GIANT MONSTERS ALL-OUT ATTACK, one of the best of the new millennium G-films, thanks to director Shusuke Kaneko, who had done an excellent job of reviving Gamera in the 1990s. The website is also highlighting GODZILLA: TOKYO SOS, GODZILLA VS. KING GHIDORAH, and GODZILLA VS. MEGAGUIRAS. Other available titles include MOTHRA, GODZILLA VS. MOTHRA, and GODZILLA: FINAL WARS.
Or if you prefer other forms of cinefantastique, you can check out everything from CANDYMAN to GHOSTBUSTERS, IDLE HANDS to HEAVY METAL, STARMAN to TOY SOLDIERS, WOLF to MUPPETS IN SPACE, JUMANJI to LOOK WHO'S TALKING.
There is an option to register if you want to submit your own original videos for viewing, but you do not need to be a member to view the content, all of which is available for free. Unfortunately, this means you have to tolerate occasional commercial interrupts, but they are mercifully brief (10 seconds).
The standard video quality is acceptable, and  the stereo sound is excellent. There is an option for HD if you want to view the videos full-screen: the results are quite good, but you will need a fast Internet connection; otherwise, the video may freeze up for a few seconds now and then.
[serialposts]