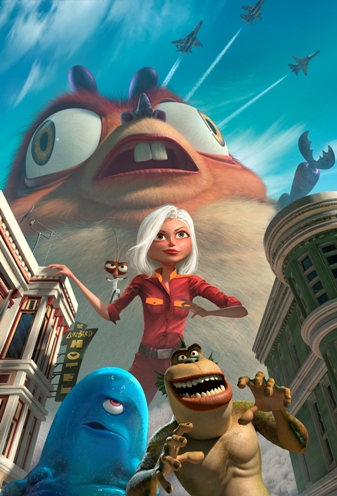 Regardless of who won the on-screen battle, MONSTERS VS. ALIENS was the clear winner at the box office, easily outdistancing the #2 film THE HAUNTING IN CONNECTICUT and making as much as the next four films combined. Making its debut in 4,104 North American Theatres, the DreamWorks animated film earned an impressive $58.2-million.
Also making its debut this weekend was HAUNTING IN CONNECTICUT, although on many fewer screens (2,732), where it earned an okay $23-million. Even with a sharp second, weekend drop-off, the Lionsgate release stands a good chance of surpassing this year's previous ghost story films, the UNINVITED ($26-million total), though it has a way to go to match THE UNBORN ($42.6-million).
As for holdover science-fiction, fantasy, and horror films…
KNOWING dropped from #1 to #3 in its second weekend, earning $14.7-million. The two-week total is $46.2-million.
RACE TO WITCH MOUNTAIN sped from fourth to sixth place, adding $4.6-million to its three-week total of $53.3-million.
WATCHMEN saw their position shift from #5 to #8, where it earned $2.8-million. After four weeks the total is $103.3-million.
LAST HOUSE ON THE LEFT collapsed four places, winding up in tenth place with $2.6-million, yielding a three-week total of $28.5-million.