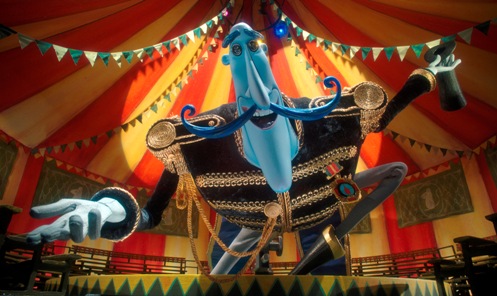 As is usual for animated films, CORALINE was completely storyboarded, allowing for a great deal of thought about where the camera should go for each and every one of its approximately 1,500 shots. This careful pre-planning allowed director Henry Selick to come up with some beautiful camera moves (and angles), as well as determine the best way to use 3-D in each shot. The result (to echo Leonard Maltin), is the best use of 3-D I've ever seen.
Unfortunately, the majority of past movies that were made in 3-D have been pretty awful. In fact, over the entire history of 3-D, you'd be hard pressed to name more than a dozen really good movies. Some featured exciting action sequences; some had great 3-D effects, but most were very bad, if judged strictly on their merits as movies. As DreamWorks animation chief Jeffrey Katzenberg recently noted while promoting his newest 3-D movie, MONSTERS vs. ALIENS, "The one thing 3-D can't do is make a bad movie into a good movie."
So CORALINE is a rare double treat, because it works as a very good movie seen in 2-D, but becomes even more spectacular when seen in 3-D! In fact, CORALINE is the first stop-motion animated feature that was actually conceived to be photographed in 3-D. It's what director Selick calls "a fully immerse three-dimensional movie-going experience," adding, "The technology of today's 3-D really can now be called 'stereoscopic,' because audiences can now look at things with both eyes as we're designed to do as human beings anyway. 3-D captures the complete stop-motion world that we, the moviemakers, want to share with our audiences. With CORALINE, we are using 3-D to bring audiences inside the worlds that we create, and convey the energy that our miniature sets exude for real. It's about that, rather than having gimmicks like things flying off the screen all the time. We do have some of those, but sparingly."
Indeed, Selick wisely uses the 3-D effects in quite a miserly way. The opening and closing credits give audiences most of the more eye-popping moments, while the movie itself doesn't use the kind of gimmicks that would merely take the viewer out of  it's carefully constructed fantasy world.
Cinematographer Pete Kozachik explains that the 3-D moments had to "support the story and were carefully scripted for short bursts, rather than lengthy set pieces. We were advised, 'It's more about opening up space, rather than bringing stuff up in your face'."
To that end, the cinematographer invoked the advice of two of his mentors; Academy Award-winning visual effects artists Dennis Muren ("one shot, one thought") and Phil Tippett ("what's the shot about?").
Since the story of CORALINE involved parallel worlds, an interesting concept that Selick might have been tempted to follow was to use regular 2-D for one world, and have viewers put on their 3-D glasses when Coraline visits the Other World.
However, Selick felt that it would be much more consistent to convey the differences in the two worlds by subtle changes in style. He explains, "In the world that Coraline lives in, we made the sets more claustrophobic. The color is more drained out, since her life should feel flat. When she gets into the Other World, the sets may look similar but we built them deep and more dimensionally. We also tone up the color a bit, and move the camera more. In her real life, the camera is locked down and it's like a series of drab tableaus. Her real life feels like a stage play. So the Other World feels more 'real' to her – and to the audience."
Of course, CORALINE can and will be shown in 2-D at some theaters, but as Dakota Fanning enthuses, "It looks so much better with the glasses!" And be sure to sit through all of the end credits to see a final burst of amazing 3-D effects "Coming at You!"