BLOOD AND ROSES remains unavailable on DVD, in either its American or original French versions.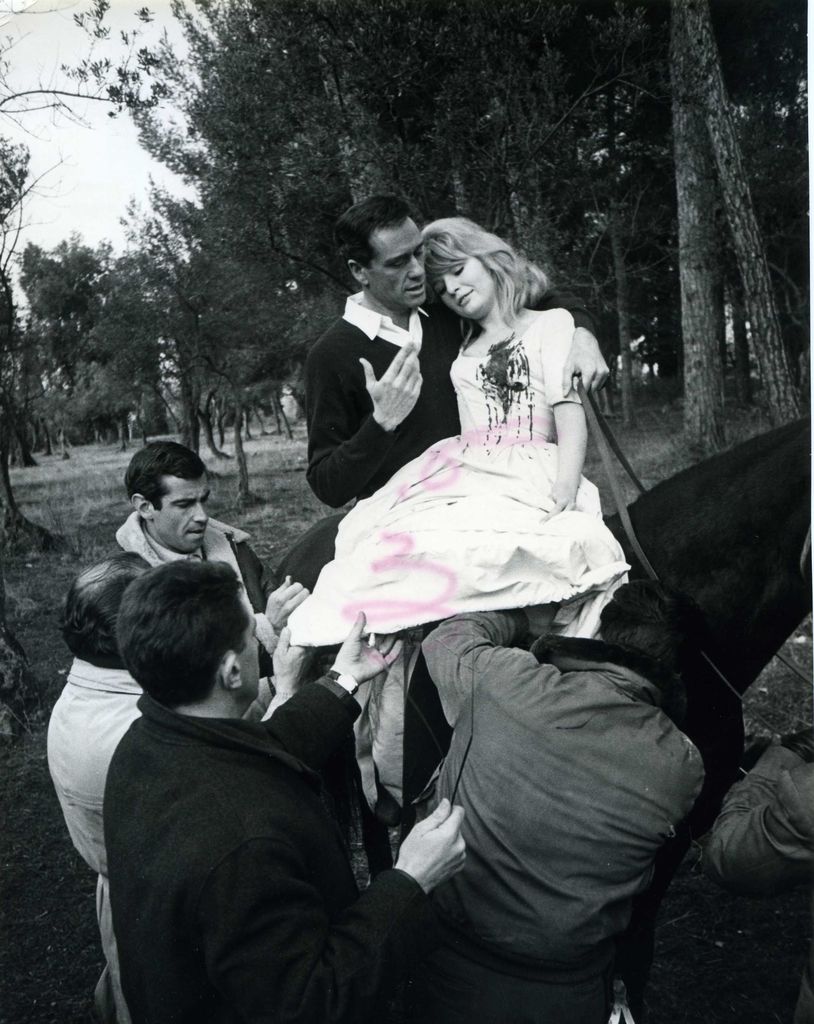 I first saw BLOOD AND ROSES at the Crest Theater in Sacramento in the summer of 1960. The city was suffering from a month-long heat wave the afternoon I entered the well air-conditioned theater to sit alone in the darkness and enter the dream. There is always something magical about seeing a film for the first time on the giant screen, especially when you are 11-years-old. From its opening titles (showcasing Annette Vadim in a series of black-and-white portraits, underscored by the elegant, haunting music of Jean Prodromides), this was going to be a very different kind of vampire film from what I was used to seeing at the local drive-in.
The poster art displayed in glass cases outside the theater promised the viewer a terrifying encounter with the supernatural: "It plunges you into the midnight zone beyond the grasp of reason."
Now, what I did not know at the time was that I was watching an alternate take on a French film, entitled Et Mourir de Plaisir("To Die of Pleasure"), directed by the infamous Roger Vadim, whose credentials as a filmmaker were to be forever overshadowed by his lifestyle. Vadim was regarded by the press as a hedonist of epic proportions, almost a Svengali whose sexual powers made disciples of the world's most beautiful women (the most famous being Brigitte Bardot, whom Vadim elevated to myth with his iconic …AND GOD CREATED WOMAN).
However, the legend behind his adaptation of Joseph Sheridan Le Fanu's best known work, Carmilla, a novella published in 1872, is fascinating for a number of reasons - the first being the question of why this film is so obscure when its influence on other vampire films is so obvious. Since its release in 1960, BLOOD AND ROSES has been a template for Harry Kumel's DAUGHTERS OF DARKNESS, Mario Bava's BLACK SUNDAY, and let us not forget the Karnstein series from Hammer Films, who somewhat reinvented themselves with what still remains the most faithful adaptation of Carmilla on screen, THE VAMPIRE LOVERS - a hot house cornucopia of Lesbian desire complete with heaving bosoms and full frontal nudity. Audiences of the day madethis one of Hammer's most successful films; with their former rival in the horror sweepstakes, American International Pictures, partnering up to provide U.S. distribution, the film swept the world in boxoffice receipts, paving the way for more Hammer films involving the Karnsteins.  Vadim's influence is apparent in almost all of these films, and yet BLOOD AND ROSES remains the most beautiful and haunting, even if Carmilla refrains from biting her virginal female victims on the breast or declaring her undead love for them.
The film was shot in English and then later dubbed into French and Italian. The production cost $750,000 in 1960, utilising the grounds of Emperor Hadrian's villa and gardens to great effect. The costumes—particularly the bat-like mask worn by Mel Ferrer at the party—is among the film's most-remembered images. Over the years fans have had to make due with a sub-standard VHS version that crammed its Techniscope widescreen image into pan-and-scan (albeit retaining at least the beauty of the soundtrack). Even with this visual disadvantage, this film continues to cast its spell on anyone who happens to see it. So why hasn't Paramount put this film out on DVD? Ever since the advent of the Internet, that question has surfaced literally hundreds of times, and yet still no response from studio that owns the U.S. rights.
I have chosen this moment to address the situation because, thanks to my friend Russ Lanier, I have been watching a DVD-R of the French version of this film. After years of over-familiarity with the American version, the initial viewing was stunning for me, as I was able to fully appreciateClaude Renoir's breathtaking photography in its proper aspect ratio. It was a thrill just to see the original title for the first time, but after the newness of it all began to wear off I missed the ghostly voice-over of the vampire Mircalla informing us that she is of the spirit and cannot die and therefore she is condemned to wander the earth forever (although now she travels by jet back to the estate where it all began over 500 years before). I have read reviews by French critics that really loathe this device, yet I can more than understand why Paramount hired Peter Viertel to do a bit of embellishment to make the vampire theme more apparent for American audiences. If I had not been so familar with the subject, I would question Vadim's motive for showing so many incidential bits of business prior to the masked ball and the opening of Millarca's tomb.
The greatest disappointment regarding this French version is the omitting of the dream sequence, on which this film's reputation is based. In the French print, when the now-possessed Carmilla enters Georgia's bedroom, all we see is the moment when Millarca appears in her dream as a nurse whose entire image turns red when she uncovers a sheet to reveal the now-deceased Carmilla. At this point, Georgia wakes up screaming as Count Leopoldo (Mel Ferrer) rushes in to comfort his terrified finance.
I find it hard to imagine that this sequence, which can be seen in its entirety on YouTube, is not in the theatrical print that was first shown in France. Having now seen both versions, I note that that there is one additional sequence that has never to my knowledge appeared in either film.  I have a still from the American National screen service set of 8×10's that depicts Elsa Martinelli sleeping as some strange form with a female eye crawls across the bed. In the Hammer's THE VAMPIRE LOVERS there is a scene in which one of Carmilla's victims dreams of being attacked by a giant cat, depicted as two glowing eyes in a furry formless mass moving towards her.  I suspect that Vadim shot a scene of Elsa being attacked by a version of Carmilla in a similar guise and then thought better of it when the director opted for the ambiguity of the vampire attacks possibly being only imaginary.  The only way to solve this mystery will be when a complete print of the French version is available to compare.  However, if Vadim made the decision to cut it out of both versions, then only the still photograph  remains as proof of its existence.   
In reassessing this film, I was stuck by its silimarity to a couple of other films from the same year. Jack Clayton's THE INNOCENTS stars Debroah Kerr, whose husband Peter Viertel was at that moment adapting Et Mourir de Plaisir into English. The concept that ties both films together is the notion that all the supernatural occurrences are but figments in the imaginations of sexually distressed females in isolated circumstances. This plot device can also be found in Robert Wise's THE HAUNTING, made a few years later.
The American version makes no excuse for the existance of vampires, yet when Carmilla sees the reflection of her white ball gown begin to bleed, she breaks the mirror and we see she is devoid of blood. Was it her imagination creating a vampire when there wasn't one? If that were the case, we still have the servant girl drained of blood after being chased by Carmilla - in broad daylight, no less. There is an argument for both interpretations if you compare both films, yet the American version is without a doubt a full-blooded vampire film.
Of course this film is not without its faults; it could be considered slow-moving by today's standards, but I for one would rather watch a Karnstein maid milk a cow than deal with another close-up of the teenage bloodsuckers in TWILIGHT. Another point of contention with critics has to do with the performances of both Mel Ferrer and Elsa Martinelli, who seem to either overact (Ferrer) or underplay (Martinelli).*
Annette Vadim is unforgettable as Carmilla. She had just worked for Jean Cocteau in his masterful THE TESTAMENT OF ORPHEUS; in fact, this connection to Cocteau is essential in trying to appreciate the dream sequence in Vadim's film. The influence is undeniable with characters floating in and out of mirrors.
Roger Vadim is no longer with us nor is Annette Stroyberg Vadim, yet this film is eternal with a beauty that with captivate audinces as long as there is cinema.The themes in the Carmillastory are universal, as the character represents the very prototype of female intimacy. Much has been made of the "Lesbian" aspect of the film, but while considered soft-core at the time of release, upon reexamination the Lesbianism seems to be strictly a matter of interpretation. Thoughout the film Carmilla is in love with Leopodo, and even her possession by a vampire does not alter this fact. The most famous moment of Lesbian desire is the one that gives the film its title: Elsa Martinelli has the blood on her lip licked away by Carmilla while holding a rose which soon withers in the presence of the undead.
This film is in dire need of reapprasal, thanks to the continued fascination we to have for the vampire legend in pop culture and in films. Roger Vadim deserves a reapprasal as well, even though he did not become a Godard or Rivette. In his career he did create some remarkable films, and with this one his reputation should be secure. I would like to see all his films out on DVD and let's see for ourselves whether he falls short or not. I still have a certain admiration for one of his last films, PRETTY MAIDS ALL IN A ROW, and seem to remember finding it a very dark and funny commentary of American mores regarding sex in the wild and provocative '70s.
BLOOD AND ROSES deserves its place as one of the standards by which we judge the rest of the genre, and it is criminal that it is so hard to find. Both the American and the French versions are essential viewing, so they should be presented together on a collector's edition DVD, a la NIGHT OF THE DEMON/CURSE OF THE DEMON or LISA AND THE DEVIL/HOUSE OF EXORCISM. I am still drawn to the American version for the same reason I prefer the American BLACK SUNDAY to the Itailian original (I am comfortable from so many years of seeing it in the way I first viewed it as a young boy), but a proper assessment of Vadim'sintentions demands that both cuts should be available sideby side.
Last year, Legend Films acquired the rights to distribute several cult titles from Paramount's back log, including THE SKULL and THE MAN WHO COULD CHEAT DEATH – films whose appeal Paramount deemed too small to be worth handling on their own. BLOOD AND ROSES is ideally suited for similar treatment; though it is not a widely known classic, there is an audience of cineastes and curiosity seekers who deserve the chance to see it in restored form. If you want to add your voice to those who want to see the film on DVD, call (858) 793-4420, or email support@legendfilms.com.
I shall remain otimistic that one of these days Paramount will do the right thing, and we will all be able to plunge into the midnight zone beyond the grasp of reason.
FOOTNOTE:
*In an interview I conducted with Christopher Lee, the actor claimed to have been robbed of a chance to appear in the film. According to Lee, Mel Ferrer was at one time a personal friend of his after they worked together on THE HANDS OF ORLAC. Lee had invited Ferrer to dinner at his flat in London not long after filming; during the course of the evening Ferrer discovered a script that turned out to be the Vadim production of Carmilla, for which Christopher Lee was offered the role of Count Leopoldo de Karnstein. Christopher remembers telling Ferrer about it and then thought no more of it until he was told a few weeks later that the producers had decided to go with another actor—Mel Ferrer. Lee never forgave Ferrer for this breach of friendship, and as a result Lee was hard pressed to ever take another working actor into his confidence again.
The idea of Christopher Lee in an art film based on CARMILLA seems like a perfect match, especially after his performance in an earlier adaptation of CARMILLA known as TERROR IN THE CRYPT. Yet, if Vadim wanted ambiguity, then Lee would have brought too much baggage, because by 1960 he was already typed in the horror genre, just like his co-star Peter Cushing. If Vadim had seen Lee in any of his supporting roles like TWO FACES OF DR. JEKYLL he would have know what Lee's fans already knew: that he was a fine actor and would have brought a great deal to the table. Just remembering Lee in Bava's NIGHT IS THE PHANTOM would give you some idea just now wonderful it would have been to see him in such an elaborate production for a change.