The recently deceased actor deserves a place alongside the icons of the genre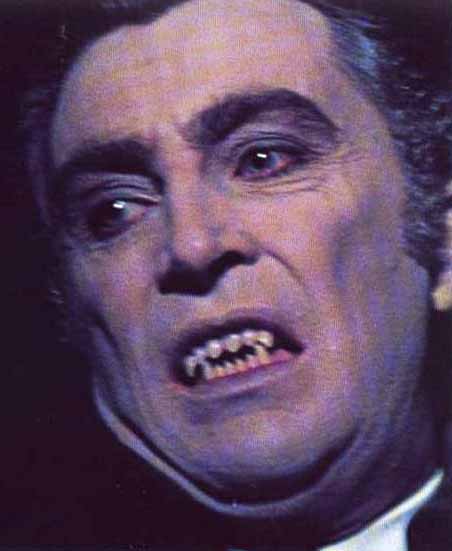 I will always think of Robert Quarry as the Greatest Horror Star Who Never Was. The actor – who recently passed away, according to this post at the Classic Horror Move Message Board – earned a small measure of cult stardom from appearing in a handful of horror films in the early 1970s: COUNT YORGA – VAMPIRE; THE RETURN OF COUNT YORGA; DR. PHIBES RISES AGAIN; MADHOUSE; and SUGAR HILL. Several of these, produced at American International Pictures, co-starred him with Vincent Price, whom Quarry seemed poised to replace as AIP's reigning horror star. That, alas, never came to be, and I have always considered that a shame.
Born in 1925, Quarry had been appearing in movies and television shows for nearly twenty years* when he landed the title role in COUNT YORGA -VAMPIRE. Allegedly conceived as a soft-core porn film titled THE LOVES OF COUNT IORGA, the movie became a cult hit after Quarry signed on – under the stipulation that it be filmed as straight horror.
"They asked me to read the script," Quarry recalled. "I said why don't you just make a regular horror film out of it? They said will you do it? Of course I said yes, if it's going to be a straight horror film. So you notice several places in the movie — in case it didn't sell as a horror film — they left places where they could add whatever was necessary — two more breasts, or whatever."
This was at the end of the era when Britain's Hammer Films dominated the horror market with Gothic period pieces, like their Dracula series starring Christopher Lee, which were done in a serious elegant style. COUNT YORGA, VAMPIRE, by contrast was hip and modern, with a sly sense of humor to help get the audience past the implausibilities of the script.
Quarry is one of the film's major strengths, instantly establishing himself as a master of the horror genre. Looking (as author John Brosnan has noted) like America's shorter and more compact version of Christopher Lee, Quarry delivered Yorga's dialogue with ill-concealed disdain for mere mortals opposing the vampire. Without descending into camp, Quarry gives the proceedings a darkly comic feel as Yorga pretends to engage in polite dinner conversation with guests who ask him pointed questions about stakes, crosses, and daylight. In these clever cat-and-mouse exchanges, Quarry conveys a unique personality, establishing Yorga as very much his own vampire, even though he is obviously derived from Lee's more famous Count Dracula.
"I figured Christopher Lee never had as much dialogue in his first three vampire movies as I had in one scene!" Quarry joked, pointing out an obvious distinction between the two characters. The actor was also insistent on avoiding comparisons to the silver screen's other famous interpreter of the undead Dracula, Bela Lugosi.
"When we first discussed the picture, I asked if they wanted" – shifting to a Lugosi imitation – 'Ah, the Children of the Night…" he related. "I didn't want to do that, but I could get some kind of European thing going. So I learned the whole part with an accent, with a dialect, and then just took it out. As a kid from California I had worked very hard with a good voice coach to learn that 'transatlantic' accent, so I could play something besides Kansas City or Brooklyn. I started with a voice in a register up [high], and I had to get it lower to work on the thing. Christopher Lee is still working on it!"
Quarry was justifiable proud of his voice training, after having missed out on a role early in his life because of his accent. "One of the first jobs I ever lost was because I pronounced by name wrong," Quarry related. "I auditioned for an actor named Alfred White, and said 'I'm Robert QWAY-RY. he said, 'Mr. QWAR-Y, your name is spelled Q-U-A-R-R-Y. How can I hire an actor who can't even pronounce his own name?' Years later, while I was in a play, I was sitting next to Ethyl Barrymore [the respected stage and screen star from the 1930s, whose family acting tradition continues in Drew Barrymore today], and Albert White showed up. This was at the time of [mumbling method actors like Marlon] Brandon and [James] Dean, when you couldn't understand some of the language. White came up to me and said, 'Mr. Quarry, I just want to say it's a joy to see a young American actor who can speak good theatrical speech.' So I told the story of 'QWAR-Y/QWAY-RY,' and Ethyl Barrymore said, "Alfred, you always were the most pompous prick. That's P-R-I-G.'"
Back in the days of drive-ins and grindhouse theatres, the independently financed COUNT YORGA – VAMPIRE became a sleeper hit in 1970. Quarry executive produced an unofficial follow-up, THE DEATHMASTER, which cast him as Khorda, a Manson-like vampire-guru. Both films were distributed by American International Pictures, which had been churning out modest but entertaining horror films starring Vincent Price.  Price's box office returns were declining; looking for some new blood, AIP honchos James H. Nicholson and Samuel Z. Arkoff put Quarry under contract.
"Vincent didn't care to work any more at AIP," Quarry recalled when I interviewed him for Cinefantastique's cover story on Vincent Price (January 1989, 19:1-2). "His contract was up; they were not going to re-option it. They wanted to get rid of him because his salary was going up and up and up, and his last two pictures had not done that well. They didn't know where the horror thing was going, and I was being brought in. They had somebody new they thought they could build into the horror thing. I was told that I was going to be set up to take Vincent's place at AIP, but that was between us. And it was not that I was ever gonna be as big a star as Vincent – it would have taken seven more years of good horror films – which they did not do – to have gotten me up to a position where I might have an established name as a horror star."
AIP put Quarry into a handful of horror films, including a Yorga sequel and two Vincent Price vehicles, which should have spring-boarded the actor into stardom, "but then the horror thing all fell apart," Quarry lamented.
I have always shared that lament. Quarry may have been limited in range, but what he did, he did well, especially when the material was tailored to his own special talents. For example, RETURN OF COUNT YORGA emphasizes the sarcasm that Quarry so ably displayed in the previous film, giving the actor even more amusing dialogue and pushing the film closer to the edge of camp. (When a grungy-haired musician banging away on a piano ask the sardonic Count whether he likes that kind of music, Quarry dead-pans, "Only when it's played well.")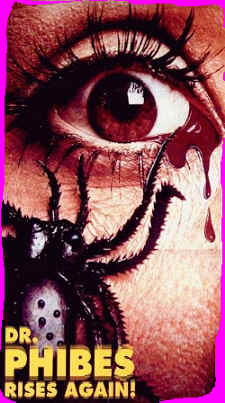 DR. PHIBES RISES AGAIN, Quarry's first opportunity to co-star opposite Price, is even more overtly campy, but Price's Dr. Phibes gets all the humor, while Quarry, as his adversary, plays the straight man. The important thing is that Quarry holds his own as a worthy antagonist, proving that he could have aquired the stature (given proper handling) to assume Vincent Price's mantel.
Unfortunately, Quarry role as potential usurper destroyed any chance for a friendship with the older actor. "An English publicist came up to him and asked, 'How do you feel about Mr. Quarry coming in as your replacement?' Vincent told me what had happened; he wasn't happy about it. It was as if I was a 'threat' to his career – to this man with this long, distinguished career that nobody could repalce. After that happened, Vincent was never the same. That made a rift between us. I never some him socially after that, not ever."
Quarry's next appearance with Price was in MADHOUSE, which was also the last film Price made with AIP. Although far from a satisfying effort, the film once again showcases Quarry's talent for delivering disdainful, mocking dialogue. If the results were enjoyable, Quarry insisted it was not because of the script, which he termed "crap."
Quarry explained, "Originally, I was to play the role of Peter Cushing, but age-wise that didn't work out, so they manufactured a part for me to play. It was nothing, and the dialogue was unbelievable. So I would change the dialogue around so it was speakble, and then leave the last line – the cue line – in. They never knew what hit them. At least it gave me something to play."
Completed in 1974, MADHOUSE was barely released, and it did nothing to further Quarry's career. With Vincent Price's contract up, horror was not the same at AIP, especially after James Nicholson parted from the company to produce THE LEGEND OF HELL HOUSE, leaving Sam Arkoff in sole charge.
"Once Nicholson and [business manager Paul Zimmerman] left, I was just a piece of meat on a rack, to be used," said Quarry. "I was under contract, but it was the beginning of the end of AIP – though it lingered on, doing one ghastly film after another. It was like everybody pulled the plug, and the ark sank – or the Arkoff sank, I should have said. That was the end of the horror cycle. After that came the black exploitation pictures."
Still under contract, Quarry found himself cast in SUGAR HILL, a weird combination of horror and blaxploitation.  "If Sam went out and had his cleaning lady write a movie, it coldn't have been any worse than this piece of junk they dumped on me. And everything was judged by Mrs. Arkoff, who sat home and ate chocoaltes and read paperbacks all her life."
Quarry plays a cut-throat mobster who rubs out the owner of a night club he wants to take over, but the dead owner's girlfriend uses voodoo to turn the tables. The actor brings his patented superscilious disdain to the dialogue.
Casting a white actor trying to take over a black man's business lent a racist vibe to the proceedings (at one point Quarry slurs the word "negro" when addressing a black underling so that it almost sounds like "nigger"). The role had apparently been intended for a black actor, but Arkoff wanted to get his money's worth out of Quarry and no other project was available.
"Sam [Arkoff] would have you do anything rather than pay you and not play you," explained Quarry, whose pay-or-play contract guaranteed him a salary whether or not he appeared in a film for AIP that year.
SUGAR HILL was Quarry's swan song with AIP. He dipped low on the radar for several years, and the rest of his career consisted of gueast appearances on TV shows and roles in low-budget horror films, usually direct-to-video. His last completed credit was on FUGITIVE MIND, directed by Fred Olen Ray, whose cast also included such genre names as Heather Langenkamp (A NIGHTMARE ON ELM STREET), David Hedison (THE FLY, VOYAGE TO THE BOTTOM OF THE SEA), and Ian Ogilvy (WITCHFINDER GENERAL, a.k.a. THE CONQUEROR WORM).
The actor had been in declining health since moving to the Motion Picture Country Home and Hospital last year. At that time, we conducted Robert Quarry Appreciation Week here at Cinefantastique Online, which provided an opportunity for me to offer a few personal recollections that seem appropriate in the context of this obituary:
I"ve been lucky enough to meet Quarry a few times. The first was when I interviewed him for the cover story on Vincent Price in the January 1989 issue of Cinefantastique (Volume 19, Numbers 1 & 2). Over the phone, the actor expressed some reservations about rehashing old news, but ultimately he agreed to meet with me, and he gave a hilarious interview in which no punches were pulled and no insult went un-uttered. Although understandably disappointed that his career did not turn out as it should have, he did not strike me as particularly bitter while dishing dirt; he simply refused to sugar-coat the truth, and he didn't stand in such reverent awe of people that he regarded them as hallowed icon not to be impugned under any circumstances.

Later, I happened to run into him outside the Vista Theatre in Hollywood (where Sunset and Hollywood Blvd meet), where Luc Besson's THE BIG BLUE was playing. He recognized me, and we chatted about how the Price article. He was happy with the way it turned out, because it included both his positive and negative comments. I recall that he also like the Besson film, although it was a rather vague and pseudo-mystical piece – the kind of thing that might appeal to a (then) young cineaste like me but not, I thought, to an actor with an appreciation for in-depth characters and insightful drama.

The last time I saw Quarry was in 2004, when the American Cinematheque hosted a double bill of the two YORGA films, with Tim Sullivan (2001 MANAICS) and Frank Darabont (THE MIST) interviewing the actor in between. He told the old stories again, with his usual gusto, and afterwards I finally got him to sign a copy of the CFQ issue with the Price cover story.
Quarry had a sharp – one might say "acid" – tongue, but he put it in the service of being a great raconteur, regaling listeners with outrageous behind-the-scenes tales, and to be fair, he was not adverse to taking himself down a peg or two. I always thought he deserved better from the industry than he got. In his later years, it seemed as if only low-budget filmmakers like Fred Olen Ray would employ him. I could understand that Quarry did not have the stature that would land him in mega-million dollar Hollywood productions, but you have to wonder why film-buffs-turned-filmmakers like Joe Dante and Quentin Tarantino never gave the man the comeback roll he deserved. (I don't want to trash Tarantino here: I just wish he had done for Quarry what he did for Robert Forster in JACKIE BROWN.)
Looking back on the role that brought him cult fame, in 2004 Quarry said, "I enjoyed playing Yorga. The fun of making movies is the fun of getting outside yourself. I had been playing heavies all my life, but they were more real – just with or without a mustache. So it was fun to use some of the — what I hope were — skills I had developed by this time."
Quarry's hope was well founded. He displayed impressive skills in the handful of films that allowed him to shine in the horror genre. Given more and bigger opportunities, he could have ranked alongside Price, Lee, and Cushing as part of the next generation of horror stars that replaced Lon Chaney, Boris Karloff, Bela Lugosi, and Chaney Jr. And that is why I will always think of Quarry as the Greatest Horror Star Who Never Was.
FOOTNOTE:
Quarry claimed to have been seen as a child actor in Hitchock's SHADOW OF A DOUBT, but he is not credited and the Internet Movie Databas lists his role as "Undetermined."