Grim Noir in a Cinematic Splash Panel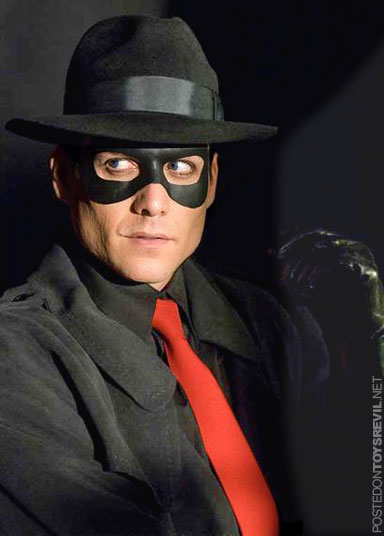 Frank Miller's vivid neo noir version of Will Eisner's iconic comic hero is a mesmerizing mix of live action and garishly colored illustrated backgrounds, ala SIN CITY. While on the one hand its extravagantly CGI'd visual style may tend to distract from the thrust of its straightforward storytelling, it also gave the movie an ungainly appeal that will. I think. be worth noting now and reflecting upon later as cinema and graphic novel merge into a new style of visual storytelling.
In some respects, THE SPIRIT may have worked better had it been filmed as a straight period story, ala LA CONFIDENTIAL; the cartoonlike excesses and the brash colorations, while graphically effective, did not really help to propel the story, and the film's best moments were indeed found in its more realistic settings. After all, even at his most ambitious, Eisner's visualizations were grounded in realism. However, the bombastic visual style lent the film an often electrifying splashy tonality that was very suitable to Miller's storyline. The film, in essence, is a graphic novel brought to life, its moving pictures representing a free-flowing snapshot of the comic page, iconic tableaus that suddenly burst into a spray of neon life – a series of moving splash panel that lasts 108 minutes. For all of its overblown flamboyancy, THE SPIRIT is a very interesting exercise in cinematic storytelling, eschewing the straightforward for the stylistic, the linear for the boxed progression and stark-hued noir of the graphic novel.
In this sense, THE SPIRIT succeeds as a cinematically-oriented interpretation of Eisner's magnificent style of pen-and-ink storytelling, extrapolated to the nth degree. It's as much awash with brazen colorations as it is with noirish black and white shadows, and it revels in its style without losing track of its story, which surfaces often enough in straightforward momentum to keep us from tripping over its loose ends and unexpected divergences into parenthetical territories. The film tells Eisner's timeless tale of The Spirit's origin, prudently updated for a contemporary audience, and resolves the story of his first, lost love quite nicely. Despite its frequent sidesteps into the visually bizarre, ostentatious, and unsubtle characterizations, I find that the film worked for all those reasons. It may well be best appreciated by aficionados of graphic storytelling rather than those of pure cinema, and is best regarded for what it is rather than what it is not.
Its cast - from its femme fatale eye candy to its incandescently gaudy chief villain – is uniformly excellent if exaggerated. I hadn't been sold on Gabriel Macht from initial photos, but his performance is quite convincing and likeable. All help sell the idea of the dark, sensual, virtual urban crimescape that is the story. And Randy Newman's score is a nice mix of heroic noir and dark Gothicism that grounds the film in a realistic environment of brooding and shadowy ambiance.
Frank Miller's THE SPIRIT, while not free of flaws, remains a very effective and interesting entertainment: a realistic story that works despite its unreality; a story ground in character despite its uncharacteristic garishness; a sumptuous visual spectacle despite its very obvious virtual environment. Its flaws become part of its arcade experience. It's comic noir,  a splash panel that assimilates its audience. It's an extremely compelling visualization.
THE SPRIIT (2008).  Directed by Frank Miller. Screenplay by Frank MIller, based on the comic book series by Will Eisner. Cast: Gabriel Macht, Eva Mendes, Samuel L. Jackson, Scarlett Johansson, Eric Balfour, Louis Lombardi, Jaime King, Dan Gerrity, Larry Reinhardt-Meyer, Frank Miller.