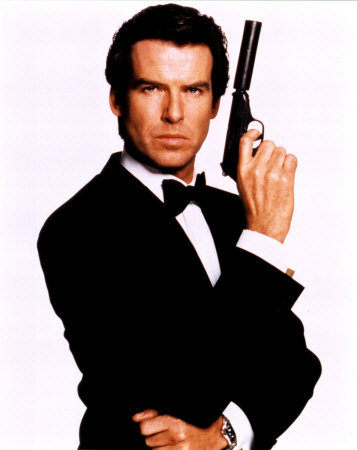 His tenure as James Bond may have been cut off before he achieved his ultimate goal – surpassing Sean Connery as cinema's greatest super spy – but Pierce Brosnan did something very important: he helped bring the character back to life. The films had gone through a phase of self-parody during Roger Moore's tenure, reaching a low point with A VIEW TO A KILL (1985), and the attempt to return to a more serious tone with Timothy Dalton had fallen flat due to weak scripts and a reluctance to abandon the over-the-top antics for which the series had become famous. For example, the stunt-and-effects-packed chase scene in LICENCE TO KILL [1989] detracts from the dramatic core of the story, which is the personal conflict between Bond and the drug lord Sanchez. After the box office disappointment of LICENCE, the Bond seemed all but dead, and the franchise lay dormant for six years, until Brosnan stepped in.
007 purists were not necessarily happy with the casting of Brosnan. When he was first mentioned as a potential Bond back in the 1980s, there was some grumbling from hardcore fans who were worried that they would be getting another Roger Moore, with a cool, tongue-in-cheek interpretation. However, with Brosnan as Bond, the films harkening back to the days of Sean Connery, seeking to strike a balance between drama, witty one-liners and action-packed violence (even if they did not always fully succeed).
Continuing somewhat in the direction of Timothy Dalton, Brosnan moved away from playing Bond as the tongue-in-cheek spoof. "For me, he is a human being," the actor. Said. "To come into the role the first time round, it had such a mighty mythology to it. How do you make it real for yourself; how do you find your [own way]? Because what Fleming put down on paper and what Connery did in the beginning are two different things, really; there's two different men. So you have to find the man for yourself. You pose the questions to yourself, 'What if I were this man?' He's highly trained, respected, solitary. A survivalist. Doesn't simply like trying to kill anybody, but kills. Is always looking over his shoulder. Drinks too much. Did smoke too much at one time but has given up–I think he has a quiet cigarette behind the set. For me, it was just trying to make him human, and that's a dangerous thing to do with any kind of fantasy-figure character."
That's not the way things might have turned out, if Brosnan had taken over in the 1980s. "I think someone was watching over me with respect to doing it back in '86," he declared. "I've got photographs of me with the late Cubby Broccoli, signing the contracts, standing outside the soundstage with his Rolls Royce. I look like something out of LEAVE IT TO BEAVER. I mean…it's Remington Steele. So I was lucky that I didn't do it then, very lucky."
Of stepping into the role first made famous on screen by Connery, Brosnan said, "Well, going into the ring, it's about taking the belt. Connery's got the belt; I want the belt. It's as simple as that. It's a game; the whole bloody thing's a game. You go in knowing that there's only one man in the ring. There's that analogy, which is kind of dramatic and makes for good copy, but there's also just one's own self esteem and respect for the character, respect for the millions of people who loved the character. Doing GOLDENEYE [1995] was huge. The tension was there from Day One when I put the phone down after my agents said, 'You've got the job,' right through to finishing the press junket. And Connery was the Man. He was Bond; he was the one I grew up on. You have this kind of thing of wanting to take the belt, but you also have to find your own path with it and not get too blind-sided by the competition and someone else's performance."
Part of humanizing Bond in the Brosnan movie results from twisting familiar situations in unexpected ways: for instance, casting a woman (Dame Judi Dench) as M. "He does love this woman," says Brosnan of Bond's boss. "She's a Bond babe—she is THE Bond babe. So there is a great love and respect, and I wanted to see more of that."
This is in keeping with one element that Brosnan has emphasized in order to distinguish his characterization: a more obvious compassion for the women in the Bond films. This was on view in TOMORROW NEVER DIES vis-à-vis Teri Hatcher, suggesting a certain vulnerability not always apparent in previous Bond films. "I cannot do, nor do I want to do, what Connery did," Brosnan says. "Nor do I wish to do that kind of character who smacks women around and smacks them in the mouth. I mean, he could do it, and he has done it: with Famke Janssen in GOLDENEYE, he gives her a ding in the jaw, but then she deserves it."
This is all part of a move toward pushing Bond into a morally gray area. "That is good," said Brosnan. He added that Bruce Fierstein, who scripted several of the Brosnan Bond films "always talked in that gray area of ambiguity from the beginning. I think GOLDENEYE had it in miniscule amounts, maybe in one particular sequence on the beach with Izabella Scorupco. The second film, I think they wanted to be so bigger and bolder and brasher than the first in that it was just wall-to-wall action. But [in THE WORLD IS NOT ENOUGH] they allowed us to have story, to have character-to have interaction of character and subtext of character, and subtleties. So you have this incredible heroic character, but there is that gray area—an elliptical side to him—and that's what intrigues me: how far you can push that and how far you can go with that, without pulling it all down. "
Brosnan also wanted to take the character "one step further. You have a rating, which is PG, which should always be there. But there's a part of me that would love to do an R-rated Bond, or just take the PG rating off it and do it—not for real, because you want the fantasy—but just to see some surprises and explores facets of the character more."
He added, "I'd like to see him just alone on the stage there — how it all affects him, the mission, the killing of someone. We see a little bit in this, but he's so heroic and always gets the job done; he always has the gadget at hand. But what happens when he doesn't have the gadget at hand? What happens when it goes wrong? What happens when it's the betrayal that he deals with in his life the whole time?"
Despite what seems like a perfect fit, Brosnan insisted that playing James Bond was not a life-long dream. "I have read that it was my life ambition to play this role and that I dreamt of playing this role—which is complete untruth. I grew up watching the Bond movies, and they certainly sparked my interest in cinema at the age of ten when I saw GOLDFINGER. But I never wanted to be Bond or dreamt about being Bond. It wasn't until I was doing REMINGTON STEELE that these mutterings were going on about me being Bond, because my late wife had done a Bond movie and because we knew the Broccoli family. I guess he and I were just meant to meet: destiny, destiny, destiny. There was no getting away from it."
With his tenure in the role over, one might wonder what Brosnan expects for the future of the role. How will the Bond of the new millennium compare to past Bonds?
"Oh, I couldn't be so presumptuous to answer that question. I don't know. Time will tell."
Copyright 2004 Steve Biodrowski