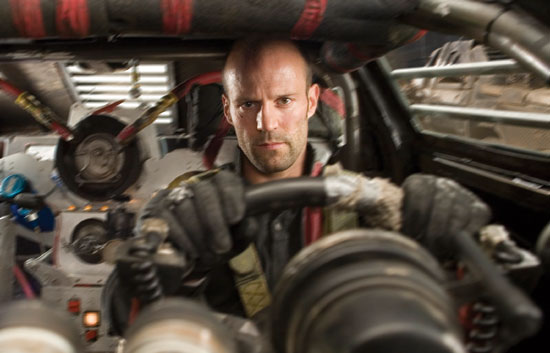 DEATH RACE failed to take the checkered flag during its debut weekend, finishing in third place, behind TROPIC THUNDER and THE HOUSE BUNNY. Paul W. S. Anderson's loose remake of the 1970s Roger Corman production raced into 2,532 U.S. theatres, where it earned an estimated $15.1-million.
There were no other new sci-fi-fantasy, or horror titles in the marketplace. Four holdovers managed to earn slots in the Top Ten:
THE DARK KNIGHT swooped into fourth place with $10.3-million, down from second place the week before. The six-week total is a whopping $489.18-million.
STAR WARS: THE CLONE WARS dropped out of hyperspace during its sophomore voyage through theatres, landing in fifth place, down from its third place debut the previous frame. The $5.6-million earnings raised the two-week total to just under $25-million.
Auds were uninterested in gazing into MIRRORS for a second weekend. The film reflected on $4.8-million, shattering in seventh place – a three cracks lower than its debut last week. Two-week total is a dull $20.08-million.
THE MUMMY: TOMB OF THE DRAGON EMPEROR unraveled another $4.0-million. After four weeks, the film has amassed $93.81-million in hidden treasure, and should go on to edge past the $100-million mark. Not bad but well below the $155-million U.S gross of THE MUMMY and the $202-million U.S. gross of THE MUMMY RETURNS. Both of those films did well even better overseas than at home, so TOMB live up to the tradition, it has a shot at doubling its current gross.