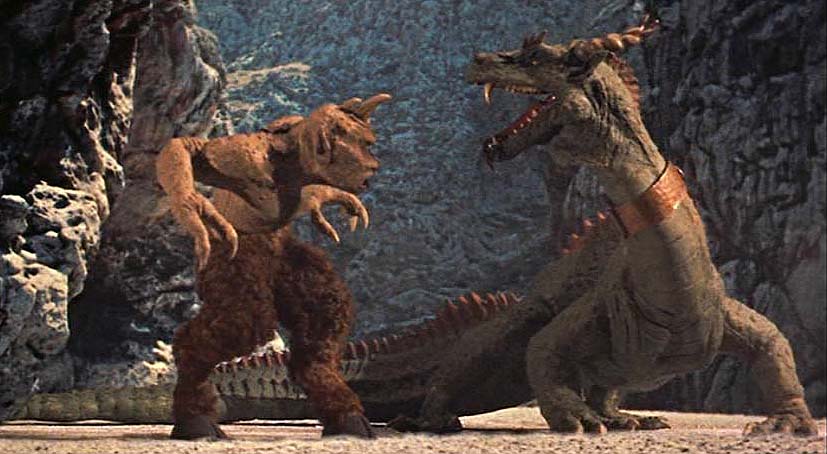 Columbia Pictures has announced a special 50th Anniversary DVD edition for Ray Harryhausen's first Technicolor movie, the Arabian Nights fantasy, THE 7TH VOYAGE OF SINBAD. It will street on October 7. 2008, well in advance of the movies actual anniversary, when it opened at New York City's fabulous Roxy Theater (seating 5,800) in Rockefeller Center, two days before Christmas on December 23, 1958. True stop-motion fans will remember that Willis O Brien's KING KONG also debuted at the Roxy Theater, 25 years before, in March of 1933 (Across the street from Radio City Music Hall, where KONG was also playing.) But sadly, the Roxy, like many of America's greatest movie palaces, met the same fate as the dinosaurs and was torn down in the early sixties.
Special features for the 50th Anniversary edition of The 7th Voyage of Sinbad include:
1.66:1 Anamorphic Widescreen
English and French Dolby Digital 5.1 Surround sound -Music by Bernard Herrmann-
Audio Commentary with Ray Harryhausen, stop-motion animators Phil Tippett and Randall William Cook, Bernard Herrmann biographer, Steven Smith and Ray's agent, Arnold Kunert
Featurette: Remembering THE 7TH VOYAGE OF SINBAD
It would appear that the audio commentary track was recorded at the Aero Theater in Los Angeles, on February 17, 2008 when Phil Tippett, Randall Cook and Arnold Kunert all joined Ray for a live commentary at a showing of THE 7TH VOYAGE OF SINBAD.
One interesting note, is that Ray himself never really wanted his movies to be projected in any of the then new "widescreen" formats. He accepted the 1.85 aspect ratio under protest from the studio, but he hated working in the extreme widescreen formats, especially when he had to make FIRST MEN IN THE MOON in Panavision.
Now, having just compared the full frame version of 7TH VOYAGE OF SINBAD with the 1.85 transfer, I must say, I have to agree with Mr. Harryhausen. It appears many shots are cropped too closely from both the top and bottom of the frame in the 1.85 format, so Columbia's new 1.66 format transfer of THE 7TH VOYAGE OF SINBAD will be a most welcome improvement over the previous DVD editions.
Here are Ray's own comments about the aspect ratio he preferred to shoot his films in:
LAWRENCE FRENCH: In your book you mention that in Mysterious Island there's a shot in the giant crab sequence of a young girl in a bikini on S'Agaro beach in Spain.
RAY HARRYHAUSEN: That's right. We usually shot in full aperture (1.33 to 1) for our plates, so that girl was only seen in the full aperture version. If you watched the normal aperture version (1.85. to 1) you wouldn't see her.
LAWRENCE FRENCH: Do you prefer to see your films shown in full frame?
RAY HARRYHAUSEN: Yes, I do. I like the old style picture frame. When CinemaScope first came out someone said it was only good for shooting "The Last Supper." You can't get height very well when you use a widescreen process. When you use the normal aperture, the one that has been used since the silent days, you can get both height and width. So I prefer that proportion.
LAWRENCE FRENCH: It was Fritz Lang who said CinemaScope was only good for shooting snakes and funerals.
RAY HARRYHAUSEN: Yes, quite, which is why I prefer the 1.33 to 1 ratio, rather than 1.85, because the 1.85 ratio is still a widescreen format. When I recently saw Jason and the Argonauts projected in 1.85, it cut out all the people on the bottom of the screen! You didn't see the size of the people compared to the size of the statues. So I really like the 1.33 format. When we originally shot the films, we shot them in 1.33, but the studio wanted to show them in first run theaters for projection in 1.85, so we framed them for 1.85, but when they got to television they would be shown in 1.33. Of course, we did make one picture in Panavision (2.35 to 1), First Men in the Moon, because Charles thought the Lunar landscapes would benefit from the widescreen format. I argued against that, but I was overruled by commercial considerations. But as you may have noticed, we didn't do any other Panavision pictures after First Men in the Moon!
LAWRENCE FRENCH: As a co-producer, one of your duties was finding the various exotic locations where you could shoot your pictures.
RAY HARRYHAUSEN: Yes, that's right. I did a lot of location scouting. On Mysterious Island I went to Tobago and all the Caribbean islands, but we ended up using the beach at S'Agaro in Spain again because it would have been too expensive sending a cast, crew and equipment to locations in the Caribbean. One of the reasons we first came over to Europe though, was because we found we couldn't keep using Malibu beach over and over again as locations for lost islands.
LAWRENCE FRENCH: When I recently visited S'Agaro beach, just north of Barcelona, you could still recognize it as the place where you shot The 7th Voyage of Sinbad, The Three Worlds of Gulliver and Mysterious Island, except now it's a very popular resort town and it's overflowing with tourists. Was it as crowded back in 1958, when you first filmed there?
RAY HARRYHAUSEN: No, it was quite pristine when we shot at S'Agaro. There were no buildings or television aerials and there were no people and beach umbrella's which you see if you go there today!