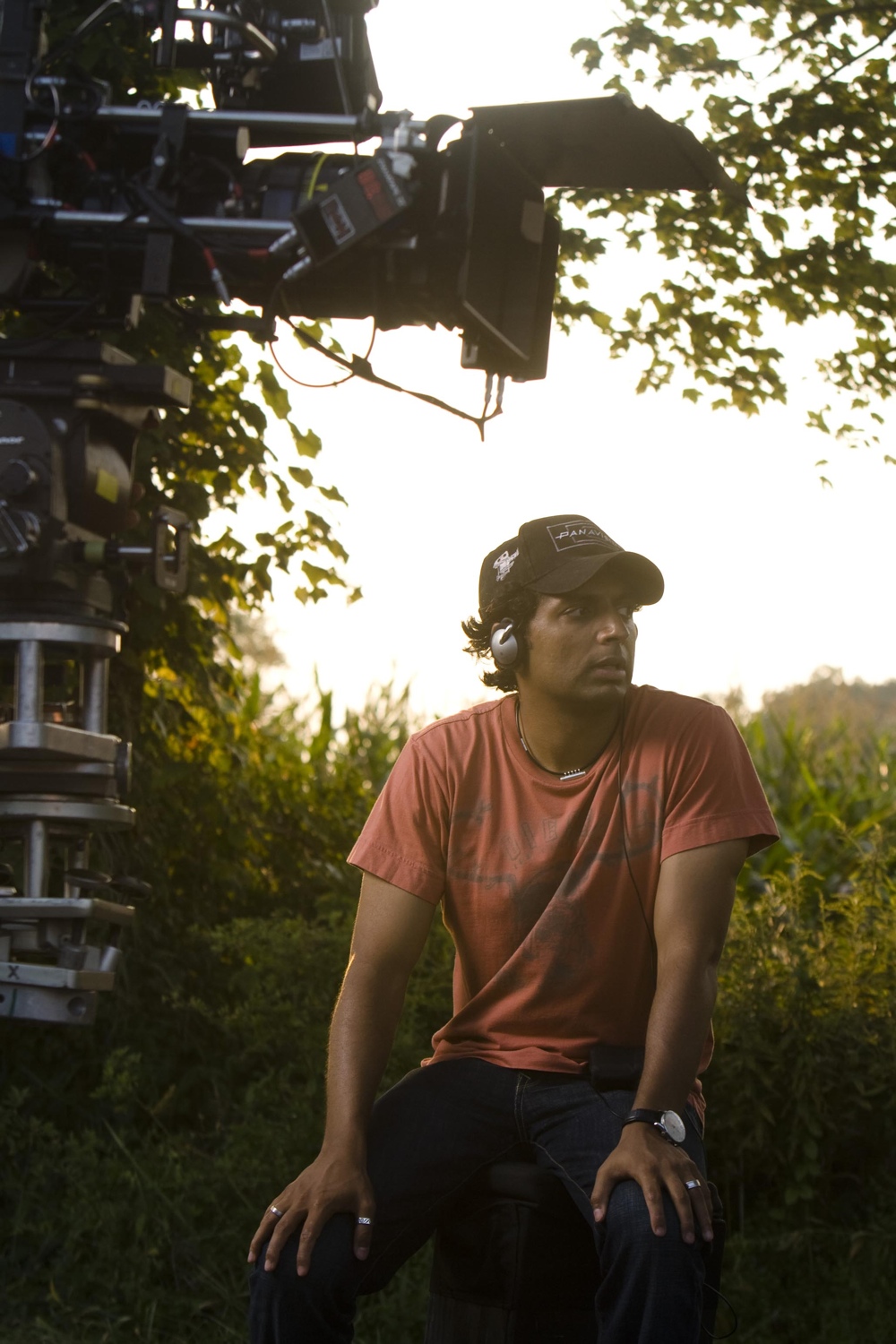 Media attempts to chart the rise and fall of Shyamalan's career overlook his message. 
In anticipation of THE HAPPENING, the new film from writer-director M. Night Shyamalan, we have, typically, seen a series of TV appearances and articles to promote the film's release. Atypically, this article in the Los Angeles Times says next to nothing about the film itself; instead, writer Rachel Abramowitz attempts to give an assessment of Shyamalan's career in the fall-out of the bomb that was LADY IN THE WATER: When Disney, which financed his previous films, objected to the screenplay, Shyamalan took the project to another studio, then complained in Michael Bamberger's book The Man Who Heard Voices that Disney "no longer valued individualism." This perceived arrogance resulted in a certain Schadenfreude in the hallowed halls of Hollywood when the film turned out to be not a triumph of artistic independence but a self-indulgent mess.
The story is not without interest (reversals of fortune make for good drama), but the approach of this article (and of a previous New York Times article that I briefly discussed here) reveals something too often lacking in entertainment journalism: a good critical perspective. In attempting to fashion Shyamalan's career arc into a real-life morality play, the most important factor – the quality of the art – is subordinated to a simplistic narrative about an outsider who fought the Hollywood machine successfully until he was felled by hubris. Sadder but wiser, bowed but not broken, he returns with his latest effort, which will provide the next chapter in the on-going drama; ticket sales will prove either (A) that the little guy can win in the end or (B) that artistic independence is a career killer in Hollywood. In this context, whether the movie is any good is almost beside the point.
This aesthetic blind spot reaches its nadir when Abramowitz unconvincingly argues that Shyamalan is being unfairly held to a higher standard than other film-makers:
 If Shyamalan had been just another writer-director trying to tell original stories, "Lady in the Water," released in 2006, would be considered just another arty misstep on the tortuous path of originality. But the film, a fractured fairy tale about a water nymph sent to awaken a mortal to make the world a better place, engendered outright vitriol.
Abramowitz overlooks the elementary fact that LADY IN THE WATER does not exist in an isolated vacuum but in a continuum that includes all of Shyamalan's previous films. Critics are not dismissing Shyamalan because he broke a code of silence by airing his Disney dispute in Bamberger's book, and fans are not staying away because they expect too much (or just more of the same) and feel outraged when they don't get it.
No, Shyamalan has gradually alienated viewers by presenting a vision that gives new meaning to the word solipsism: after the breakthrough success of the wonderful THE SIXTH SENSE and the disappointment of the muddled UNBREAKABLE, the writer-director's three subsequent films (SIGNS, THE VILLAGE,and LADY IN THE WATER) indulged in a sort of self-gratifying meditation on his own perceived importance that can be enjoyed only by those with a cult-like enthusiasm for their idol. As for anyone else, if LADY IN THE WATER is to be believed, Shyamalan thinks they should just shut up and die.
This assessment may seem harsh, but the films support it thematically: begining with SIGNS, continuing with THE VILLAGE, and climaxing with LADY IN THE WATER, all of them can be read as a reaction to critics who began to turn against him with UNBREAKABLE. However, the films are not merely self-justfying; they are self-aggrandizing. The message is not merely that critics treat his work unfairly; Shyamalan is telling us that he is a purveyor of Profound Truth, whose message must be unquestionably accepted on faith, and he is mightily annoyed at having his pearls of wisdom trampled by swine.
This message is not buried in some esoteric subtext; it is stated fairly openly, in the form of the characters that Shyamalan has portrayed on screen since UNBREAKABLE, which in retrospect looks more and more like the pivotal point in his career. THE SIXTH SENSE proved that Shyamalan was a genuinely talented popular artist, a man who could create films that appealed to critics and audiences. The film cleverly mixed horror elements with domestic drama; its success stemmed from a convincing sense of reality that was then shattered by the intrusions of the supernatural. The film built up to a feel-good ending in which all issues were resolved and all seemed right with the world, but it worked because the resolution was not gifted to the characters on a silver platter; they earned it by shouldering a heavy burden.
Something went wrong with UNBREAKABLE. It is hardly surprising that the film failed to live up to SIXTH SENSE (how could it?), but UNBREAKABLE also evinced an ill-conceived ambition. Essentially a comic book superhero movie, the film is disguised as an ominous mystery about a man who survives a train wreck that kills the other passengers. As with SIXTH SENSE, Shyamalan fuses his fantasy elements with a domestic drama, but in this case, the elements mix about as badly as oil and water. The pacing is slow, marred by unnecessary and even outright bad scenes (like the son threatening to shoot his father, to prove that he is invulnerable to bullets) that should have been consigned to the cutting room floor. Even worse, the film never justifies its pseudo-serious approach; it just cops out with an unsatisfying twist ending underlined by the subtitles inserted to provide a wrap-up lacking in the visuals.
Fortunately, Shyamalan bounced back with SIGNS, an alien invasion thriller that nearly tops SIXTH SENSE in its ability to present strong character drama in the context of a horror movie. Unfortunately, the attempt to deliver an uplifting message (that we are not lost and alone in an indifferent universe, that things happen for a reason) includes Shyamalan's first attempt at self-justification for the disappointment of UNBREAKABLE. The writer-director casts himself as a man who fell asleep at the wheel, killing a woman in a car accident. Later, this apparently meaningless, random event pays off when the woman's dying words provide a clue that will save our characters from the alien invaders.
If anyone else had played the role, the character of the driver would have appeared to be nothing more than a plot device. Shyamalan's self-casting turns it into something else. Having just wrecked a train in UNBREAKABLE – a film that is something of a train wreck itself - in SIGNS Shyamalan plays a man who causes a car crash – an event that is perceived as a horrible accident, a tragic mistake. However, later events justify him; this "accident" turns out to be part of a Grand Plan, an example of the Lord moving in mysterious ways. In effect, Shyamalan presents himself as an infallible instrument of a Higher Power: even when his actions appear to be wrong, they will turn out to be right in the end. Presumably, Shyamalan believes the passage of time will work a similar effect on UNBREAKABLE, forcing critics to acknowledge it as a neglected masterpiece.
This thematic subtext is relatively negligible when viewing SIGNS in isolation, but it becomes clearer after viewing the two subsequent films. In THE VILLAGE, Shyamalan cast himself in a much smaller role, a briefly glimpsed cameo as an unnamed officious manager in charge of protecting the privacy of the titular village. Shyamalan is on screen just long enough to berate his subordinate for "engaging" people in dialogue about the Village. He complains about questions that are asked about how the Village can remain isolated from the outside world (apparently, air traffic is redirected around its airspace).
The scene functions as non-exposition. Convinced that his thematic aspirations outweigh the pragmatic concerns of telling a story that makes sense, Shyamalan simply appears on screen and, in the guise of addressing another character, tells the audience and his critics that he does not want to "engage" them on the subject of plot credibility. The message is clear: Shyamalan is the voice of authority, and the audience – critics and ticket-buyers alike – should not dare to question him. We should simply accept.
It would be nice to dismiss this interpretation as an example of taking a joke too seriously; perhaps Shyamalan was simply goofing around with the concept "believability" (in the same way the Basil Exposition, in the second AUSTIN POWERS movie, tells the audience not to worry about unraveling the paradoxes of time travel). Unfortunately, LADY IN WATER suggests that Shyamalan is dead serious about his own sense of self-importance, which demands childlike devotion from his audience.
This becomes apparent in the actions of the film's characters, who clearly know they are in a story. Whether or not they know they are in an M. Night Shyamalan film is another matter, but the parallel is close enough: like guileless children, they accept Shyamalan's flimsy fairy tale without question, and we in the audience are supposed to follow suit. Credibility is only for cynics, embodied by a critic on whom the film attempts to heap scorn; ironically, he comes across like the only sensible one in the group. His reward for not behaving like a foolish child: painful death at the hands of a monster.
Again, one would like to forgive this as a little joke - like GODZILLA (1998)'s lame inclusion of an ineffectual mayor who resembles critic Roger Ebert. Sadly, Shyamalan, the allegedly senstivie artist, appears far more juvenile and vindictive than Hollywood hacks Rolland Emmerich and Dean Devlin – who at least showed enough restraint to avoid having Godzilla eat the mayor. Moreover, Shyamalan takes himself too seriously to be an effective a satirist; instead, he sets himself up as a potential subject of satire. Throughout LADY IN THE WATER he plays at making a meta-commentary about the nature of narrative, but ultimately the story is something much simpler: a call to listen to an inspired voice that will change the world. And of course, the owner of that voice is played by Shyamalan himself.
John Lennon once remarked that he gave "I'm the Greatest" to Ringo because, if Lennon had sung it himself, critics would have interpreted the song as an ego trip instead of a joke. Too bad Shyamalan did not learn this lesson. LADY IN THE WATER has precious little plot; the mysterious presence of a mermaid in a swimming pool serves as a device to identify the presence of a writer working on a book that will change the world for the better in grand, glorious, and utterly unexplained ways. The book's innocuous title, "The Cookbook," is not much help, but it expands upon the message Shyamalan served up in SIGNS: even when what he does seems to be a mistake or, in this case trivial, it is actually something profound; it will just take time for the rest of us to recognize the profundity. As if this over-baked pudding were not bad enough, Shyamalan adds an extra ingredient, telling us that the author he plays on screen will be assassinated – presumably by someone who fails to recognize – or recongizes and is threatened by – the man's greatness.
It is hard to imagine why Shyamalan sees himself as a martyr. He has made some good movies and earned lots of money doing so. He has also made some duds that have been criticized and/or failed to sell tickets. There is nothing particularly special about this; it's just life in the movie business. If he wants the adoration of his fans, the best way to achieve that is by making more good movies, not by wagging his finger at the audience and telling them they fail to appreciate his message because they will not accept it with the innocence of a child. Movies that cast him as a prophet without honor in his own land – as a man whose mistakes are actually triumphs, as an artist whose apparently trivial work is actually profound, as an authority figure whose proclamations must be accepted without question – not only invite but actually demand critical derision.
Shyamalan's talent is beyond question, but his judgement is faulty. If he has fallen from grace in Hollywood, it is not because he refused to play the game properly; it is because, in attempting to justfy his failures, his self-reflexive film-making has turned into empty naval-gazing. Bad mouthing Hollywood is a good strategy; it creates a David-and-Goliath dynamic that will have fans cheering. But turning your slings and arrows on the audience is another matter. The roles become reversed: the artist is no longer defending the audience from the Hollywood behemoth; he becomes the villain, resentful that his efforts on their behalf are no longer appreciated.
Anyone can make a mistake, and should be given another chance. The bounce-back of SIGNS after UNBREAKABLE is an excellent example of this. But please, stop insisting that mistakes are actually successes in disguise. Leave that to the Bush administration.
RELATED ARTICLES: