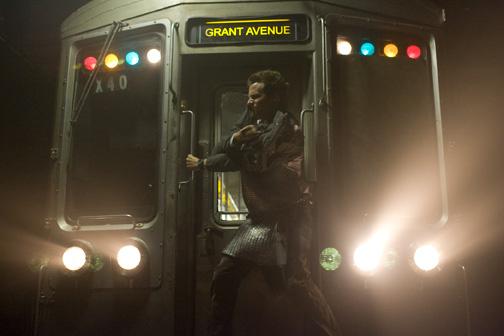 Nikki Finke's Deadline Hollywood Daily gives the rundown on the situation with MIDNIGHT MEAT TRAIN, the feature film adaptation of the the first story in Clive Barker's Books of Bloodseries (not counting the intro, that is). The film was scheduled for a May 16 wide release until new Lionsgate president Joe Drake took over and pushed the film back to August 1. This left the horror field wide open for THE STRANGERS to clean up at the box office without any competition from another R-rated horror film. Perhaps not coincidentally, Drake has an executive producer on STRANGERS.
As if this were not bad enough, Drake plans only a contractual-obligation 100-theatre release for MIDNIGHT MEAT TRAIN, followed by a quick turn-around to home video. Consequently, Barker fans have started an e-mail campaign, hoping to get Drake to re-think Lionsgate's release strategy.
Clive Barker's Revelations website has thrown their support behind the campaign:
…It has become apparent that the theatrical distribution of The Midnight Meat Train has been curtailed, with reports that the movie may be seen on only 100 screens. Word has come to us that the substantial excitement surrounding the movie has now developed into an active campaign by movie-lovers for its full theatrical release. Clive is throwing his support behind the growing movement. He is asking all who would like to see the movie get the wide distribution that many people believe it deserves to add their voice…

"I am very excited about this possibility and I would passionately encourage everybody who cares about my work to use this chance to change the minds of the folks at Lionsgate. "This is exciting! I really think, this late in the day, that grassroots support for our movie could significantly improve our chances of reaching a much bigger audience theatrically. The picture is worth the effort, I believe."
I have not seen the film yet, so I cannot vouch for whether it will live up to the fan expectations that underlie the campaign. However, a limited release for MIDNIGHT MEAT TRAIN would fit the unfortunate pattern of under-valuing horror films from established names in the genre. In recent months we have seen limited releases for George A. Romero's DIARY OF THE DEAD and Dario Argento's MOTHER OF TEARS. Movies like this deserve their shot at reaching fans in theatres.
Fans who want to add their voice can find instructions in this thread at the IMDB message board for MIDNIGHT MEAT TRAIN.