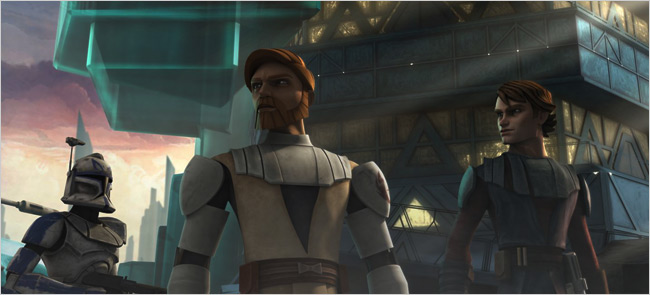 In anticipation of the Augst 15 theatrical release of STAR WARS: THE CLONE WARS, New York Times offers a profile of George Lucas, who muses on returning to a galaxy far, far away. Although not overtly negative, Dave Itzkoff's article expresses a certain skepticism about revisiting the STAR WARS franchise, in light of Lucas's expressed desire to make smaller, more personal films. Basically, there were no takers for 22 completed episodes of a computer-animated CLONE WARS television show – until Lucas opted to produce a feature film version to launch the series. Lucas is also developing a live-action STAR WARS TV series.
But the question remains: Just because new "Star Wars" can be made, should new "Star Wars" be made?

Some "Star Wars" aficionados — even those who have worked with Mr. Lucas on "Star Wars" projects — are ambivalent about his continued plundering of a science-fiction property that has already spawned numerous comic books, video games and novels, not to mention six movies.

"I think it's the easiest thing to do, because he doesn't need to come up with a whole new thing; everything's established," said Genndy Tartakovsky, the animator who directed Mr. Lucas's previous "Clone Wars" shorts for the Cartoon Network. Speaking as a fan, Mr. Tartakovsky said, "I appreciate that, but there's so much more that he could explore."

Mr. Lucas said he had no urgent or compelling reasons for returning to his most popular characters and mythologies, except that he can and enjoys doing so. As an illustration he pointed to his work with Mr. Spielberg on "Indiana Jones and the Kingdom of the Crystal Skull."

"I mean, why do we have to make another 'Indiana Jones'?" Mr. Lucas said. "There was no point to it, other than, gee, this might be fun."

But to the extent that "Star Wars" had kept him from fulfilling his promise to return to making more personal, smaller-scale films, Mr. Lucas lamented this distraction. "You get sidetracked easily," he said with a chuckle. "I do, anyway."
The article also quotes Steven Spielberg and Francis Ford Coppola, blockbuster filmmakers who have discovered the difficulties of trying to revert to smaller movies in a marketplace geared only for blockbusters.
As his longtime friend and collaborator Steven Spielberg wrote in an e-mail message: "All of us would like to make these little personal films that sneak into theaters under the radar. Sadly, for George and myself, and others who have enjoyed and endured great success — 'under the radar' has become a no-fly zone."

[...]

As he so often does, Mr. Lucas took a lesson from the experience of his friend and mentor Francis Ford Coppola, whose most recent film, "Youth Without Youth," received a small independent release that was hardly on the scale of his "Godfather" movies. (In the United States the film played in just 18 theaters and grossed less than $250,000.)

"Did you see it?" Mr. Lucas asked rhetorically. "Uh, no. Did you even know it came out?"

Responding to questions sent via e-mail Mr. Coppola agreed that the films he now makes, and that Mr. Lucas says he intends to make, had little chance at achieving blockbuster status. "We make films for ourselves," he wrote. "If no one wants to see them, what can we do?" (With a parenthetical shrug, Mr. Coppola added: "Emotion does much better at the box office than philosophy.")