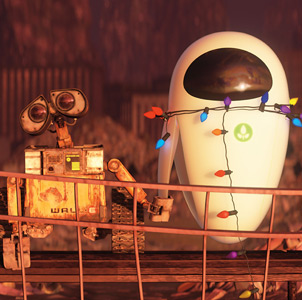 WALL-E cleaned up at the box office, easily taking the #1 position despite strong competition from WANTED. Pixar's wonderful animated film – about a lonely robot cleaning up Earth after the human population has left - wowed both critics and audiences. Having earned a 96% fresh rating at Rotten Tomatoes, the film  opened in 3,992 American theatres, where it earned an estimated $62.50-million.
WANTED - the comic-book-based action fantasy flick – opened in 3,175 theatres, earning $51.12-million.
As for holdover titles in the genres of sci-fi, fantasy, and horror, you can peruse their box office fortunes below the fold.
GET SMART flunked out of first place in its second weekend, and was sent to the principal's office – actually to the #3 position, where it added $20.00-million to its two-week total of $77.27-million.
KUNG FU PANDA chopped its way from third to fourth place, earning another $11.75-million, for a four-week total of $179.33-million.
THE INCREDIBLE HULK tumbled from #2 to #5 but still earned $9.23-million. After three weeks in theatres, its total is $115.51-million. That leaves the sequel about $16.5-million short of matching the domestic box office of 2003's ill-received HULK.
INDIANA JONES AND THE KINGDOM OF THE CRYSTAL SKULL whipped its way from fifth to sixth place, cracking down on $5.03-million worth of ticket sales. The six week total is officially $299.94-million, which means it could be crossing the $300-million mark as you read this.
THE HAPPENING not so happily fell thee spots into eighth place, where it found $3.85-million. The three-week total is $59.06-million – probably enough to ensure that the $60-million production will turn a profit after ancillary markets (foreign, home video, etc) are tabulated, but nowhere near the box office stratosphere of M. Night Shyamalan's SIXTH SENSE and SIGNS.
Two genre titles dropped out of the Top Ten this week:
IRON MAN stomped from #9 to #11 but still managed to take in $2.25-million, raising its nine-week total to an awesome $309.18-million.
THE CHRONICLES OF NARNIA: PRINCE CASPIAN took one step down into twelfth place, adding $1.06-million to its seven-week total of $137.69-million.
We only report on sci-fi, fantasy, and horror ticket sales. Read the complete Top Ten here.