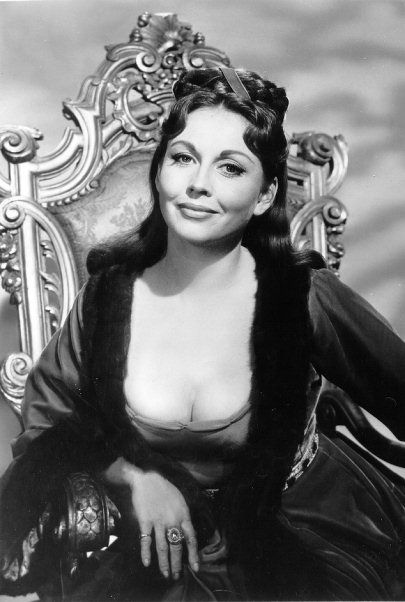 Another Queen has screamed her final scream. Hazel Court, who starred in two of the greatest horror films ever made, died yesterday at the age of 82. The cause of death was not mentioned in the initial announcement, which was made here on the Classic Horror Film Board. 
Court's contribution to the horror genre was small but significant. Although most of her credits were in episodic television (including a TWILIGHT ZONE episode titled "The Fear"), she also appeared in over half a dozen horror films, including GHOST SHIP (1952), DEVIL GIRL FROM MARS (1954), and DR. BLOOD'S COFFIN (1961). Moving back and forth across the Atlantic, she appeared in two productions for England's Hammer Films, CURSE OF FRANKENSTEIN (1957) and THE MAN WHO COULD CHEAT DEATH (1959), and in three for American International Pictures, THE PREMATURE BURIAL (1962), THE RAVEN (1963), and MASQUE OF THE RED DEATH (1964).
At a time when bold, new color films were replacing the old-fashioned black-and-white horrors of an earlier era, Court co-starred with the terrifying trio of Vincent Price, Peter Cushing, and Christopher Lee; she also rubbed shoulders with old-school horror stars Boris Karloff and Peter Lorre.
Of her films, CURSE and RED DEATH rank among the very best ever in the horror genre. CURSE OF FRANKENSTEIN is the most historically important, being the film that re-launched Gothic horror after the '50s boom of sci-fi movies. Shot in color, this was the first horror film to exploit explicit horror. Court played Elizabeth, the fiance of Baron Frankenstein (Peter Cushing) who constructs a monster (Christopher Lee) from parts of dead bodies. MASQUE OF THE RED DEATH is the apex of Roger Corman's adaptations of Edgar Allen Poe. Court stars as Julianna, Satanic mistress of Vincent Price's evil Prince Propsero.
As an actress, Court crossed the line separating villain from victim, and she did more scheming than screaming. Although she was the ingenue in CURSE OF FRANKENSTEIN, she seemed happy to be marrying into the family fortune (an arranged marriage, no less), and one had to wonder whether her naivete about Frankenstein was born to some extent out of greed (don't look a gift horse in the mouth). In both PREMATURE BURIAL and THE RAVEN she appeared innocent but was revealed to be plotting against the hero. And in MASQUE OF RED DEATH she was outright aligned with evil.
She also deserves some mention for her role as the artist's model who poses nude for Georges Bonnet (Anton Diffring) in THE MAN WHO COULD CHEAT DEATH. Thanks to British censorship, the scene had to be reshot in a more discrete fashion, but the original footage allegedly made it into the "Continental version" of the film. (For decades, Hammer maintained the myth that most of their films were shot in alternate versions for different territories; this is one of the few true instances.)
A striking red head, Court was beautiful enough to get by on her looks alone, but she was also talented – so much so that she almost stood in a class by herself. In CURSE OF FRANKENSTEIN and MAN WHO COULD CHEAT DEATH, she fit the role of Hammer Glamour Queen to perfection, and yet she conveyed a dignity and charm that made her seem substantial on screen, even if her roles were underwritten. Watching Court on screen, you knew there was more than just a Scream Queen.
Court seemed to stand apart, and I wonder whether this mitigated to her cult appeal. The House of Horror: The Story of Hammer Films omits her from its gallery of leading ladies. The Hammer Story squeezes in a one-paragraph bio listing her credits but says nothing of her appeal. John Brosnan totally ignores her in The Horror People. Pretty shabby treatment for someone who performed so well in several high-class horror films loved by fans. At least screenwriter Richard Matheseon singled her out for praise in an interview ("Matheson: A Name to Conjure With," Cinefantastique 3:2, Spring 1974): "Hazel Court is a very good actress who did a very good job in THE RAVEN."
THE RAVEN was a bit of an all-star spoof, with Court as Lenore, the lost love of Dr, Erasmus Craven (Price), a magician runs afoul of Dr. Adolphus Bedlo (Lorre) and Dr. Scarabus (Karloff). Only loosely inspired by the Poe poem from which it takes its title, the film is a comedy spoof, which also features a young Jack Nicholson as Bedlo's son.
When David Del Valle and I interviewed Court for our Cinefantastique cover story on Vincent Price (19:1-2, January 1989), she recalled that working with the three horror stars was a joyful experience:
"When the three of them were together, on the set, you had your daily literature lesson, history lesson, your art lesson – from them all," she said. "Forget films when you talked to them!"
She added that the atmosphere on set was light-hearted. "Those films were wonderful – giggling all the time. In THE RAVEN, there's still a shot where, if you look closely, my lip is quivering beause they're tickling me from behind. In fact, I remember [director] Roger Corman saying, 'I'm going to take a course at U.C.L.A. to learn how to handle actors' – and he did! He felt he seemed to lack being able to talk to us about acting. But Vincent always sailed so smoothly. He was like a galleon; he was so easy to work wtih. I never saw any temperament – never 'I'm a star,' just charming and delightful."
In MASQUE OF THE RED DEATH, Court shared scenes with Jane Asher, who played the innocent object of Prince Prosperos' attentions. "I remember that Jane Asher was in love with Paul McCartney," said Court. "She was sixteen. She was knitting helmets [a pullover cap, like a ski mask] because the Beatles were wearing them when they went out in public."
After MASQUE, her last starring role in a feature film, Court married director Don Taylor and moved permanently to America, where she made several television appearances through the early '70s. Her last big screen appearance was an unbilled cameo in the third OMEN movie, 1981's THE FINAL CONFLICT (her husband had directed the second). And in 1994 was was interviewed by Ted Newsom for his Hammer horror documentary FLESH AND BLOOD.
After she stopped acting, Court focused on sculpting and painting – endeavors that she credited Vincent Price with encouraging.
"I knew Vincent socially before I worked with him. He is responsible for a great deal of my life," Court said. "I might never have painted and sculpted if it hadn't been for his encouragement. During the filming of THE RAVEN, he came to dinner one night and saw some new paintings I'd put on the wall. So he bought one, and he commissioned me to do fifty more for his big collection with Sears [a co-venture with Price to mass market art]. He's always been very close. He was always such fun. I always think Peter Cushing and Vincent were born a century too late, beause they both fit so well into that Victorian sensibility."
I only ever saw her in person three times. Besides the interview for the Price article, she appeared at a University of Southern California tribute to Roger Corman in 1982, where she spoke graciously about working with the producer-director and jokingly thanked him for all the horrors to which he had subjected her on screen (burning, burying alive, clawed to death by a falcon).
And at an American Cinematheque retrospective screening in the 1990s, she recalled the audience reaction to an early screening of CURSE OF FRANKENSTEIN: when the film dissolved from a scene of horror to a morning after breakfast, with Cushing's Baron politely asking, "Pass the marmalade," the incongruity provoked a round of laughter. According to Court, "The director turned to me and said, 'We've got a comedy!'"
On all these occasions, Court shone as bright as any star – smiling, engaging, and charming. For this reason, I am shocked by her passing: although she was 82, she seemed like someone whose vivacity would simply go on forever. She had recently completed her auto biography, Hazel Court – Horror Queen, which is due for publication in June.
No obituaries have shown up at mainstream news outlets yet; however, Nate Yapp has a brief appreciation of Hazel Court here on the Classic-Horror website.
UPDATE: An AP obituary reports that Court died from a heart attack at 12:15am Tuesday, in her home near Lake Tahoe.
RELATED ARTICLES: