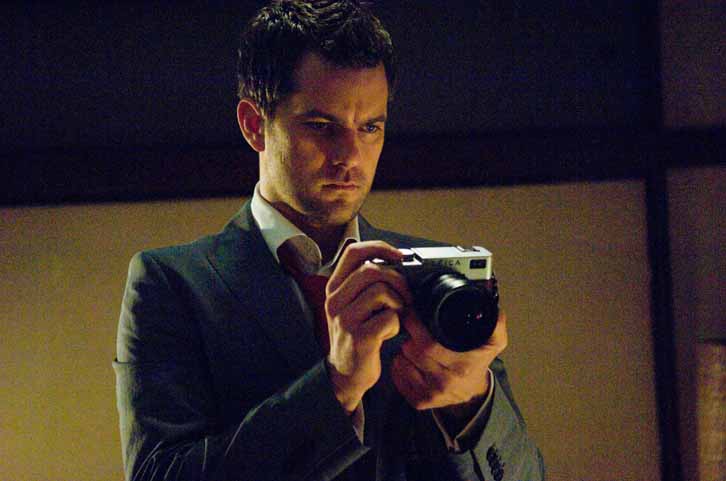 Actor Joshua Jackson (DAWSON'S CREEK) was at the Pantages Theatre in Hollywood on Friday, promoting his new horror film SHUTTER, which opens March 21. While discussing the challenges of shooting an English-language remake of a Thai ghost story, shot in Tokyo with a Japanese director, Jackson offered some comments on FRINGE, the upcoming sci-fi television series that earned a bit of buzz last year when Fox plunked down big bucks to purchase the spec script for the pilot. Written by J. J. Abrams, Alex Kurtzman, and Roberto Orci, all of whom serve as executive producers, the $10-million, two-hour opener of FRINGE stars Jackson as Peter Bishop, the estranged son of Dr. Walter Bishop (John Noble), who is described as a cross between Albert Einstein and Dr. Frankenstein. The show, which will combine elements of horror, science-fiction, action, and comedy, will focus on a female FBI investigator who teams up with the brilliant but possibly unstable doctor to find rational explanations for apparently preternatural phenomena. FRINGE also pays homage to ALTERED STATES, David Cronenberg's SCANNERS, and medical science thrillers of Michael Crichton and Robin Cook, with a "slight TWILIGHT ZONE vibe" according to Abrams. Alex Graves directed the pilot. The cast also includes Charlotte Rampling, Kirk Acevedo, Lance Reddick, Mark Valley, and Blair Brown.
Describing his work on the new show, Jackson says, "We're actually almost finished. We have about a week and a half left. If this movie [SHUTTER] is in the paranormal, that one's on the outside of normal. It's the science side of science fiction. It takes the physical world that we live in and goes just past that edge."
FRINGE sounds like an attempt by Fox to recapture the ratings success of THE X-FILES. The new show will even feature stand-alone episodes, plus a long-term mythology. Jackson, however, indicates that FRINGE is not another series about paranormal investigations.
"X-FILES to me would be a paranormal detective show – these ideas that are slightly outside the rest of our experience," he explains. "FRINGE takes the world that we all live in and says, 'What you think you know about this cup, you don't actually know, because if you look at it from over here, it's something entirely different.' That will be the thrust of the show. The physical world that we live in, without the addition of any magic or anything supernatural, is far more than we all see it as being.
FRINGE marks the first television commitment for for Abrams since LOST became a hit. Since then, the Abrams-Kurtzman-Orci team have been busy with the feature films MISSION IMPOSSIBLE III and the upcoming STAR TREK revival. Jackson also has been away from the small screen (not counting a couple episodes of GREY'S ANATOMY), and it took some convincing to get him to sign a six-year contract. 
"Working in television is as close to a real job as an actor will ever have, and life has been pretty good for the last five years," he says of his film career. "So yeah – it took not convincing, but me convincing myself and really making sure that I was ready to make [the commitment]. The crazy thing about television: you've got to sign a contract for six years, so you psychologically have to prepare yourself for that amount of time, and then most things don't make it past the second season. So it might all be over tomorrow. But I had to be really ready to go back."
Part of the decision was based on the desire to work with Abrams. "He was the reason I was interested in the beginning. He got me to the shore, and then I sort of backed away from the shore a little bit. The guys who wrote STAR TREK for him and TRANSFORMERS, with Rachael [Taylor, who co-stars in SHUTTER], wrote this script, and it's an incredibly dense two-hour pilot, the likes of which you don't see…well, you don't see it in film either, but you really don't see it in television. It's really layered to give you the possibility for just about anything from here on out. So that got me into it. It's a rare type of character – especially in television, but in film as well. Usually, if you're smart, you are inert, and if you are capable, you're a moron. Well, this person is a smart, capable person. You put the two together, which is not often the case. You hire the lunk-head guy to go do the stuff, and the guy with the glasses to figure stuff out."
Jackson has had some opportunity to be creatively involved behind the camera with his film and TV work, directing an episode of DAWSON'S CREEK and serving as executive producer on his recent film ONE WEEK. On FRINGE he was happy to find himself part of a creative team that welcomes input, even on an unofficial level.
"I'm not one of the producers on the show, but as I'm learning, one of the great things about J.J. and his whole company is that they work always with the same people. By promoting from the inside there's this very open group of people, which is not usually the case. Usually, it's the Big Brain, and everybody else just does the job."
Jackson was attracted by the science-fiction aspects of FRINGE, which he sees as a natural progression from his previous small screen roles. "The last time I was on television…the dreams [had] to be smaller about what can happen to the character. But if you can dream it, we can do it on FRINGE. Nothing is taboo. If there is any semblance of an explanation for any phenomenon, it will be in the show. That's cool."
RELATED REVIEWS: