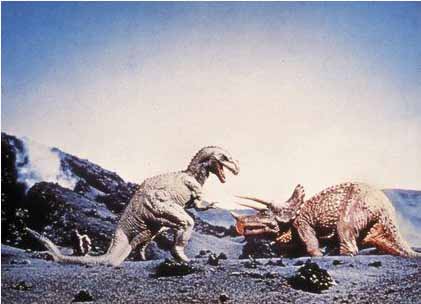 Since Ray Harryhausen recently completed a mini-tour of California in February, here – in advance of the opening of 10,000 YEARS, B.C. - are some of Ray's comments on his own prehistoric dinosaur epic from 40 years ago: ONE MILLION YEARS, B.C.
LAWRENCE FRENCH: After doing THE ANIMAL WORLD, you didn't work with dinosaurs again until you made ONE MILLION YEARS, B.C. for Hammer. Before that, did you ever try to get Charles Schneer interested in making a dinosaur film?
RAY HARRYHAUSEN: No, because we were always doing pictures with very tight budgets. We were able to get a better budget from Hammer for ONE MILLION YEARS, B.C.That was their 100th anniversary movie and they spent a little more money than they usually did. We went on location to the Canary Islands, shooting mostly on Lanzarote, which had many bleak and desolate landscapes that were made of pure volcanic rock. They lent themselves quite well to re-creating the landscapes of a prehistoric world.
LAWRENCE FRENCH: Did you know that in America Fox released the 91-minute version of the movie on DVD rather than the more complete 100-minute UK version?
RAY HARRYHAUSEN: Oh really? I didn't know that. Of course, I have no control over what the studios do, but that actually goes back to one of problems we had while we were making the film. [Producer] Michael Carreras realized the film was going to be too long and originally it ended up with a sequence where a brontosaurus attacked the Rock people in their cave. But it was decided that we already had enough animation sequences and rather than doing any more costly animation, we abandoned that entire sequence, which I quite regretted. But because the model of the brontosaurus had already been built, I used it for a few shots at the beginning of the picture, where John Richardson sees it moving behind a hill.
LAWRENCE FRENCH: According to the production log for ONE MILLION YEARS, B.C., you spent eight months in 1966 animating the film. From March 17th to April 7th you worked on the pteranodon scenes, from April 12 to the 30th on the giant turtle, from May 2nd to June 3rd the allosaurus battle, and the longest time (June 6th to July 15th) was devoted to the ceratosaurus fighting the triceratops. By contrast, it took you less than a week to film the live-action of the iguana, so you saved quite a bit of time by using a real lizard.
RAY HARRYHAUSEN: Yes, that's the reason I used the iguana, to save time. I also thought by showing a live creature at the beginning, it would make the animated ones more convincing, but it did just the opposite, because the lizard kept falling asleep and we had to substitute other lizards. When I animate my creatures they all do exactly what I want them to do. There is no talking back.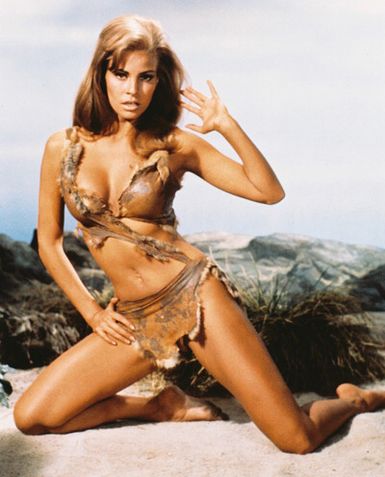 LAWRENCE FRENCH: When ONE MILLION YEARS, B.C. came out in 1966, it became a big hit, possibly because of Raquel Welch appearing half naked on screen, more than your dinosaurs.
RAY HARRYHAUSEN: Yes, it turned out to be quite a success and it made Raquel Welch into a big star. It also led Charles and I to try dinosaurs once again for our next picture, THE VALLEY OF GWANGI. But it took us over two years to make GWANGI, and the people at Warner Bros who we started the picture with, were gone when it was finished. The new people at the studio had no respect for what the old people had sanctioned and GWANGI really needed a really big publicity campaign, because most people thought GWANGI was another Godzilla type of thing.
LAWRENCE FRENCH: Would you have liked to animate some of the newer dinosaurs species, such as the velociraptors that were so popular in JURASSIC PARK and KING KONG?
RAY HARRYHAUSEN: Oh, sure. But at the time, I used the most popular ones, because one was enough for me to animate, let alone a herd of them.
LAWRENCE FRENCH: After you worked at Hammer, did you ever think about using their most famous actor, Christopher Lee as a villain in one of your movies?
RAY HARRYHAUSEN: No, but I knew Christopher Lee because we lived near him when we moved to Cadogan Square. Christopher still has a flat there.
LAWRENCE FRENCH: And until he died, Boris Karloff lived right next door to Christopher Lee on Cadogan Square.
RAY HARRYHAUSEN: Yes, that's right. But when we moved to Cadogan Square, Boris Karloff had already died. Since that time we've moved to Ilchester.
LAWRENCE FRENCH: Looking back at your sixteen feature films, you made six movies in the fifties, and six films in the sixties, but only two in the seventies. I know animation is a very laborious process, but is there any reason for a four-film difference in the seventies?
RAY HARRYHAUSEN: Good Lord! I never added it up that way. I don't know how to account for that, really. I guess we were more prolific in our early days.
LAWRENCE FRENCH: Of your sixteen films, all of them were produced by Charles H. Schneer after you first began to work with him in 1955, with the exception of ONE MILLION YEARS, B.C. which you did for Hammer. How were you able to maintain such a long and successful working relationship?
RAY HARRYHAUSEN: By never agreeing, I suppose. We were together for a long time. Charles always had a great sympathy for fantasy. We had many disagreements, which brings up that old saying, "if two people think exactly alike, one of them is unnecessary." So we battled out many things in the name of the film, and in the end we'd come to a compromise.
LAWRENCE FRENCH: Bernard Herrmann, who scored four of your films was quite a temperamental person, so was there ever any trouble with him about scoring JASON AND THE ARGONAUTS? The reason I ask is because the initial 1963 credits list Mario Nascimbene as the composer for JASON AND THE ARGONAUTS.
RAY HARRYHAUSEN: No, Bernie was always going to write the music for JASON AND THE ARGONAUTS. Crediting Mario Nascimbene was probably just a mistake somebody in Columbia's publicity department made.
LAWRENCE FRENCH: Did you have any input about using Mario Nascimbene to score ONE MILLION YEARS, B.C. ?
RAY HARRYHAUSEN: No, getting Mario Nascimbene was something I had nothing to do with. Hammer made the arrangements to use him. But I thought he did a very effective score, although his music was not in the tradition of what we usually did – but it certainly seemed to fit the picture.
[serialposts]