[NOTE: Our coverage of Mario Bava, timed with the American Cinemathque's festival Poems of Love and Death, continues with this look back on one of his most well-loved films.]
Director Mario Bava's second Gothic horror extravaganza (after years of photographing and/or finishing other directors' work) is another exercise in style and atmosphere from the uniquely gifted auteur, but it falls short of his official directorial debut, BLACK SUNDAY (1960). A trilogy of terror tales of various shapes and sizes, hosted by (and in one case starring) legendary horror icon Boris Karloff, BLACK SABBATH (known as I TRE VOLTI DELLA PAURA or "The Three Faces of Fear" in its native Italy) runs the gamut from Gothic period piece to contemporary thriller. None of the episodes is without interest, but much of their appeal lies in watching a talented visual stylist applying his skills to create an eccentric, artificial world of the imagination that delights devotees but leaves casual viewer puzzled or indifferent. Only one episode reaches the critical mass that explodes into the kind of absolute terror that will satisfy skeptic and fan alike, but that is more than enough to make this essential viewing.
"THREE FACES OF FEAR" IN ITALY 
In its original form, the film begins with Karloff introducing the stories from on top of a artificial-looking mountaintop, with moving lights project on the cyclorama behind him. Looking more like science-fiction than horror, the intro sets of tone of deliberate stylization. Karloff stars in the second episode, but he does not reappear as "himself" until the very end. The three episodes are introduced only by title cards.
Up first is "The Telephone," a nifty little contemporary thriller about a woman terrified by a series of threatening calls. Gradually it emerges that she was instrumental in getting a gangster sent to prison, but he has escaped to seek revenge. Bava does a wonderful job with the limited space (the episode is set pretty much in a single apartment); his visual flash combines with the lurid story developments (including a lesbian sub-plot) to create something very close to a proto-giallo film (a form of violent, sexy Italian thriller that would emerge full-blown in Bava's later feature, BLOOD AND BLACK LACE).
The second story is "The Wurdalak," a highly regarded vampire tale that, despite its reputation, fails to match BLACK SUNDAY. Starring Karloff, this period piece about European vampires is highly is the longest of the three tales, and it has trouble sustaining itself; rather than building to a climax, it runs down like a vampire awaiting the dawn. There is much riding on horseback, but no one really gets anywhere, and for once Bava's bravura gets the better of him. The exaggerated colors and contrived camera movements are fun to watch, but they suggest an unwanted '60s drug-induced flashback more than soul-shattering horror.
Finally, everything falls into place with "A Drop of Water." This short intense tale - of the ill-fate that befalls a woman who steals a ring from a corpse – is one of the absolutely highlights of Bava's career, a film so strong that it could have stood on its own as a short subject. Easily the highlight of the film, "Drop of Water," is told with an expert use of lighting and camera angles, creating a remarkable sense of dread that permeates the short running time. The atmosphere is engrossing; the tension is superbly calibrated; and the elaborate visual touches are perfectly integrated. One interior night scene is lit with eye-catching alternating colors; we're suposed to assume that some kind of flashing neon sign is right outside the window, but it doesn't really matter. the only important thing is the unnerving effect, which perfectly sets the stage for the appearance of the supernatural. The episode includes one of cinema's best waking corpses, apparently achieved entirely with a simple mannequin. There is something completely uncanny about its appearance, with a face as disturbing in its own way as Linda Blair's scarred countenance in THE EXORCIST. Even the audio sends shivers down the spine, with the buzzing of a fly used as a leitmotiv announcing the intrusion of the supernatural.
Responding to concerns from his American distributor that this powerful episode was too intense and downbeat a note for the finale, Bava added a comic finale in which Karloff is seen again, in costume for his character in "The Wurdalak." In a visual joke that predates AIRPLANE by decades, Bava pulls the camera back to reveal that the "horse" Karloff is riding is just a mechanical contraption on set, with stage hands running around waving branches to represent the "trees" past which he is "riding."
"BLACK SABBATH" IN THE U.S.
American International Pictures, the distributor that had re-edited Bava's director debut, THE MASK OF SATAN, and released it in the U.S. under the title of BLACK SUNDAY, got involved with THREE FACES OF FEAR while it was still in production. Salvatore Billitteri, who had handled AIP'S re-editing of BLACK SUNDAY, was on the set (credited as "production assistant") in order to help tailor the film to AIP's specifications. Retitled BLACK SABBATH (an obvious nod to BLACK SUNDAY), the result was quite different from the Italian original.
The AIP version replaces Roberto Nicolosi's typically sparse, almost ambient score with more heavy-handed dramatic music by Les Baxter. Karloff's original introduction was dropped in favor of a new one, reusing much of the same dialogue, filmed against a black backdrop, with Karloff's body draped in black to suggest a head floating in limbo. Additional footage was shot by Bava, with Karloff introducing each episode.
Unfortunately, the episodes were reshuffled. The truly wonderful "Drop of Water" instead of serving as the climax, was bumped up to the beginning, where it makes everything that follows seem anti-climactic. The film was left to end with the over-rated "Wurdalak" episode. Ironically, the comic epilogue (which had been added at the last minute to address AIP's concerns about ending the film with "Drop of Water") was no longer needed. The AIP version substitutes an outtake of Karloff as Gorka, rearing up on his horse and riding away.
Most notably, the episode entitled "The Telephone" was radically transformed. Originally a straight thriller, the episode lost its lesbian subplot, and dialogue dubbing turned the escaped gangster into a ghost or a walking corpse (it is not clear which). To establish the supernatural element, Bava even provided a special effects insert shot for the AIP release: a note slipped under a door seems to write itself before our eyes, as if a ghostly invisible hand were at work. The change makes little sense, because the episode's action remains the same, climaxing with the gangster's death by stab wound.
AIP's revised BLACK SABBATH is far from being a complete desecration, but it is definitely inferior to the Italian original. "The Telephone," in particular, has suffered in critical appraisals because of its illogical supernatural element, which leaves viewers wondering how a ghost can be stabbed to death with a knife. Fortunately, Bava's directorial stylings were enough to make the film fun viewing even in altered form, and the AIP cut earned many fans over the years, who eventually discovered the "director's cut" when it finally emerged on DVD.
In the final assessment, THREE FACES OF FEAR/BLACK SABBATH is a fan film. It features all the unique, eccentric elements that clearly define it as a "Mario Bava Movie." For the true connoisseur, this makes it as delectable as a fine vintage wine, worth savoring for the distinctive bouquet lacking in more popular, mass-produced products. But unlike BLACK SUNDAY, Bava's follow-up does not transcend the genre in a way that demands – and earns – respect and admiration even from the non-believers. Layered with colorful decor like a finely frosted cake, the film is more of a visual delight than a fully satisfying experience. The rococo richness is definitely enjoyable, but it can't quite hide that the cake has not risen as high last time.
0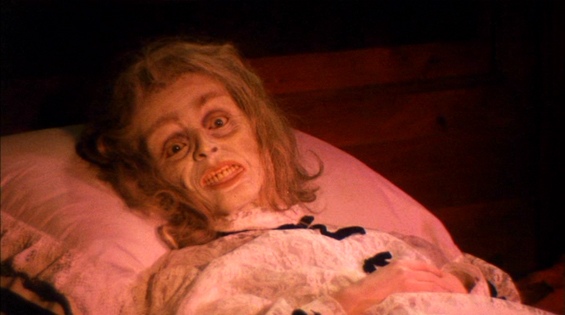 BLACK SABBATH (a.k.a. I Tre Volti Della Paura ["Three Faces of Fear"], 1963). Directed by Mario Bava. Screenplay by Mario Bava, Alberto Bevilacqua, Marcello Fondato; based on stories by Ivan Chekhov, F.G. Snyder, and Aleksei Tolstoy. Cast: Boris Karkoff, Mark Damon, Susy Anderson, Michele Mercier, Lidia Alfonsi, Jacqueline Pierreaux.
RELATED ARTICLES: