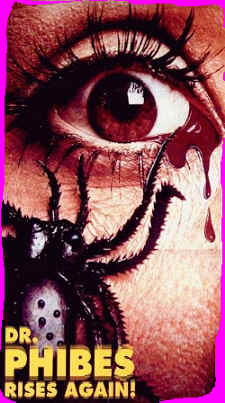 By Steve Biodrowski 
This is a delightful sequel that many (though not all) fans and critics rate higher than THE ABOMINABLE DR. PHIBES (1971). Vincent Price returns as the titular mad doctor, this time on a quest to find the River of Eternal life in Egypt, so that he can revive his dead wife (Caroline Munro). Structured as a long race to see whether he will achieve his goal, the story is less episodic, and the character is placed at center stage and speaks more often (rather than being the mysterious, mostly silent figure seen in ABOMINABLE). This time, Phibes is opposed by Professor Biederbeck (Robert Quarry), who in some ways is a better adversary than was Joseph Cotten's surgeon in the original film. A more ambiguous character, Biederbeck has extended his own life with a magical elixir, and now that it is running out, he is as ruthless and amoral as Phibes in his pursuit of the River of Life. Thus, the two characters come across as more evenly matched, competing super villains; consequently, the outcome of the story is less of a forgone conclusion, actually allowing Phibes to triumph, sailing down the river while singing (in Price's real voice) "Over the Rainbow"!
Like any good sequel, DR. PHIBES RISES AGAIN builds on the first film, recycling what worked while adding some new elements. Again, Phibes disposes of a series of hapless victims in gruesomely inventive ways (one is sandblasted to death, another crushed into the shape of a cube, etc). Again, he is aided and abetted by a silent, beautiful female assistant named Vulnavia, who lures men into Phibes' devious traps. Again, Scotland Yard detectives relentlessly pursue Phibes, who inevitably eludes them ("Every time we built a better mouse trap, Phibes build a better mouse.) And once again, scenes are filled with beautiful sets, costumes, and music that make the film seem quite elaborate, despite its relatively modest budget.
Several elements from the first film were brought back in different guises. Actors Hugh Griffith and Terry-Thomas returned in supporting roles, but playing different characters. Valli Kemp (Miss Australia 1970) replaced Virginia North as Phibes mysterious and unexplained assistant Vulnavia. This created a bit of an unacknowledged continuity problem, because Vulnavia was clearly killed in a rain of acid in the first film; Fuest wrote the role as a new character in the second film, but AIP wanted name continuity, apparently. Also ignored was the promise at the end of the first film that Phibes would return to menace his opponents with a Biblical "Plague of Darkness."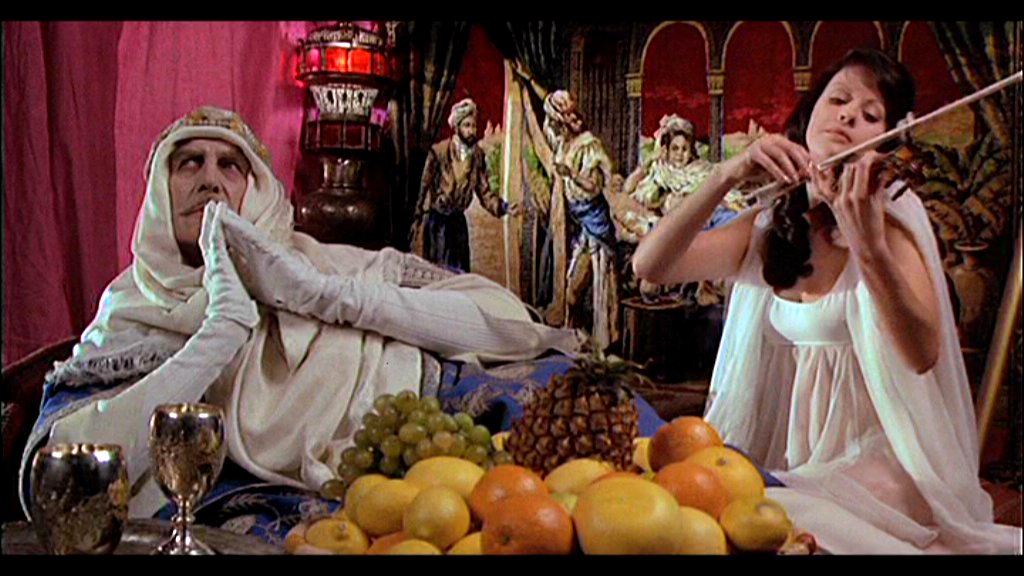 Other new faces include the lovely Fiona Lewis (Roman Polanski's DANCE OF THE VAMPIRES, Brian DePalma's THE FURY), as Biederbeck's love interest, and veteran horror star Peter Cushing, who lent his presence to one scene, as a ship's captain suitably appalled when Biederbeck doesn't want to bother trying to rescue a colleague who has been thrown overboard by Phibes. Though brief, Cushing's appearance (along with those of Thomas and Griffith) lends a touch of class and professionalism to the production, making even relatively small roles stand out with some distinction.
If there is a weakness, it is that the sequel tends to emphasize the campy humor at the expense of the horror. With Phibes now nominally the hero, the audience is not really expected to be frightened by him; instead, we are invited to identify and laugh along with him as he polishes off everyone in his way. Still, this is a small price to pay for the faster-paced plot and many imaginative and amusing touches that make this an extremely entertaining fantasy adventure, if not a very scary horror film.
BEHIND THE SCENES
After THE ABMONINABLE DR. PHIBES became a commercial success, American International Pictures rushed to repeat the formula. This time, director Robert Fuest collaborated on the screenplay with Robert Blees, an old friend of executive producer Louis M. Heyward, who brought him in to balance Fuest's off-the-wall approach. "Bob Fuest has a wild sense of humor," Heyward explains. "Bob [Blees] I knew from [20th Century] Fox. Bob had done MAGNIFICENT OBSESSION, for which he got an Oscar nomination. He's a singular craftsman with a sly sense of humor."
Shot in England, the film was modestly budgeted but relatively lavish, thanks to economics of the British film industry, which could achieve much more with less money than was possible in America. The film is filled with clever and eccentric visual touches that make it seem more expensive than it is, such as the Rolls Royce grill that adorns Mrs. Phibes' coffin.
"That was genius," says Heyward. "We had a rolls Royce grill which we couldn't afford to buy—it was something like a thousand pounds, front and rear. So we had the temerity to say to the Rolls Royce company, 'You're getting a free plug—we'll leave the Rolls plate on, if you'll loan the grills to us for free."
Robert Quarry was chose to play Phibes antagonist on the basis of his success in the title role of COUNT YORGA, VAMPIRE, a campy, low-budget, modern-day vampire film. Shot independently, YORGA had been picked up for distribution by AIP, which signed Quarry to a contract and turned out a slightly bigger-budget sequel, THE RETURN OF COUNT YORGA. With their tongue-in-cheek attitude (Yorga is a notably sarcastic vampire count), the films were good warm-up for participating in Robert Fuest's campy approach to horror, although Quarry is one of those who think the director over-emphasized the comedy in DR PHIBES RISES AGAIN.
"I thought the first picture was terrific because it was a combination of horror and satire," says Quarry, whereas in the sequel, "I didn't think anything was ever that scary, because Fuest was looking for the big joke all the time."
Like Joseph Cotton before him, Quarry found it difficult to act opposite Price in his Phibes role. Because doctor is supposed to be horribly disfigured beneath the makeup he wears to look normal, he is unable to speak with his lips, relying on a voice that emerges from a gramophone attached by a wire to his neck. On set, Price would mime the facial expressions while a script girl read his lines off screen; then he would dub the voice in post-production. This left Quarry playing his scenes who was merely staring back at him.
"I can't describe what it's like to work with Vincent as an actor from PHBIES. I mean, Phibes is a silly role. How do you know how good an actor you worked with? God knows you couldn't tell anything from [the silent facial expressions]. The hardest acting I ever did in my life were those scenes—keeping a straight face and playing it with anger while Vincent's mugging. I'd say, 'Vincent, I'm never going to get it; it's like working with a goldfish.' I'd look at him and think, 'You look just like that goldfish in the Disney movie!'"
Quarry adds that Price enjoyed exaggerating his expressions in order to make his co-star blow takes. "He's a funny man; he's also a hard worker. He had to learn the scenes so his [expression] matched the dialogue. That isn't easy to do, either; it looks easy, but trust me, it is not. He knew that I was gonna go crazy. He said, 'Just wait till you do the scene. Joe Cotton couldn't stand it.' After the first take, which I blew—and Vincent's loving every minute of it, because he knows what he's doing to me—I thought I'd just relate it to somebody I really hate, in real life, and just look at his ear. Vincent said, 'You did better than Joe Cotton did!'"
Although an American International Picture, with two Americans in the lead roles, PHIBES RISES AGAIN, like its predecessor was shot in England in order to keep costs down. This also allowed for the casting of strong British actors in the supporting roles, at a time when many American actors felt that horror films were disreputable.
Heyward takes credit for much of the casting. "Terry-Thomas was one of my favorites—he and Hugh Griffith I used in every picture I could." However, Heyward's boss, American International Pictures executive Samuel Z. Arkoff, had some concerns regarding Griffith's reliability. "Arkoff said, 'He's a drunk.' Everybody knew he was an alcoholic. I said, 'Leave him to me, and it will be all right. I promise we won't lose a day's work; we won't lose a half-day's work.' I had a long talk with Hugh: 'Whatever you do at night's your problem; in the day, you belong to me.' People were afraid of him, and I wanted to prove they didn't have to be."
Heyward also takes credit for the casting of Quarry in the lead role opposite Price. "The casting of Robert Quarry was placed on me; we had a contract that had to be used up. In my opinion he was the weakest thing in the film. He didn't integrate, and he didn't have the fun that such a picture demands."
However, this version of events seems unlikely, as Quarry was not only under contract with American International Pictures; the company also was clearly grooming him as a new horror star to step in as a replacement for Price, whose contract with the company was running out.
"I was told I was going to be set up to take Vincent's place, but that was between us," Quarry recalled. "Vincent didn't care to work anymore at AIP. And they wanted to get rid of him because his salary was going up and up and his last two pictures had not done that well. He had an exclusive contract with AIP to do horror films; he had the same contract I had, except mine started down here in salary and his was already up there, with a much bigger per diem. His contract was up, and they were not going to re-option it. In me, they thought they had somebody new they could build into the horror thing."
According to Quarry, a gaffe by a British publicity flack made Price aware that AIP was getting ready to dump him in favor of new blood. "We had an unfortunate incident that did create a schism between us," Quarry recalled. "We'd been shooting about a week. They had a big cocktail reception. An English publicist came up to him and asked, 'How do you feel about Mr. Quarry coming in as your replacement at AIP?'
"Vincent told me about what happened. He wasn't happy about it; he was hurt. It was as if I was a 'threat' to Vincent's career—to this man with this long, distinguished career that nobody could replace. This publicist made it sound as if I were out to de-throne the king. It was the wrong thing for that man to say—that man should have been fired. So I went to the producer and told him what had happened. Well, it was too late; the damage was done.
"After that, Vincent was never the same. That made a rift between us. Not our working together. As far as our working together, it was extremely pleasant. Our sense of humor was the one bond that made working with him a pleasure. We had an awful lot of laughs on the movie. When we worked in those scenes, it was hard, because Vincent never had any dialogue. Here I had to play these serious lines like 'Phibes, you demon from hell!' and Vincent sat there going"—Quarry finishes his sentence by shifting into an imitation of the silent throat-bulging Price used to convey Phibes liplessly speaking through his gramophone. "God, it was hysterical," Quarry adds. "We enjoyed that; it was fun. But I never saw him socially after that incident, not ever."
Apparently, the personal rift did not prevent a little conspiratorial skullduggery between the two actors, regarding Price's expense account for his wife and daughter. "He told me, in case anybody asked if Victoria and Mary were there, I was to say yes. They hadn't shown up, but Vincent wrote all it into his expenses—all that money for two weeks: first class air fair, food, per diem. Frankly, anything he could steal out of that studio—I said, 'Baby, steal!' When he said not to say anything about Mary and Victoria not coming, I said, 'Oh, I love it! Can you get anybody else on there?"
Recalling the experience leads Quarry to wax philosophical about what it takes to perform well in the genre. "People think it isn't tough to act in horror films," he says. "It's the toughest acting in the world. That's why I have nothing but admiration for all those years Vincent played those horror films. They're all peak emotions; they're all phony. And you have to create a characterization out of something that doesn't exist. There's a great difference between that and being able to play scenes with real situations where emotions come honestly."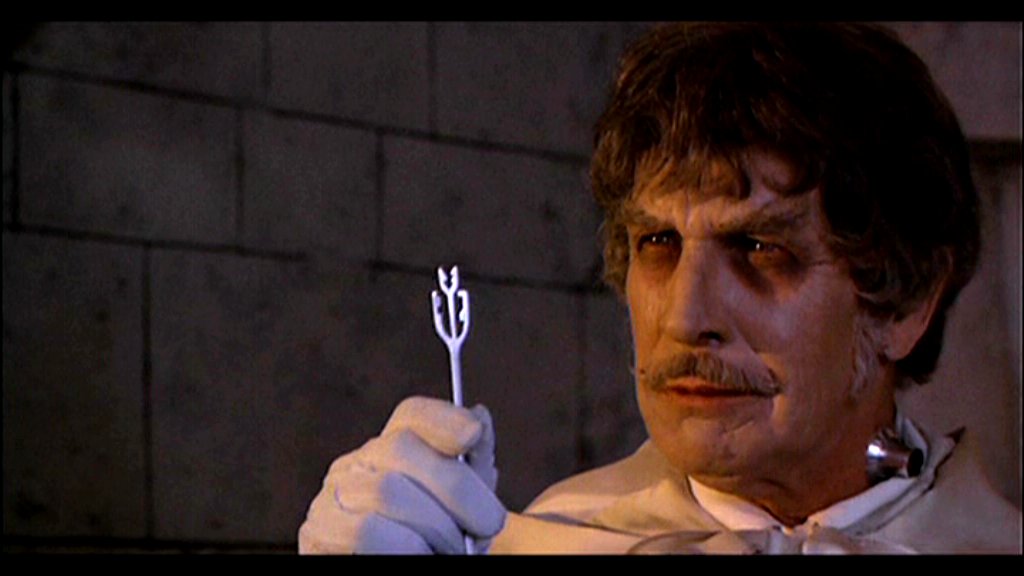 UNMADE SEQUELS AND ILLEGITIMATE PROGENY
Unfortunately, with Price on his way out of American International Pictures, the company was not interested in continuing series of films featuring the actor in a recurring role. Price finished up his AIP contract by doing one more film with Quarry, 1973's MADHOUSE, but Dr. Phibes' career was over, even though RISES AGAIN, according to Louis Heyward, "did better than the first."
Contrary to Heyward's assessment, American International Pictures declared the film a box office failure at the time of its release, and a proposed third film never materialized. A big contributing factor in sinking a potential sequel was the departure of James H. Nicholson from AIP. (He went on to produce the excellent LEGEND OF HELL HOUSE, scripted by renowned fantasy author Richard Matheson.) With Nicholson gone, Samuel Z. Arkoff was left solely in charge. Generally regarded as the more business-minded of the AIP duo, Arkoff was less enthusiastic about continuing AIP's traditional horror formula than in moving into black exploitation genre, with titles like BLACULA and SUGAR HILL
"If Sam went out and had his cleaning lady write a movie, it couldn't have been any worse than this piece of junk they dumped on me," said Quarry, who was given the part of the lead villain, originally written for a black actor, because he owed Arkoff one more picture on his pay-or-play contract (that is, an exclusive contract that stipulates an actor will be paid even if the producer doesn't put him in a movie, because the "exclusivity" clause prevents him from accepting other work). "Sam would have you do anything rather than pay you and not play you," Quarry explained. "That was the end of the horror cycle; after that, came the blaxploitation pictures. It was the beginning of the end of AIP, although it lingered on, doing one ghastly film after another."
Louis Heyward also blames the company's circumstances for ending the Phibes series. "I left AIP; Jim [Nicholson] was gone," recalled Louis Heyward. "You couldn't do the pictures here [in the U.S.]. Plus, they lost the production team they had. Bob [Fuest] knew design, and I'd say [production designer Brian] Eatwell was very important. You need someone like Bob and Brian, who have lovely pictures in their head and understand the beauty of what they want to construct, and you need someone like myself—who controls the dollars with compassion, not a bread knife but a scalpel—to say, 'Hey, it's great, but for the dollars we have to do this; without emasculating, let's take it here, and save.'"
These assessments from Quarry and Heyward probably include a good deal of hindsight. Whatever the contractual concerns and company upheavals, scripts were written for a third PHIBES film, so clearly someone at the time thought the idea might be viable.
Vincent Price always insisted that it was Fuest's reluctance to direct further installments that ended the series. "One [script] was called DR. PHIBES IN THE HOLY LAND," Price recalled for Cinefantastique magazine. "Remember at the end of the last one, we were in Egypt and I sang 'Somewhere Over the Rainbow.' It's a marvelous script, a very funny script. I wanted Bob Fuest to direct it. He's the only person in the world who is made enough to direct the Dr. Phibes films. He's a genuine, registered nut! He even looks like a madman. He's all over the place, like unmade bed. What an imagination he has! They were all his ideas."
Long after AIP had closed shop, interest in a third PHIBES film remained. At one time or another, other talents were linked to a third installment to be called PHIBES RESURRECTUS, including ROBOCOP producer Jon Davison and NIGHT OF THE LIVING DEAD director George Romero. However, Price was uncertain about pursuing the project without Fuest. "I don't think so," he replied when asked about playing the character for Romero. "I might do it. I'd have to see the script and talk to him."
Sadly, the film never came to be. However, the Phibes formula did yield further progeny. Price's next film (made for United Artists instead of American International Pictures) was 1973's THEATRE OF BLOOD, a wonderful black comedy clearly derived from the premise of the first Phibes film. This time, the script had Price as a Shakespearian actor literally skewering critics who had figuratively skewered him, but the parallels were obvious, with Price once again playing a vengeful madman killing off victims in imaginatively horrible ways that made the audience both scream and laugh.
Appropriately enough, the script was also offered to director Robert Fuest, who turned it down. "They all get frightened that they're going to get stuck in" the horror genre, Price explained of Fuest's interesting in pursuing other projects (including AIP's brief flirtation with "serious" filmmaking, an adaptation of WUTHERING HEIGHTS starring future 007 Timothy Dalton). "Bob has never done anything that was nearly as good as DR. PHIBES, though."
With its contemporary theatrical setting and R-rated bloodletting, THEATRE OF BLOOD is considerably different in look and tone from the PHIBES films, but it equals (and some would say, surpasses) them. The role also gave Price a wider range to play as an actor, allowing him not only to speak again but also giving him the deliver dialogue from more than half a dozen Shakespearian scenes with unrestrained gusto.
SEEN TODAY
As a camp classic, DR. PHIBES RISES AGAIN holds up, thanks to the inventive humor. Some elements ring false, but not enough to undermine the film. (For example, when Phibes discovers the Pharaoh's tomb, the soundtrack supplies a Gregorian chant—an anachronism off by one continent and several thousand years.) Perhaps the campy tone undermines the horror, making the sequel seem like a more frivolous trifle than its predecessor, but more often than not PHIBES RISES AGAIN plays like a sumptuous confection that avoids many of the clichés of the genre. After all, most horror films, whether intentionally or not, end up asking the audience to identify with the villain or monster; finally, here's one that embraces the concept fully and plays it out to its logical conclusion, allowing him to win in the end.
One unfortunate side note to seeing the film today is that the release on home videotape was marred, apparently because of rights problems relating to the use of the song "Over the Rainbow." The ending of the theatrical version of the film derived much of its effectiveness from the song (an echo of the first film's conclusion) because the visual was relatively unimpressive: a simple, dimly lit shot of Phibes raft floating away down a tunnel. It was the swelling soundtrack, with Price's own voice singing, that gave the punch line some punch. On videotape, however, the song was removed and replaced with a simple piece of dramatic music lifted from elsewhere in the film. The result was a flat ending with no kick, which left viewers feeling as if something was missing (as indeed it was).
This glitch aside, DR. PHIBES RISES AGAIN remains one of the best camp horror films ever made—a stylish, fun-filled movie and a worthy sequel to the fine original.
DR. PHIBES RISES AGAIN (American International Pictures, 1972). Directed by Robert Fuest. Written by Fuest and Robert Blees. Cast: Vincent Price, Robert Quarry, Peter Jeffrey, Fiona Lewis, Hugh Griffith, john Cater, Gerald Sim, Lewis Fiander, Peter Cushing, Beryl Reid, Terry-Thomas.
Copyright 2007 Steve Biodrowski
RELATED ARTICLES: